Cusco and Lake Titicaca

11 Days / 10 Nights
---
Sacred valley, Inca trail classic, Rainbow Mountain – Sun route to Puno, Lake Titicaca
Discover the magic and history of the Andes. The perfect itinerary to cover the South region of Peru.
You will walk through the same steps as the ancient Incas along the Inca Trail and the Sacred Valley to then discovering the legendary Titicaca Lake while contacting with the local communities to share culture and traditions.
New!
Tour Price
11 Days / 10 Nights


Cusco and Lake Titicaca
---
---
Reduced group sizes to 8 max.
Trip Details
---
Itinerary
Day 1.- Welcome to Cusco free time

First day in Cusco. Our transfer will pick you up from the airport with our private transportation to be taken to your hotel.
You will have the rest of the day free to explore the city.
Your briefing session for the Inca Trail will take place at 6 pm at our Headquarters and will be provided by your guide. We can use this time to do your check-in as well.

Accommodation: Included. Tierra Viva Centro or Similar (3-stars option) Belmond Nazarenas or similar (5-stars option)
Meals: Not included

Day 2 .- Sacred Valley of the incas

Your guide will pick you up from your hotel lobby in Cusco, at 8 a.m. You will be taken on a road that winds around the mountains north of Cusco. On the way, we will stop at a famous point known as El Mirador (Lookout Point). From there, we will be able to see the Sacred Valley and gain some insight into the Inca history. The Sacred Valley was one of the main areas the Incas settled. There is an unusual abundance of fertile plains in this high area of the Andes. You will also witness vast contour terracing and irrigation channels left behind by the Incas.

Later on, we will drive towards the ruins of Pisac. Here, you will witness and learn about Inca culture. You will see amazing works of stone art and impressive agricultural terraces. After exploring, we will drive back to the lower town of Pisac to stop at a bustling handicraft market. After you spend some time walking around the market bargain hunting, we will meet for lunch at a local Andean restaurant. This meal is not included in the tour, so if you prefer a different restaurant, just let your tour guide know.

After lunch, will drive along the Urubamba River towards the town of Ollantaytambo. Once we reach Ollantaytambo, we will visit the ruins, an important area of Incan construction, built during the Inca's heydays. This is an extraordinary Inca site because you can find rock formations representing the Inca god, Wiracocha.

We will spend the night at Ollantaytambo to start our Inca Trail early the next day.

Accommodations: Included
Meals included: None
Entrance Tickets: Included

Day 3.- Cusco - Piskacucho Km 82 - Llactapata- Ayapata

Alpaca Expeditions will pick you up from where ever you are staying in Cusco, Urubamba, or Ollantaytambo. Pick-up from Cusco will be from 4 to 4:30 AM, from Urubamba from 5:30 to 6 AM, and if you stay in Ollantaytambo, you get to sleep in a bit with your pick-up from 6:30 to 7 AM. These times will be confirmed at your briefing, as they might fluctuate based on where you are staying. We will take you to the Porter House which is located in Ollantaytambo after a delicious breakfast prepared by your cook, your guide will introduce you to your team of porters.

We will then drive to Km 82, we'll go through the first Inca Trail checkpoint to begin our trek. Please make sure you have your original passport with you to enter the Inca Trail. The first 2 hours of the trek are relatively easy as we make our way to our first Inca site. Patallacta is an ancient Inca checkpoint for the approach to Machu Picchu.

From Patallacta it's another 2-hour hike to our lunch stop. After lunch, we will hike for another 2½ hours until we reach the first night's campsite at Ayapata (3300 meters). On this last stretch, we pass through 2 small communities. If you want to buy any energy drink, snacks, or essential items you may have forgotten such as batteries you can do so here. We'll arrive at our campsite by 5:00 PM. After settling in for a bit, you can relax and have a hot drink and snack with your team of porters, chefs, and guides. By 7:30 PM, your dinner will be ready, and after you can get some well-deserved rest.

Walking distance: 8.7 miles/14 km (6-7 hours)
Campsite altitude: 3300 meters (high) above sea level
Considered: Moderate day (getting used to the Inca Trail)
Weather: Warm and windy

Day 4 Dead Woman´s Pass - Runcuraccay Pass - Chaquiccocha

Your porters will wake you up early with a hot cup of coca tea to get you ready for the day. We will have an early start since it will be our longest day. We'll hike for roughly 4 hours to the highest pass of the trek, Dead Woman's Pass (4215 meters/13829 feet). On reaching the pass, we'll stop for a short break to enjoy the views before setting off again to descend to the next valley (Pacaymayu Valley – Hidden River). It's another hour and a half down the side of the valley to our lunch spot, where you will have a chance to refill your water bottles. After lunch, we begin ascending again to the second pass of the trek. It's 2 hours over the pass where we will stop at a small Inca site (Runcu Raccay) and see two huge waterfalls cascading down the opposite side of the valley. After the second pass, it's another hour downhill hike to reach the magnificent Inca site, Sayacmarca (an otherwise inaccessible village).

We'll stop here to rest and have a quick tour. Afterward, we will be able to watch the sunset over the Vilcabamba mountain range.  It's then just another 20 minutes until we stop for the night at our second campsite Chaquicocha (Dry Lake, 3600 meters). After dinner, if you're not too exhausted, we can do some star gazing, and we'll point out the fascinating Inca constellations. In the magnificent Southern Hemisphere sky, away from all the artificial lighting, this sky is something to behold!

Walking distance: 9.94 miles/16 km (7-8 hours)
Campsite altitude: 3600 meters (high) above sea level (chilly weather)
Considered: Top day (you will have survived the two highest passes)
Area: Andes and Cloud Forest
Weather: Cold and rainy

Day 5 .- Chaquiccocha - Wiñaywayna

Completing Day 2 and beginning Day 3 certainly deserves a pat on the back! We will start early again, waking up at 6:30 am to begin what is commonly felt to be the most beautiful day of the whole Inca Trail. We hike for 2 hours along what we like to call "Inca flat" (gradual inclines) and begin to enter the jungle, known as the Cloud Forest. As we walk, we will have the opportunity to see Salkantay, the second highest snow-capped mountain in the Sacred Valley, and a fantastic panoramic view of the Vilcabamba mountain range. Towards the end of the Inca flats, we begin to make our way up to the last peak at Phuyupatamarka (3600 meters) from where we'll have great views overlooking the Urubamba River.  Down the valley, we get our first view of Machu Picchu Mountain, but the site itself is still hidden. From Phuyupatamarka it´s a 3-hour walk down a flight of steps to our last campsite, close to Wiñay Wayna (Forever Young). Wiñay Wayna is the most spectacular Inca site on the trail after Machu Picchu and the most popular campsite because of its proximity to Machu Picchu.  During the descent, we visit 2 Inca ruins, Phuyupatamarka (Town in the Clouds) and Intipata (Terraces of the Sun).  We arrive at our campsite around 1:00 PM to have lunch.

Then we will relax so that you are ready for your final day at Machu Picchu. At around 4:30 PM your guide will give you a short orientation, and you will visit the Inca ruins of Wiñay Wayna for an hour and a half there. Your guide will explain the significance of the site and combine all the information given during the trek. This way you will be fully prepared for your visit to Machu Picchu the following day. We like to spoil our guests as we enjoy our last feast with the porters and chefs.  It's an Inca Trail tradition to organize a ceremony in the evening to introduce the team to the tourists once again. This is to thank them for the great job done (if you wish to provide tips for them then you can do so at this time). It is advisable to go to bed at a reasonable time to get up in the early hours of the morning to arrive to Machu Picchu at the crack of dawn in the hopes that the weather will give us a beautiful sunrise over the ruins at Machu Picchu.

Walking distance: 6.2 miles/10km (5 hours)
Campsite altitude: 2.600 meters (high) above sea level (chilly weather)
Considered: Easy day – all downhill!
Area: High Cloud Forest
Weather: Warm and very humid

Day 6.- Sun Gate - Machu Picchu - The Lost City Of The Incas and return to Cusco

Wake up time is at 3:30 AM. We'll eat breakfast at 4:00 AM and wait at the checkpoint to be one of the first to start trekking when they open the gates at 5:30 AM. We'll wave goodbye to our team of porters and chefs and then it's "Forward On" to the Sun Gate (Inti Punku). From here we have spectacular views of the mountains and Machu Picchu in all its glory.  We will reach the Sun Gate by 6:30 am, and then it's just an hour trek down to reach the Lost City of the Incas. As we hike and get closer to Machu Picchu, the views of the city get better! At about 7:40 AM we'll reach the final checkpoint and enter Machu Picchu to begin our 2 hours private guided tour. After the tour, you'll be given your bus tickets to make your way down to Aguas Calientes, and you'll have plenty of free time to explore the city on your own or climb one of the neighboring mountains – Huaynapicchu (must be arranged ahead of time).

Your guide will offer to meet you down in the village of Aguas Calientes to enjoy your last lunch in a local restaurant.  This is optional and not included. At lunch, your guide will hand out train tickets, so if you choose to skip, please arrange to get these before leaving him at Machu Picchu. Unless you arranged for an upgraded train, we will book the Expedition class train departing Aguas Calientes at 3:20 p.m. or  4:22 p.m. Please make sure you are on the platform at least 30 minutes ahead of time. This will be a 2-hour train to Ollantaytambo or Poroy (based on which train you get), where an Alpaca driver will meet you and drive you back to the city on our bus, then drop you off at your hotel.

Considered: The most exciting and magical day (early wake up 3.30 AM)
Area: High Cloud and Subtropical Forest
Weather: Hot and very humid (bring lots of water)
Meals: Breakfast only

Day 7.- Rainbow Mountain Hike & Red Valley

We will pick you up for the Rainbow Mountain hike at 4:00 – 4:30 am from any hotel, Airbnb, or hostel in Cusco. It will be a 2½ hour drive to the trailhead – we will arrive at around 7 am. Here at the trailhead, our chef will make a delicious breakfast, including coffee, hot chocolate, teas, bread, fruit salad, eggs, and hot drinks. Cusco's elevation is 3300m / 11,300ft, and the trailhead called Phulawasipata is at 4200m/ 14,300ft.

Cusco's weather is usually quite cold, and the trailhead is even colder, so early in the morning. Be sure to bring a warm jacket, scarf, hat, and gloves.

After breakfast, we'll hike about 2 hours uphill to the Rainbow Mountain range. At a slower pace, it could be 2¾ hours, or if you are really fit quick and acclimatized well, some people can do in 1½ hours. The hike up includes some short breaks where the guide will explain some important information about the mountains and the geography of the area. Perhaps you'll have a chance to catch sight of some of the locals, including llamas and alpacas that frequent this area.

The trail itself is quite wide and helpful for those with vertigo or fear of heights. The trek is best during the dry season as the trails are not paved. The trail can be a bit dusty, and in the rainy season, it can be slippery since it may be wet. However, with good waterproof hiking shoes and trekking poles, it will be just fine. This is your opportunity to see why Rainbow Moutain has become an Instagrammers delight according to CNBC!

Upon your arrival at the top of Rainbow Mountain, around 9-10:00 am, you will have about 1 hour to explore the spectacular views of the surrounding areas – valleys, mountains and to view the highest glacial mountain in Cusco – Ausangate, whose summit is at an elevation of 6,384m / 20,944ft, making it one of the tallest mountains in Peru.

After giving you a bit of time to take some treasured photos, your guide will tell you some intriguing facts about this fascinating place – like why the colors?! – and he will also share some detail about the Inkan history. A few last photos of this spectacular mountain and we will begin our descent. We do this a little differently than other groups. Instead of hiking the same route as they do, we hike to a lookout point to see the Red Valley and continue with our hike.

This valley is the icing on the cake, and many of our hikers say that it is even nicer than Rainbow Mountain! It is about 2½ hours mostly downhill from Rainbow Mountain, to the end of the trail, which is near where we started the hike. Here you will enjoy a fresh meal prepared by your chef, which includes cold drinks, appetizers, soup, and the main course.

After lunch, it will be another 2½ hour drive to Cusco, where we will drop you off at your hotel at around 5:30 – 6:00 pm.

Your guide will double check with you about the next day's activities.

Meals: Included (Breakfast and lunch)
Entrance tickets: Included
Accomodation:
Rumipunku (3-stars)
InkaTerra (4-stars)
Belmond (5-stars)

Day 8 .- Bus to Puno

After an early breakfast, we will pick you up between 6:00 a.m. to 6:20 a.m. to transfer you to the bus station, where you will take the tourist bus. This is a full day ride, to Puno. You will enjoy stops along the way and visit some Inca and pre-Inca ruins. When you arrive at Puno, our representative will pick you up and transfer you to your hotel.
Once at your hotel you will get a quick briefing session. This can be done in person or through a phone call.

Accommodations: Tierra viva Puno*
Meals Included: Breakfast

Day 9.- Lake Titicaca stay with family

Pick up will be between 7:30 a.m. to 8 a.m. You will be transferred to the lakes port where you will take a boat to the floating island of Uros, where you will have time to explore around. Following, you will take a boat ride to the next island, Amanti Island, where you will stay with a local family. Tonight will be a basic accommodation, but a memorable one, as you will be surrounded by a nice family. This will allow for an opportunity to see how the indigenous people of the lake live. In the afternoon, you will climb to the mountain to watch the sunset and party with the locals.

Accommodations: Overnight with a local family
Meals Included: Breakfast, Lunch and Dinner
Entrance Tickets: Included

Day 10 .- Return to Puno and flight to Lima

You will have an early breakfast with the family and take a boat to the next island called Taquile. You will learn about the agriculture and textile of local people. You will return to Puno around 3:30 p.m. and have a free evening to relax in Puno while waiting for your flight to Lima.

Meals Included: Breakfast and Lunch
Entrance Tickets: Included
Accommodations:
Tierra Viva Puno* (3 stars)
Hotel Libertador Titicaca* (4 stars)

Day 11 .- Good bye

We will pick you up from the airport in Lima to make sure everything went ok and say our last goodbye.
Inclusions
Included

Professional Guides: All of our guides studied English and tourism at Cusco National University. They all grew up in this region and have a true passion to teach others about their heritage. They are fun yet professional, and will ensure you are safe and happy.
Hotels: This tour includes each of the hotels listed in Lima, Cusco and Aguas Calientes. Extra nights can easily be added before and after your tour, if needed. Let our team know if you are interested in an extension and we will give you a quote. Rooms are based on double occupancy. There is a surcharge for a single room. Upgraded hotels are always possible. In comparison, we can also book your tour without any hotels, if you prefer to book them on your own.
Transportation: All your transportation is included on this tour. We will pick you up from your hotel on the first morning and ensure you are escorted until you are dropped off at your hotel the final evening.

Not Included

Rentals
Every trekker needs a sleeping bag when camping. Inflatable air mattresses and walking sticks (with rubber tips) are optional but encouraged. If you don't want to bring any of the above, they are all available for rent:
Sleeping Bag: $20
Inflatable Air Mattress: $15
Walking Sticks (Pair): $15
Huayna Picchu: Huayna Picchu is the mountain that stands next to Machu Picchu. It is a 45 minute hike to the top. Going back down is quite steep, if you are scared of heights. This is done after your tour of Machu Picchu. The cost is $75. Arrangements need to be made at least one month in advance, due to popularity. Please understand that weather is out of our control.
Flights: Flying to Cusco can be tricky. Delays occur often and it is not uncommon for flights to be cancelled. Please be sure to arrive in the city at least two days before your trek start date. LAN Peru is the most reliable of the airlines. Avianca and Peruvian Airlines are acceptable companies, as well. You will not return from your trek until around 8 p.m. on the last day, so be sure your flight is not until the next day, when leaving Cusco.
Gratuities: Tipping is always appreciated and should be based completely on your satisfaction. Although it may not be customary to you, it is of considerable significance to the people who will take care of you during your travels.
Travel Insurance: This is not required, but always recommended. For those of you who live at sea-level, landing in Cusco will take an adjustment period. Most people need one or two days to adjust. In case you have a hard time adjusting to the altitude, it is suggested to have protection for missed tours
Price
Price:

With 3 Star Hotels: $2502 per person/double occupancy
* Single Supplement= +$360 pp

With Upgraded Hotels (Mix or 4 and 5 Star): $2582 per person/double occupancy
* Single Supplement= +$1150 pp

Options:

Book Without Hotels: – $360 per person

Discount:

$25 discount for all children under 16-years-old, or those with a valid STUDENT  CARD.

Additional Notes:

The hotels listed in itineraries are always our first options when booking, but a similar hotel will be booked if they are unavailable. Your Alpaca Expeditions Representative will give you the name of the confirmed hotel after booking.
An additional day can be added before and/or after your tour. Ask your Alpaca specialist for prices and options.
Groups of 6 or more following the same exact itineraries qualify for a discount.
Travel Info
Altitude

As soon as people book their trip to Peru, specifically Cusco, they start wondering about altitude sickness. The air at high altitudes contains less oxygen than at sea level and forces your body to work harder to get the oxygen it needs. Over several days at high altitude, your body adjusts to the lower amount of oxygen in the air. This is why we always recommend spending at least two days in Cusco before beginning any trek. If you have more time, even better. Cusco is an amazing city with a lot to do, so you won't be bored.

With altitude sickness, you may first feel like you have the flu or a hangover. You may have a headache, tiredness, loss of appetite, nausea or vomiting, dizziness, trouble sleeping, trouble breathing during exercise. If any of these effects become severe, please contact our office and we will help you get to a doctor.

Most of the time, these symptoms will be mild. We always recommend easing into activity slowly, allowing your body to adjust. Drink plenty of fluids such as water or coca tea. Coca tea has been used since ancient times to help prevent altitude sickness. Leaves from the Coca Plant contain alkaloids which helps bring oxygen into your blood, helping your body avoid the effects of altitude sickness. Avoid drinking a lot of alcohol and coffee. They will cause you to urinate more often and become dehydrated. Avoid smoking. Smoking makes it more difficult for your body to get oxygen. Avoid sleeping pills. They may cause shallow breathing at night, making it more difficult for your body to absorb oxygen while you sleep.

Remember the trek to Machu Picchu is not a race. Even those in the best shape will suffer from altitude sickness when they race to the top of the mountain too quickly. Go slowly, it will give your body time to adjust to the mountain.

Your healthcare provider may prescribe medicines, such as acetazolamide and dexamethasone, to help prevent altitude sickness. Start the medicine two days before you get to a high altitude. Continue to take it while you are at high altitude.

You must remember that this is your holiday and you do not want to stress out about the possibility of getting sick from the mountains. Do everything slowly. Drink lots of water. And enjoy the coca tea. If anything does happen and you unfortunately get sick, let your guide know right away – all Alpaca Expeditions guides are trained in how to help you get through it.

Weather

Of course weather is unpredictable. Typically the dry season in Cusco is from April through October, but this does not stop rain from falling in June or the sun from coming out in December – just be prepared. No matter what month you are doing the trek, please make sure that you have rain gear that includes a waterproof jacket, pants, poncho and waterproof gloves. Many people forget about gloves, but being cold and wet makes hiking very unpleasant.

Also prepare for four seasons. Many of the treks through the Andes involve many micro-climates and you will need to be prepared for all seasons. Layers are always key as they are easy to adjust to the different temperatures. And evenings will always be cold, so please be prepared with a warm, winter-weight jacket.

First Aid

Every Alpaca Expeditions guide has received training in first aid from a physician. We conduct mandatory training every February – every single Alpaca guide attends. When guiding you, they will have with them a first aid kit for basic medical problems (traveler's diarrhea, cuts, scrapes, etc.) and oxygen. They know how to make you feel better.

In case something unexpected happens and you feel you can no longer complete the trek, they will figure out the safest and quickest way off the course and to a clinic. You will never be left alone; you will have a member of the team escort you every step of the way until safely with a doctor. When you are feeling up to it, we will make sure that you still have the chance to visit Machu Picchu and re-connect with your group, traveling by train comfortably.

Travel Insurance

Because there are so many logistics to plan and pay for before your trek occurs, payment for your trek is due even if you are unable to complete the hike. Please read our Booking Conditions carefully so you know what is due. Obtaining travel insurance before you leave home is strongly encouraged. This way, if something happens, and this is rare, you will not be out of pocket a tremendous amount of money. Alpaca will provide a letter and your invoice to submit to your insurance in this case to help expedite your processing.

Environmental Impact

Alpaca Expeditions uses biodegradable soap and transports all our garbage back to Cusco. Our porters are trained to look after the trail and pick up any waste from other groups, as well. We also use environmentally-friendly chemical portable toilets that allow us to pack waste out. We believe in leaving no footprint behind.

Community

Alpaca Expeditions is really proud of the work we do for our community. This is a main focus for our company. We have worked with villages directly to help supply them with needs their families were missing. We have supported local schools by giving them computers and books. We currently sponsor a teacher at the village most of our porters come from to ensure their children are offered the best education.

We buy all our food from local farmers and markets and serve the freshest ingredients. We provide English classes for all our team: guides, porters, chefs and drivers. And we are building a house for our porters to give them a safe and comfortable place to stay before and after our treks so they no longer need to sleep on the floor of a friend.

And twice every year we bring our porters and their families to Machu Picchu. This is our favorite trip to do as the guys who work tirelessly have never visited the Lost Citadel of the Incas. Showing them this place is our biggest honor.

We are always looking to do more for our partners. Please let us know of your ideas and we will work to help.
Additional Options
Huayna Picchu

Huayna Picchu is the mountain that stands next to Machu Picchu. It is a 45 minute hike to the top. While this hike is done on your own, your guide will direct you to where this hike begins. This is an additional entrance ticket that we can secure for you with advance notice.

The ticket is $75 per person.

Machu Picchu Mountain

Machu Picchu mountain is the other mountain that stands above the Machu Picchu ruins. It offers even more stunning views than Huayna Picchu, but takes an hour and a half to reach the top. This is an additional entrance ticket that we can secure for you.

This ticket is $35 per person.

Vistadome Train

All our tours include the Expeditions (Tourist) Train. This train is normally booked at 4:22 p.m., leaving Aguas Calientes. The Vistadome train is an upgraded train, that offers slightly larger seats, windows and even some entertainment. Normally, the Vistadome train is booked at 3:20 p.m. and travels to Poroy, a train station closer to Cusco. While this is an upgraded fee, we will still include your transportation back to your hotel.

This train is $75 per person or $120 round trip.
Cusco and Lake Titicaca 11D/10N
Please fill in our BOOKING FORM carefully with your correct personal details.
The Alpaca Difference
---
Experience the famous Inca Trail for 4 amazing days, and pass through the Sun Gate at sunrise for that first magical sighting of Machu Picchu! The Inca Trail is Peru's own microcosm; lush green cloud forest alive with wildlife, Andean mountain passes, a vast landscape dotted with ruins from the Inca civilization... and it's accessible only to those that follow this famous pathway. This is the most popular trek for hiking the Inca Trail.
Meet the AE Trekking Team!
---
Experience the famous Inca Trail for 4 amazing days, and pass through the Sun Gate at sunrise for that first magical sighting of Machu Picchu! The Inca Trail is Peru's own microcosm; lush green cloud forest alive with wildlife, Andean mountain passes, a vast landscape dotted with ruins from the Inca civilization... and it's accessible only to those that follow this famous pathway. This is the most popular trek for hiking the Inca Trail.
What do we do for our porters?
---
Experience the famous Inca Trail for 4 amazing days, and pass through the Sun Gate at sunrise for that first magical sighting of Machu Picchu! The Inca Trail is Peru's own microcosm; lush green cloud forest alive with wildlife, Andean mountain passes, a vast landscape dotted with ruins from the Inca civilization... and it's accessible only to those that follow this famous pathway. This is the most popular trek for hiking the Inca Trail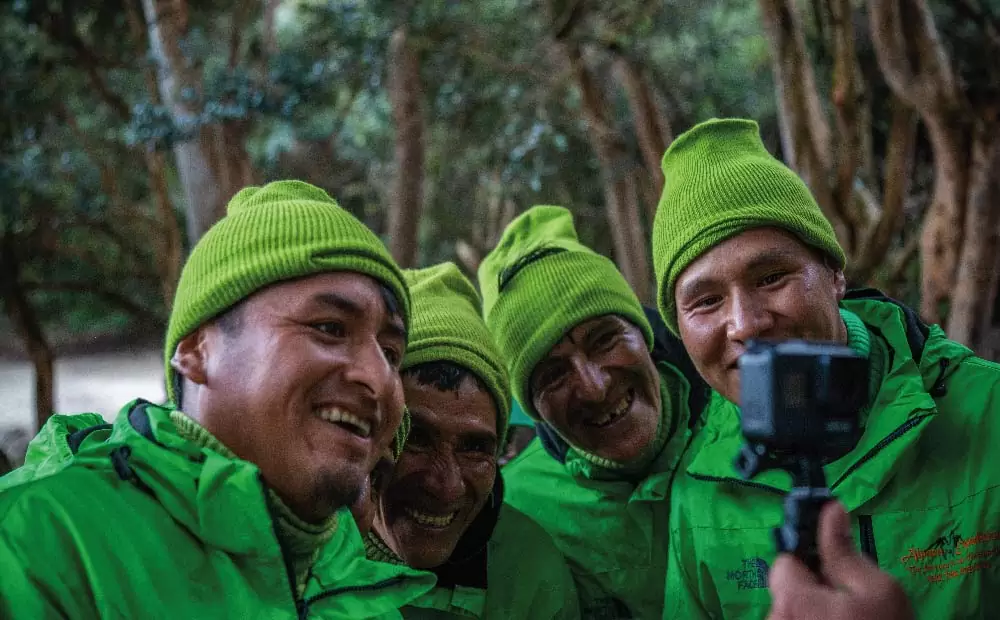 You get the highest quality camping equipment trekking with us!
You get the highest quality camping equipment trekking with us!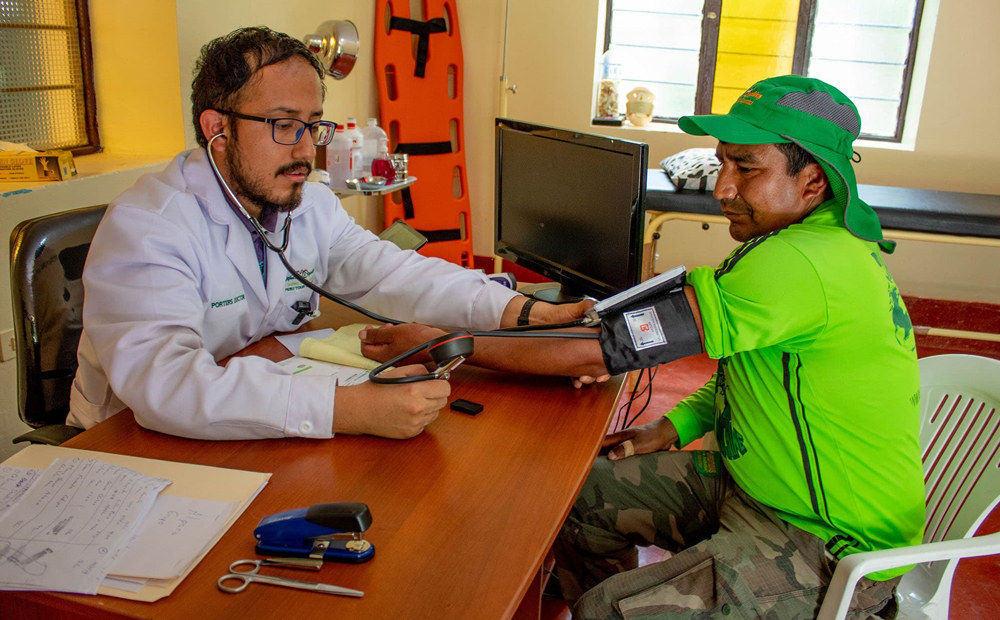 Free Medical Assistance to Porters
In 2019, we hired our first Alpaca Expeditions Medical Doctor to help tend to our guides, drivers, chefs...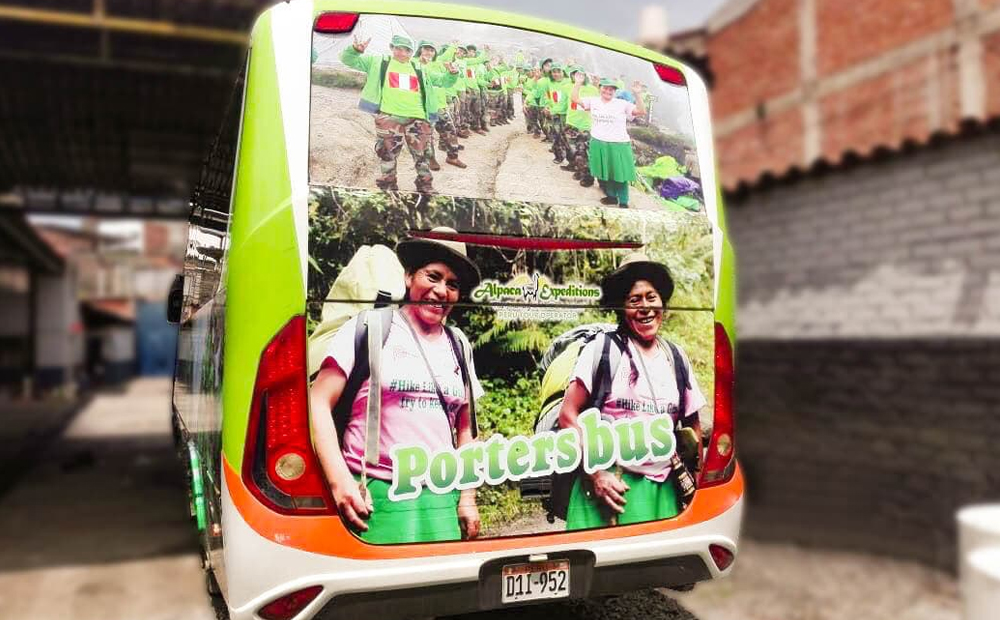 Our Porter's bus
We treat our porters with the same dignity and respect as we do our clients. Just as our clients enjoy our...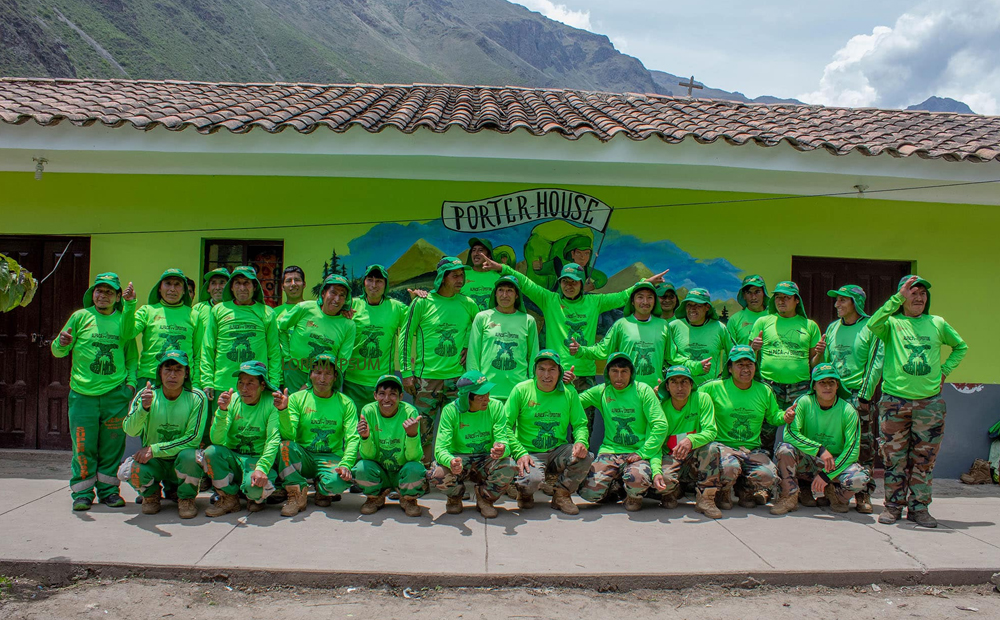 Our Porter's House
As we mentioned above, our Porters like many Peruvian people come from distant villages to work our treks...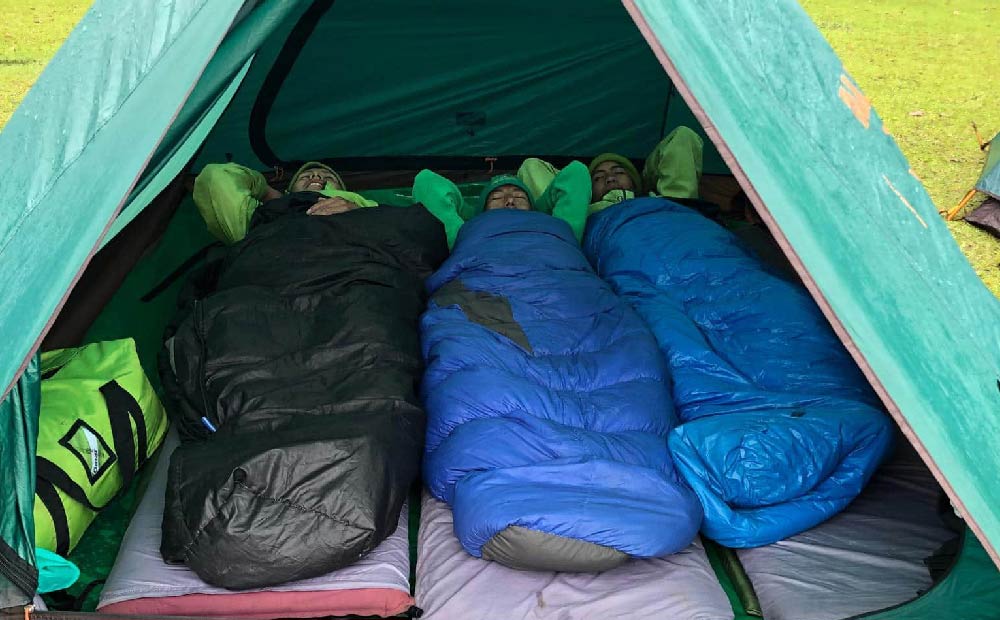 Tents and Sleeping bags
Again, this is something unique that Alpaca Expeditions provides, and sad others are not doing. We supply...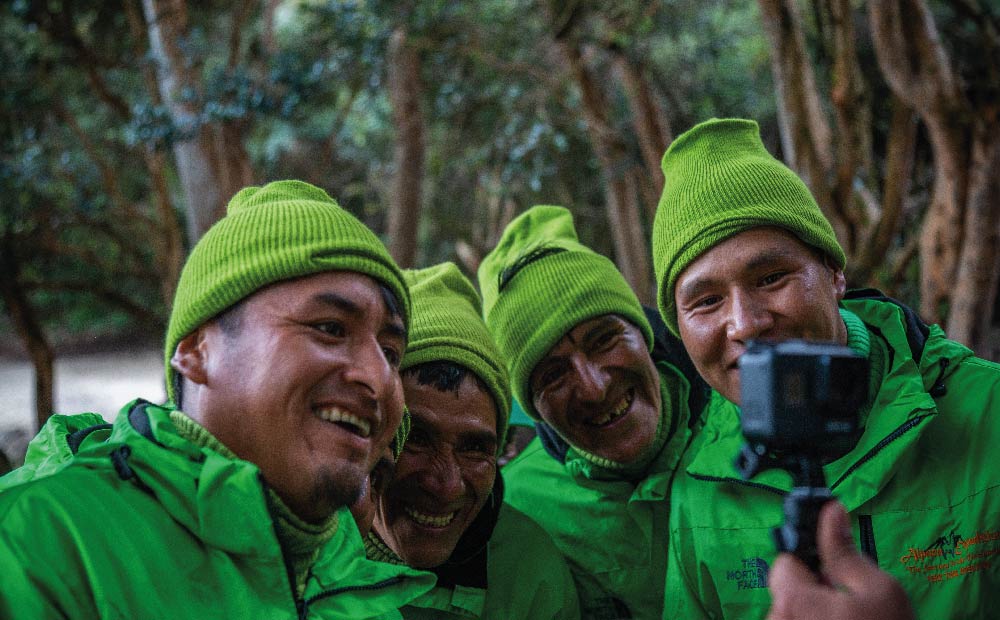 Proper Equipment for our Porters
Every porter of ours receives proper equipment. That includes moisture-wicking long/short sleeve shirts...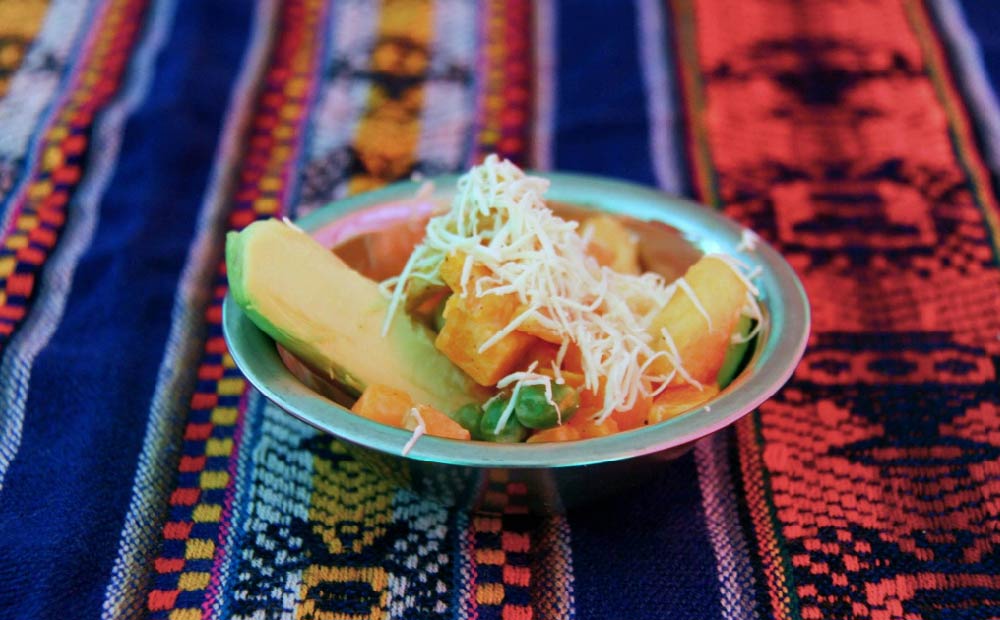 Nutritious Meals for our Porters
A general comment from trekkers on an Alpaca Expeditions tour is that we serve too much food. Well...
Extra information
---
Experience the famous Inca Trail for 4 amazing days, and pass through the Sun Gate at sunrise for that first magical sighting of Machu Picchu! The Inca Trail is Peru's own microcosm; lush green cloud forest alive with wildlife, Andean mountain passes, a vast landscape dotted with ruins from the Inca civilization... and it's accessible only to those that follow this famous pathway. This is the most popular trek for hiking the Inca Trail.