ALPACA EXPEDITIONS

ULTIMATE PACKING LIST
---
Hiking Trousers and Shorts
What to pack for your Inca Trail & Alternative treks to Machu Picchu
Getting access to information about the Inca Trail in general can get very stressful, especially if you're looking for a proper packlist to get ready for your adventure. All of us here at Alpaca Expeditions want to provide you with all the help and assistance possible, and that's why we've created this Ultimate Packing List.
This packing list will be useful for any trek you choose and there will only be a few small variations that your Alpaca Expeditions booking team can help you with.
We will do our best to keep this packing list as updated as possible based on weather, new brands, etc. If you have questions about anything you find here – just let us know!
Dry and wet season!
The Cusco región where the Inca Trail and Machu Picchu are don't have the normal 4 season you may be used to. They have 2 defined seasons, the dry season (April to September) and the wet season (October to March).
Due to this more people hike during the dry season and less during the wet season. This can be used to decide when to travel to Cusco and do the Inca Trail. Permits get sold out pretty quick from April to July. If crowds are not your thing, we suggest hiking during march or after July.
It doesn't mean that the weather during the other months is awful. Rains aren't that heavy during those months that's why we still allow trekking during them. The Inca Trail is closed in February due to rains and for maintenance of the trek.
Temperature in Cusco doesn't fluctuate much during the year. During the day it can get to 20°C and during the night it can get to single digits.
For your trek to the Machu Picchu through the Inca Trail we recommend you to be ready for rains at any point of the year. The weather is unpredictable in the mountains so it's better to be ready. Also having layers for the night in case temperature gets below zero.
Monthly rainfall by Volume (Inch)
| | |
| --- | --- |
| Monthly rainfall by Volume (Inch) | No. of rainy days per month |
Monthly average temperature highs and lows (Centigrade)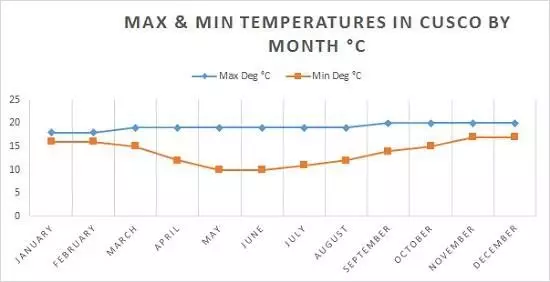 What should I wear?
Layers will be your best friend while trekking. Along the Inca Trail temperature can drop during the night, so having layers will make your trip more enjoyable.
Temperatures will fluctuate based on your location. You'll layer when reaching the peak point during the second day and during the morning when it can be cold and humid.
Remember, layering doesn't mean to wrap yourself up like a mummy. Your body needs to breathe especially in the humidity. Cotton is perfect for this, ask before buying your trekking clothes, materials do matter. We'll show you some examples here:
Basics
You should bring 2-3 pairs of sports underwear. Any sports brand provides this kind of bra, you can do some research about the best one.
Base Layer
This will be the layer in contact with your skin. We advise you to put it on during cold mornings and when the temperature drops during the night.
Don't forget to bring the bottom layer just in case it gets very cold in the evenings.
Look for base layers with breathable material, we don't want to be wet and get cold. The Inca Trail weather is unpredictable so you need to be ready.
Trekking T-Shirts
Talking about T-shirts we recommend 3 x short sleeve shirts and 1 x long sleeve shirt. Polyester is breathable, lightweight, and quick-drying. Merino or nylon are other recommended materials. Make sure that your shirts are not cotton.
Hiking Trousers and Shorts
You need to bring 1-2 pairs of hiking trousers – one is good enough if the trek is no longer than 4 days. If you are on a multi-day hike, bring two.
Also bring one pair of trekking shorts. There are multiple brands that provide this, Columbia is one of them.
A tip for the ladies: Consider bringing along a lightweight mid-length skirt. This allows for privacy when changing in and out of base layers on the trail. Also useful for unexpected restroom breaks in-between camps.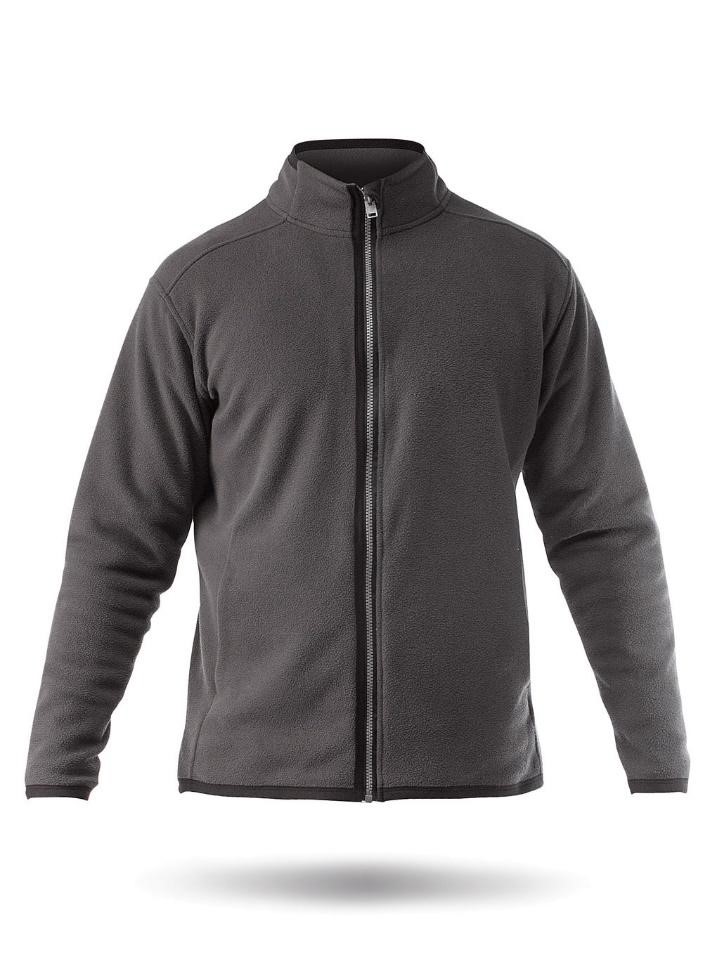 Fleece Jacket and WindBreaker
This will be for the colder portions on the trail, you should bring one mid-weight fleece jacket. Fleeces that use Polartec materials are great. Typically Polartec fleeces come in 100s, 200s or 300s. Two-hundreds provide great warmth and comfort. They are also perfect for the Inca Trail. The other ones are either too light or too heavy.
Soft Shell Jacket
In addition to the previous item you should bring a wáter-proof and wind-proof jacket shell layer. Remember, packing light is key here just make sure the jacket is warm and sturdy. This jacket is to avoid getting wet by the rain, use it to stay protected. AE will provide you with a plastic poncho to cover this one up and guarantee no wáter will get to you.
Rain Gear / Poncho
As mentioned before, weather in the mountains is unpredictable. This last item is to prevent any inconvenience. You can use your plastic poncho above this to let the AE plastic poncho take most of the impact.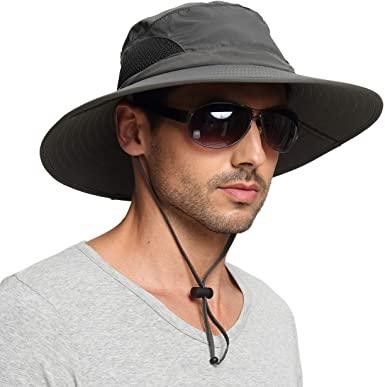 Hats
You'll need one of these, but again the one you bring needs to be light and easy to store. We prefer sun hats that have an adjustable neck cover, like the one shown below. Don't bring a large bulky hat, like a straw hat because these are difficult to store.
Bandanas
These scarfs are multi-use. If your hat doesn't have a neck cover, these will be the perfect solution to not get sunburn.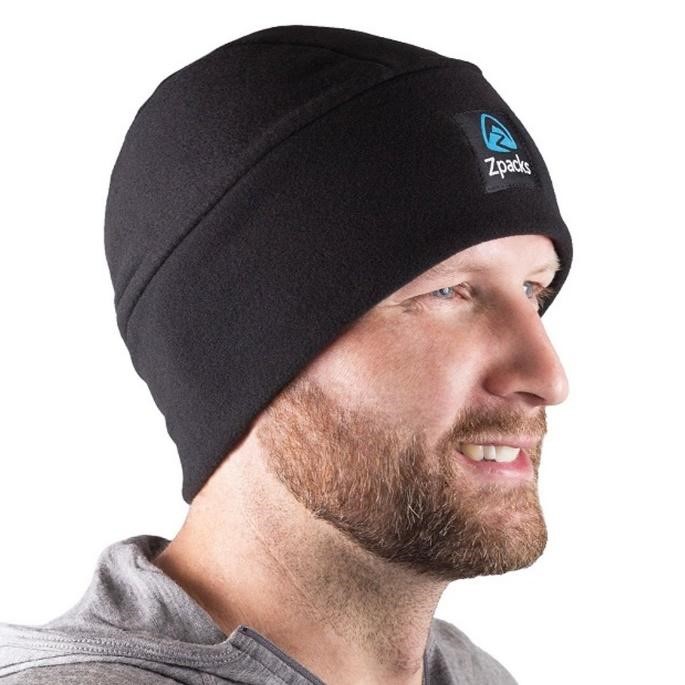 Fleece Beanie
This fleece beanie is to protect you from the cold both during the day and the night.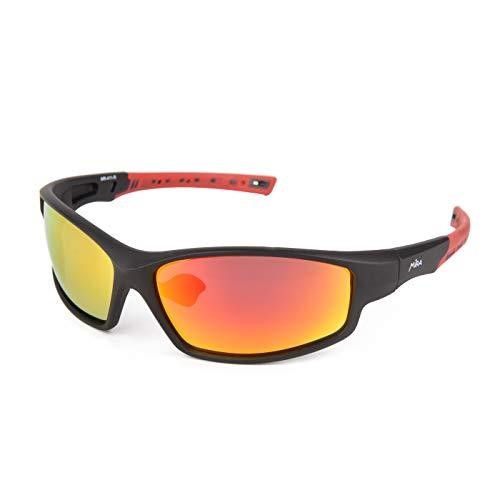 Sunglasses
You need to protect your eyes to witness the wonderful Inca Trail. At high altitude (greater than 4,000 meters) the UV intensity is high and visible light is strong.
Oakley is a leader in polarized glasses. All their lenses provide 100% protection from UV A, B, and C. This is slightly over-kill for Machu Picchu as you will not be trekking under snowy conditions which intensifies visible light.
Headlamp
Once at the campsite during the night, the vision is limited due to the lack of light. If you need to go to the toilet you'll need a light and running your phone's battery is not an option. A headlamp is the perfect option, it's small, easy to pack, and will leave your hands free.
Protect your fingers
During the hike water-proof gloves are a must. You need to have lightweight and completely waterproof gloves to protect your hands from the rain and cold. Walking poles are as well mandatory for your trek as a point of balance.
Gloves
Even though in the Inca Trail you are not going to experience freezing cold temperatures. You'll likely encounter cold nips on the higher passes as well as in the mornings and evenings.
You'll need a good pair of lightweight and waterproof gloves. Try to find the ones special for this kind of activity as well as guarantee some warmth for your hands.
To deal briefly with the 'weatherproof' factor, gloves are not as waterproof as retailers will try to tell you they are. Without trying to state the obvious, there is a huge gaping hole where your hand sits. Given enough wet weather, your gloves will get drenched inside regardless of the water-resistant membrane. We suggest not wearing your gloves when it rains heavily, and saving them for when it is dry but cold.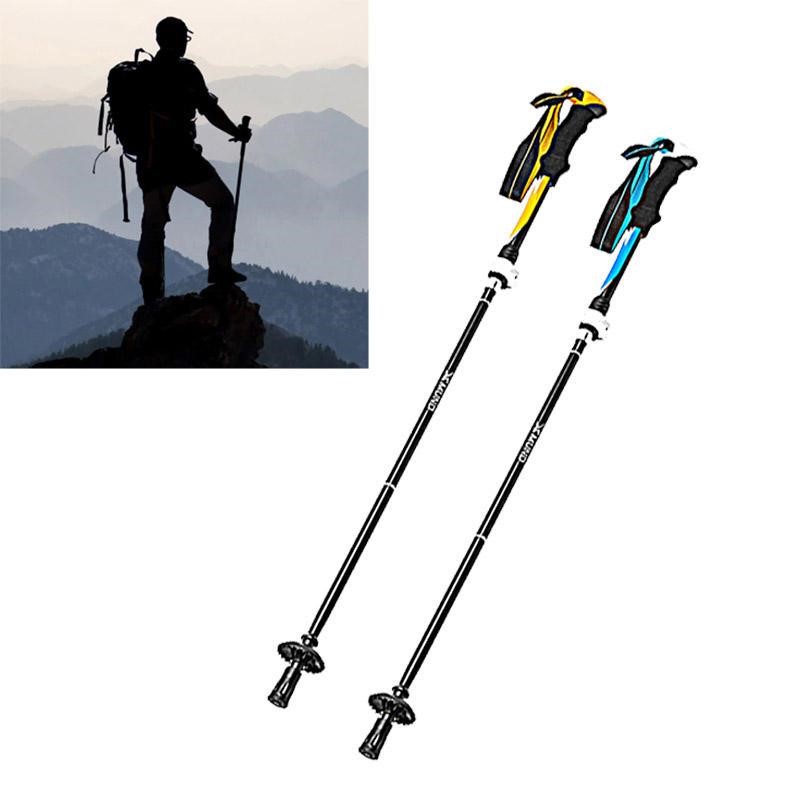 Walking sticks
These ítems are mandatory for the Inca Trail. If you can't bring yours, you can rent them from AE.
Your leg joints, particularly your knees, will take a battering due to trekking along an undulating landscape for up to 5-6 hours a day for 3-4 days. These will reduce the impact on your joints by up to 25%. Poles also give you better balance during the steeper parts.
TYTN Offer
Your trekking poles should be lightweight, adjustable, aluminium or carbon-fibre, and with a good water-resistant grip. Cork is most durable and performs well in wet conditions, rubber and foam are fine but not ideal for wet conditions. Also for the Inca Trail they need to have a rubber end to protect the path.
How to use your walking sticks?
Walking sticks can be used in any kind of terrain and the length used is based on this. Almost all of the walking sticks are adjustable.
When hiking in plain terrain or going higher, you'll need your walking sticks adjusted at the same height as your waist. This allows you to get all the support needed.
When hiking to lower ground such as getting down from a mountain peak, or walking down steps, you'll again need to adjust. You need your walking sticks to be adjusted to your chest to help your knees and ankles. When getting down the impact on these parts of your body is strong, so you need to do this in order to protect yourself.
If you don't need your walking sticks in a portion of the trek, reduce them to their limit and place them in the side part of your backpack. This'll prevent the sticks from interrupting your walking and will provide quick access to them when needed.
If you have any doubt on how to adjust your sticks, ask your guides, they'll be more than happy to help.
Trekking boots
You need to protect your feet, they're your tool to get through the Inca Trail. So trekking boots are a must and you can't go without them.
They need to be actual trekking boots, we recommend the ankle covering ones to guarantee the protection of your feet.
Don't arrive with brand new boots that you haven't worn yet. You'll get blisters, sore feet, and even lose toe-nails.
Push your foot all the way forward to test good fit on a boot. place your foot inside the boot with a mid-weight hiking sock on. Take your index finger and insert it between your heel and the back of the boot. A perfect fit is if your finger sits snugly in this gap. If it is too tight to get your finger in then the boot is too small, and vice versa.
In terms of quality you should look for these key characteristics.
Rubber sole should be made from rubber and have mid-to-deep lugs for good traction.
Heavy boots are great but can get you exhausted, try to aim for some mid-weight ones for this Inca Trail.
Gore-tex is the best material to make the boots waterproof
The lacing-system should incorporate speed hooks or D-strings which provide additional ankle support
Trekking Shoes / Sandals
When arriving at the campsite you'll take out your boots and let your feet breath. To avoid any injury or cold, take some normal sneakers or sandals to let your feet rest without any danger. This will also allow your trekking boots to get dry in case you sweat too much or it was raining.
Why can't I do the treks with other kinds of shoes?
We get this question a lot, there's always the doubt on why trekking boots are mandatory. Why can't they do the trek with running shoes or normal sneakers.
Trekking these paths is no joke. The terrain is not flat and there are severe uphills and downhills. Trekking boots are made special for this kind of terrain. The difference in material between a trekking boot and a mere running shoe is abysmal.
The sole needs to be resistant, Inca Trail is a path made out of Stone. A normal running shoe isn't able to hold a multi-day hiking without tearing up. You can bring more shoes but weight would be an issue.
Second reason, ankle protection, you need to protect them going up and down steps. Mountains have a huge impact on your knees and ankles. Running shoes don't have ankle protection and leave you unprotected in case of misstep. We recommend bringing ankle-covering trekking shoes, an injury in the middle of the trek can destroy your experience.
Trekking Socks
Bring at least 4 pairs of trekking socks. Material is key here, look for some resist ones and not too heavy. The best trekking socks are made from wool, preferably merino, as they promote breathability and are very good at wicking moisture away from the foot. If you can find the ones with a waterproof membrane, then you found your socks. Avoid cotton If you are allergic to wool. You can go for a synthetic acrylic or acrylic-blend sock.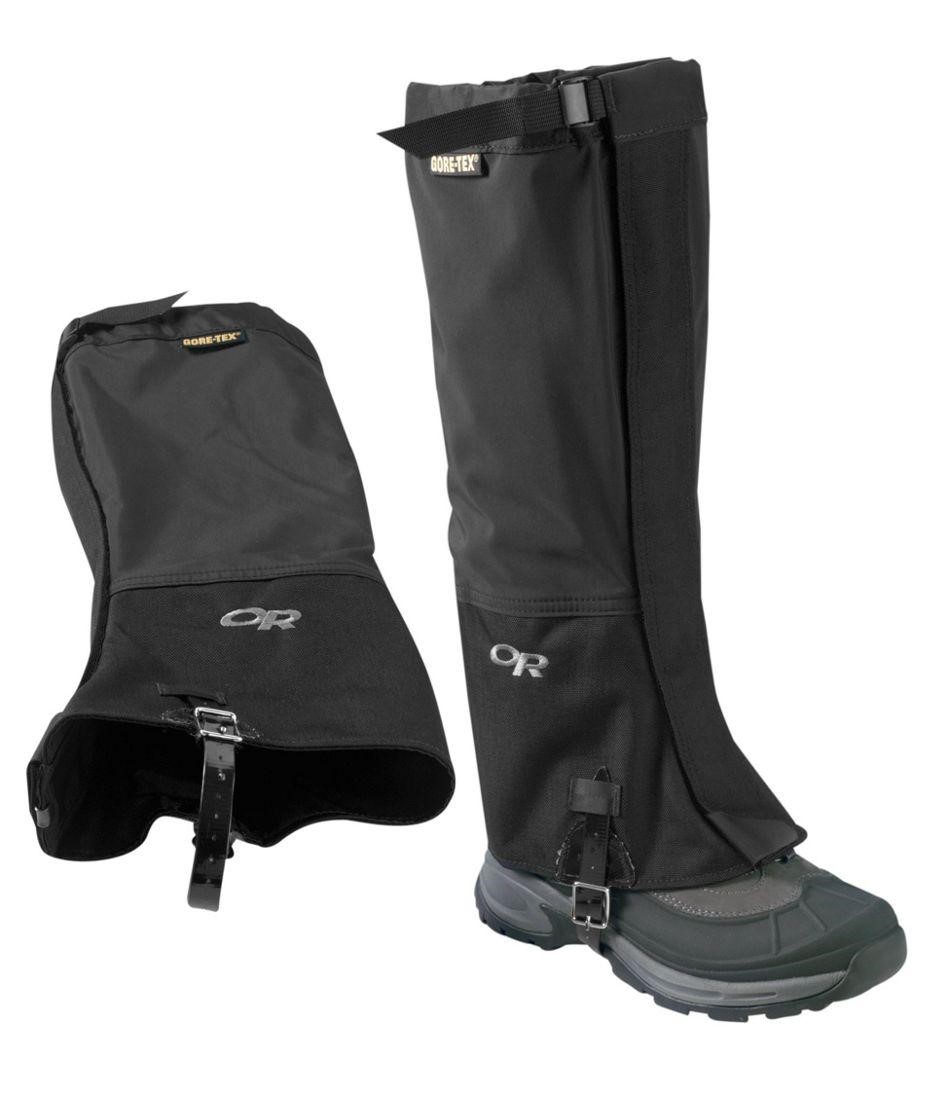 Gaiters (Optional)
These are optional just to add extra protection from mud, water, bugs, etc. They're not a must but can be very helpful.
Consider them if your trek is booked for the wet season months
Backpacks and Daypacks
| | |
| --- | --- |
| 25L backpack is advised for Inca Trail | For treks like Salkantay a 30L backpack can be a very advisable option |
Our Inca Trail provides the help of a porter for each trekker. Each one will have a 7 kgs duffel bag carried by our Green Machine, so your daypack needs to be packed based on this. The Inca Trail regulations don't allow the use of animals on the trek. That's why the help of the porters is required but always under the government regulations.
If you're about to do an alternative trek to Machu Picchu, things change a little bit in terms of the help provided with the equipment. Along these treks we're able to use mules or horses, which we do. You will have horsemen and some porters as well, the 7 kgs duffel bag also applies here. If you plan to travel to Peru with a suitcase then inside pack your empty backpack. When you arrive leave your non-trekking gear in the suitcase and use your backpack for the trail.
Talking about weight, we recommend a small to regular day pack, 15 kgs is advisable. Your porters will help with 7 kgs (air mattress and sleeping bag included). 25 kgs is the weight limit to enter Machu Picchu but we advise you not to take too much weight. In any of our treks the idea is to carry your vital stuff in your day pack. The things you'll use in the campsite inside your duffel bag.
Imagine you're renting our air mattress and sleeping bag, this will leave you a total of 4 kgs for your stuff. If bringing your own mattress and sleeping bag you'll need to be aware of their weight.
For Inca Trail and alternative trail trekkers, you should look for the following characteristics in your daypack.
Daypack
We encourage you to take seriously the kind of daypack you'll purchase. Fashion doesn't matter, in the trail find a trekking daypack and pay attention to the features:
Size: Machu Picchu regulations only allow a max of 25L backpacks. If you exceed this 25L limit, the rangers will ask you to store your backpack during your guided tour. Remember that your porters will carry 7 kgs for you, so try to pack light.
Waterproof: Your backpack needs to be waterproof, most of them aren't, so this feature is vital.
Design: Multi-size and adjustable backpacks are needed. Check that they fit your body without restricting your movement or harm your shoulders and hips. The best manufactures, like Osprey and North Face, design specific bags for women. They have reshaped hip belts that are wider, more moulded, narrower, but broader shoulder straps.
Water Bottle
To fight against altitude sickness, water is the best option. Keeping yourself hydrated will help your body rise to the challenge. Water will be provided by our crew from the first camping lunch until the end of the trek.
It's possible to buy water at certain points along the trail but we recommend against this. It's expensive and leads to unnecessary waste on the trail.
In order to carry 2 or more liters of water on you each day you can either:
Use two 1 liter bottles
Use one 1.5 liter bottle (and drink half a liter before you head off in the morning)
Use a hydration bladder (these can hold between 2-5 liters)
Hydration Bladder
Based on your backpack you can choose this option. It'll adjust to your bag and will be easy to use which is what we're aiming for.
Get a bladder that holds between 2-3 liters taking one bigger than this will be too heavy.
If natural water is not your thing, a rehydrating poder will be perfect. Such as gatorade or other brands will help to provide energy and a better taste.
Sleeping Bag
This one is a must, you can't forget to bring one or to rent one from us. Alpaca Expeditions will provide different accessories for the night time.
Sleeping Bags

Sleeping is one of the most important things when trekking. Having a sleeping bag that can provide comfort, warmth, and protection is mandatory.
It's possible to rent a sleeping bag with Alpaca Expeditions. This'll guarantee the quality and will set you free from bringing one from home.
Remember that both tent and sleeping liner are included with us so no need to bring any of those.
Natural vs Synthetic
Natural feather sleeping bags are always better, lighter, and quality is second to none. But they are more expensive than others, keep that in mind.
When buying a sleeping bag you need to be honest with yourself. If you'll use it for upcoming and perhaps more challenging treks after the Inca Trail, then go for a better quality. It'll last longer and will be used more. If not, just go with something that'll be useful for that trek, don't break the bank. A lightweight, warm sleeping bag will serve you very well for many years into the future.
Warmth
The coldest months coincide with the dry popular trekking season of May through September. Be aware that temperaturas can drop to below zero degrees (Celsius). Since Cusco and the Inca Trail can hold all of the four seasons, go for a -10 C (14F). During dryer months like March-April and October-November you can bet for a 3 season sleeping bag (-4 C / 25F). We already mention that December, January, and February are not great for trekking to Machu Picchu. You can go by train but if trekking is your thing, avoid these months.
Weight
Your porter will carry your sleeping bag but always, lighter is better. Warmth and weight always come together but try to bring a sleeping bag no heavier than 2.5 kgs.
Shape
Since the sleeping bags we rent are mummy style we advise to bring this kind. Why? Because this style guarantees comfort and protection. These kinds of sleeping bags adjust to your body and will provide adequate comfort.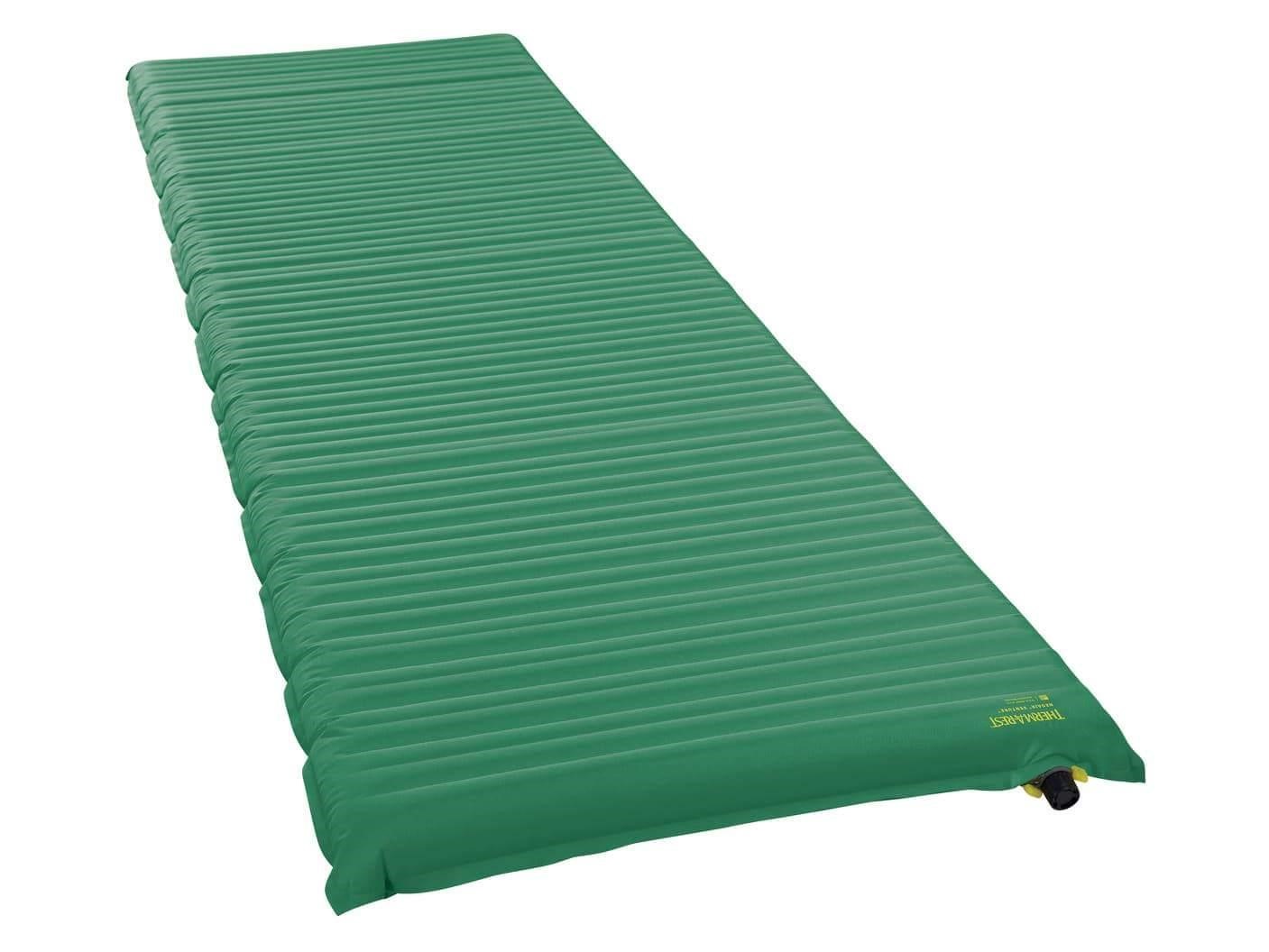 Air Mat (Optional)
Comfort is always welcome when taking some rest after a whole day of trekking. But again remember that weight needs to be kept as low as possible. We rent an air mattress, this is 1 kg and will be included in your duffel bag weight. We will include a foam mat for free so if you don't want to rent an air mattress we advise you not to bring one on your own.
Inflatable Pillow (Optional)
This is an optional ítem as well. This'll add extra comfort, we include pillows that will be taken by the porters and won't affect your weight. Inflatable pillows are good because they don't use a lot of space and weight is reduced.
Ear Plugs (optional)
Noise is not that much of an issue along the nights in the Inca Trail. It's all nature but if you're a light sleeper these will help a lot. They won't use much space and weight is almost none.
Accessories
Passport – This item is mandatory, you'll need your passport information for the booking process. You'll also need your physical one for every checkpoint in the Inca Trail. This is very important at the point of not being able to get to the Trail if missing your Passport.
Insurance – As a company we guarantee taking care of our hikers but in case of feeling sick we advise you to have travel insurance to cover any non-expected medical expense. You can let us know the details of this. We'll provide all the assistance needed at any point of your trip to Cusco.
Trekking Towel (optional) – We'll provide you small towels for your hands and face. This'll be provided at every campsite and will be washed daily. If you want to bring one we recommend you a lightweight, fast dry material.
Swimsuit (optional) – There are hot springs near Aguas Calientes, just below Machu Picchu, where you can swim. We don't include this in our itinerary but for treks like Salkantay and Lares trek you will visit hot springs.
Water-proof sunscreen – Cusco is a very high elevation city and with dry weather, these 2 features make sunburn very often and something you need to be aware of. We advise purchasing at least 30 spf water resistant sunscreen to make it last even if you're sweating.
Bug spray – It is true that Cusco is a city without mosquitoes or bugs to be worried about. The Inca Trail holds a broad spectrum of weathers and ecosystems. From the third day on, the weather will be warm, humid, and subtropical so there'll be mosquitoes or bugs wishing to bite you. A normal bug repellent will be good enough to cover yourself.
Baby Wipes – One in every campsite our porters will provide you buckets with clean water and soap for you to clean your hands and face. These wipes will be perfect to add more freshness to your daily cleaning routine. Remember that you won't be able to take a shower for almost 4 days along the trek.
Plastic Bags – Inside your duffel bag we'll provide you 2 big plastic bags for your clothes and sleeping bags. We advise you to bring a couple more to save your wet clothes or trash.
Pee Bottle (for the ladies) – This can be very helpful if needed. Remember that we'll bring a toilet tent for our clients.
Blister Plasters – Hiking the Inca Trail is rough so blisters can be common. Bringing plasters will provide you protection if this happens. Remember to apply this only when the area is completely dry. You can also ask your guide for help, they are qualified as paramedics and will provide all the help needed.
General Meds – Your guide will have a first aid kit and some general pills, but we encourage you to bring your own. We can't provide medicine just like that so bringing your own.
Snacks – Food along the trek won't be an issue, you'll be amazed, we'll provide you snacks as well. But every person's energy needs are different. Bringing power bars or granola will make your trek easier.
Toiletries – A must for this trek is at least one roll of toilet paper for your own use. Dry shampoo is the best for trekking and some soap too. Don't forget your travelers tooth brush and tooth paste.
Cash – You won't need money along the trek. The cash you'll need will be for when you get to Aguas Calientes and also to tip your crew. This last one is optional, it is customary but not mandatory. We recommend to take $100 USD or 300 soles just to be sure and don't be in a hurry.
Cameras and Power bank – Once on the Inca Trail you'll be amazed by the scenery. The landscapes and ruins will leave a mark on your soul. If you want to immortalize this moment we recommend you to bring a good camera. GoPros are amazing for this but if you want to bring a more professional one you can. Just remember that bigger means heavier and also that Tripods aren't allowed in Machu Picchu. Drones aren't allowed on either the Inca Trail and Machu Picchu. Don't forget a good power bank to recharge your phone and cameras. There is no access to electricity during the whole experience so you need to be ready.
Where to store my extra luggage?
All the hotels and hostels provide a storage system. If you're using the same place after the trek, you can leave your luggage with them. In case you're changing hotels or are staying at an Air bnb you can store your luggage with us at no cost. Your guide will provide you tags and we'll collect you and your luggage. Hikers will go to the trailhead and bags will come back to Cusco to our storage place. After you finish your trek, we'll meet you in Cusco with your bags and will drop you off at your hotel.
Equipment provided by AE
And finally, we'll show you the included items on our treks. As a company we provide the best quality equipment for the best experience possible. Take note of these items so you don't bring stuff you won't need at the end.
We have 3 different kind of tents for 3 different kind of needs:
Sleeping tent
What's the most important thing on a multi-day trek? Resting, and you need to do it in a proper way. We provide Eureka trekking tents that are big enough for 4 people but don't worry, we only use it for 2 people. If you want to have your own tent, just let us know so we can inform you about this option.
Dining tent
Only good rest is not enough to finish a trek, having good meals is vital. We can guarantee the quality of our chef's food. We have special dining tents for you and your group to enjoy each meal in a comfortable and safe space. These tents are big enough for your whole team and also water proof in case it's raining.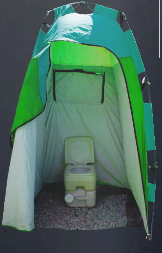 Toilet tent
Why Alpaca Expeditions is different from the rest? Well, we don't think that a basic need is a luxury. That's why we have our toilet tents, the Inca Trail provides bathrooms but the lack of cleaning is an issue. We have our own toilet tents for you to not worry about this important topic. What's the cost? Nothing, it's included in the price.
Sleeping Bags
Since we guarantee the quality of our tents, we can offer you top quality sleeping bags if you need to rent one. Our sleeping bags are 80'' long x 60'' wide at the shoulders, -15°C (2°F) degrees Mummy type 850+ fill power goose down with nylon shell. You can rent these for $20 USD for your whole Inca Trail.
Air Mats
What if we tell you that you can upgrade your sleeping time even up in the mountains? Well, this is a reality with our sleeping mats. Our mats are 2.5 inches thick and 180×60 cm for a great night without touching the cold. You can rent this with only $15 USD for your entire trip.
Foam Mattress
We mentioned our air mats just above this. Just in case you don't want to, we have your back. We provide our foam mattress for free. We don't want anybody in contact with the cold floor. So if extra comfort is not on your needs, you'll have this foam mattress that'll be more than enough. Size is 180cmx60cm
Walking sticks
Trekking is always a challenge, we know you can do it but we also want you to protect your body. During this kind of hike our knees and ankles get all the impact. By using good quality Walking sticks, we can reduce the stress on them. We can rent you our black diamond trekking poles, they're light and resistant. You can rent them with only $15 and ask your guide for the best way to use them.
How am I going to carry my stuff, is my backpack enough? How does the porter system work?
Our porters work with you but not as the usual Sherpa. They'll indeed carry equipment and also part of your belongings, but they won't do it next to you. We'll provide you a duffel bag where you can pack up to 7 kgs weight, these duffel bags will be carried by the Green Machine (our porters). After every meal, you'll leave the campsite towards the new meeting point. Your porters will pack everything and head to the new campsite. They'll pass you and will set everything up for you to get there and have your lunch or dinner.
We'll provide you a bag size 66cmx33cm for you to pack your belongings. Things that you won't need during the hiking but in the camping, change of clothes, change of shoes, etc.
Rain poncho and extra plastic bags
Inside your duffel bags you'll find some items to help your hiking.
A plastic raining poncho, we advise you to use it above your rain gear, so this one takes most of the water impact.
Then 2 plastic bags, one for your clothes, one for your sleeping bag.
Daypack cover
In case you don't have one or for use as a spare, we'll provide a waterproof daypack cover. This is light green so it's easier for your guide to find you even at longer distances.
Souvenir T-shirt
Conquering the mountains is no joke, it's a task worth telling everybody about. For that we'll have a T-shirt for everybody, showing the trek you just accomplished and the distance walked in the back. We have all the sizes, you only need to let us know.