Path to the SunGate

8 Days / 7 Nights
---
Tour Location: The Inca Trail is the Path to the Machu Picchu Sun Gate and includes multiple locations along the way
Tour Inclusions: Sacred Valley tour & 4D/3N Inca Trail
Good For: Those who enjoy hiking and are moderately fit
Difficulty: Challenging
Considerations: Permit required
This trip is for those of you wanting to do the amazing classic Inca Trail trek. Let us handle all your logistics, from arrival to departure in Cusco.
Tour Price
Path to the SunGate
8 Days / 7 Nights
---
Price
$
1,255
USD
Per Person
---
Activity Level Challenging
Trip Details
---
Itinerary
Day 1: Welcome to Cusco

You will be welcomed at the Cusco airport by our friendly representative and transferred to your hotel. Remember, landing at 3,300 meters can be hard on the body. Do not feel concerned if you have shortness of breath or a small headache. This is common and should go away quickly. You can reduce the symptoms by staying hydrated with water and tea. You will have a free day to acclimatize and visit the impressive main square of Cusco.

( Provide us your flight details to pick you up and transfer to your hotel )

Accommodations: Rumi Punku  ( 3-star hotel )
Meals: Not Included
Entrance Tickets: N/A

Day 2: Sacred Valley of the Incas

At 8 a.m. we will pick you up to begin your full day tour of the Sacred Valley. On our way to Pisaq, we will stop at some beautiful lookout points for photos. Eventually, we will arrive at the traditional market in Pisaq, which offers great souvenir shopping. We will also visit the Pisaq ruins and begin your history of the Incan empire. Following, you will make the one hour trip to Urubamba, where you can get lunch at a local restaurant. After lunch, we will drive an hour to Ollantaytambo fortress, where you will explore the Sun Temple. You will then drive back to Cusco and head directly to the Alpaca Expeditions office for your trek briefing. You will have the opportunity to ask your tour guide any last minute questions. You will receive a duffel bag to pack for your journey.

Accommodations: Rumi Punku ( 3-star hotel )
Meals: Breakfast
Entrance Tickets: Included

Day 3: Inca Trail Day 1

Alpaca Expeditions will pick you up from where ever you are staying in Cusco at 4:30 AM, We will then drive to Km 82, arriving at about 7:00 AM. After a delicious breakfast prepared by your cook, we'll go through the first Inca Trail checkpoint to begin our trek (please make sure you have your original passport with you to enter the Inca Trail). The first 2 hours of the trek are relatively easy as we make our way to our first Inca site, Patallacta which is an ancient Inca checkpoint for the approach to Machu Picchu. From Patallacta it's another 2-hour hike to our lunch stop. After lunch, we will hike for another 2½ hours until we reach the first night's campsite at Ayapata (3300 meters). On this last stretch, we pass through 2 small communities. If you want to buy any energy drinks or snacks you can do so here, you can also buy any essential items such as batteries that you may have forgotten. We'll arrive to our campsite by 5:00 PM and after settling in for a bit you can relax and have a hot drink and snack with your team of porters, chef, and guide. By 7:30 PM your dinner will be ready, and afterward, you can get some well-deserved rest.

Walking Distance: 14 km (6-7 hours)
Campsite Altitude: 3,300 meters high above sea level
Considered: Moderate day (getting used to the Inca Trail)
Weather: Warm and windy

Day 4: Inca Trail, Day 2

Your porters will wake you up early with a hot cup of coca tea to get you ready for the day. Today is our longest day and we will start early. We'll hike for roughly 4 hours to the highest pass of the trek, Dead Woman's Pass (4215 meters/13829 feet). On reaching the pass we'll stop for a short break to enjoy the views before setting off again to descend to the next valley (Pacaymayu Valley – Hidden River). It's another hour and a half down the side of the valley to our lunch spot and a chance to refill our water bottles. After lunch we begin ascending again to the second pass of the trek. It's 2 hours to the pass and along the way we'll stop at a small Inca site (Runcu Raccay) and see two huge waterfalls cascading down the opposite side of the valley. After the second pass, it's another hour downhill hike to reach the magnificent Inca site, Sayacmarca (an otherwise inaccessible village).
We'll stop here for a rest and have a quick tour of the site and then watch the sunset over the Vilcabamba mountain range. It's then just another 20 minutes until we stop for the night at our second campsite Chaquicocha (Dry Lake, 3600 meters). After dinner, if you're not too exhausted, we can do some star gazing and we'll point out the fascinating Inca constellations. In the magnificent Southern Hemisphere sky, away from all the artificial lighting, this sky is something to behold!

Walking Distance: 16 km (7-8 hours)
Campsite Altitude: 3,600 meters high above sea level (chilled weather)
Considered: Top day (we will survive two passes)
Area: Andes and the cloud forest
Weather: Cold and rainy

Day5: Inca Trail, Day 3

Completing Day 2 and beginning Day 3 certainly deserves a pat on the back! We begin early again, waking up at 6:30am to begin what is commonly felt to be the most beautiful day of the whole Inca Trail. We hike for 2 hours along what we like to call "Inca flat" (gradual inclines) and begin to enter the jungle, known as the Cloud Forest. As we walk we will have the opportunity to see the majesty of Salkantay, the second highest snow-capped mountain in the Sacred Valley, and a fantastic panoramic view of the Vilcabamba mountain range. Towards the end of the Inca flats we begin to make our way up to the last peak at Phuyupatamarka (3600 meters) from where we'll have great views overlooking the Urubamba River. Down the valley we get our first views of Machu Picchu Mountain but the site itself is still hidden from view. From Phuyupatamarka it´s a 3 hour walk down a flight of steps to our last campsite, close to Wiñay Wayna (Forever Young). Wiñay Wayna is the most spectacular Inca site on the trail after Machu Picchu and the most popular campsite because of its proximity to Machu Picchu.

During the descent we visit 2 Inca ruins, Phuyupatamarka (Town in the Clouds) and Intipata (Terraces of the Sun). We arrive at our campsite around 1:00PM to have lunch and then relax for the entire afternoon so that you're relaxed and ready for your final day at Machu Picchu. At around 4:30PM your guide will give you a short orientation and you will visit the Inca ruins of Wiñay Wayna, spending about an hour and a half there. We will explain the significance of the site and combine all the information given during the trek so you're fully prepared for your visit to Machu Picchu the following day.
We like to spoil our guests as we enjoy our last feast with the porters and chefs. It's an Inca Trail tradition to organize a ceremony in the evening to introduce the team to the tourists once again and to thank them for the great job done (if you wish to provide tips for them then you can do so at this time). It is advisable to go to bed at a reasonable time in order to get up in the early hours of the morning to arrive to Machu Picchu at the crack of dawn in the hopes that the weather will give us a beautiful sunrise over the ruins at Machu Picchu.

Meals: Breakfast, Lunch, Dinner
Walking Distance: 10 km (5 hours)
Campsite Altitude: 2,600 meters high above sea level (chilly weather)
Considered: Easy day (downhill only)
Area: High cloud forest
Weather: Warm and very humid

Day 6: Inca Trail, Day 4: Machu Picchu Day

Wake up time is at 3:30AM. We'll eat breakfast at 4:00AM and wait at the checkpoint to be one of the first to start trekking when they open the gates at 5:30AM. We'll wave goodbye to our team of porters and chef and then it's "Forward On" to the Sun Gate (Inti Punku). From here we have spectacular views of the mountains and Machu Picchu in all its glory. We reach the Sun Gate by 6:30am and then it's just an hour trek downstairs to reach the Lost City of the Incas. As we approach Machu Picchu the views of the city just get better and better! At about 7:40AM we'll reach the final checkpoint and enter Machu Picchu to begin our 2-hour private guided tour. After the tour you'll be given your bus tickets to make your way down to Aguas Calientes and you'll have plenty of free time to explore on your own or climb one of the neighboring mountains – Huaynapicchu (must be arranged ahead of time). Your guide will offer to meet you down in the village of Aguas Calientes to enjoy your last lunch in a local restaurant. This is optional and not included. At lunch, he will hand out train tickets, so if you choose to skip, please arrange to get these before leaving him at Machu Picchu.

Unless you arranged for an upgraded train, we will book the Expedition class train departing Aguas Calientes at 2:55pm Please make sure you are on the platform at least 30 minutes ahead of time. This train will be 2 hours to Ollantaytambo where an Alpaca driver will meet you and drive you back to the city in our bus, then we will drop you off at the Hotel.

Considered: The most exciting and magical day (early wake-up 3.30AM)
Area: High Cloud and Subtropical Forest
Weather: Hot and very humid (bring lots of water)

Accommodations: Rumi Punku*
Meals: Breakfast Only
Walking Distance: 5 km
Altitude at Machu Picchu: 2400 m
Considered: The most exciting and magical day
Area: High cloud and tropical forest
Weather: Hot and very humid

Day 7: Free Day & rest

You will have a free day to celebrate your achievement of hiking the Inca Trail, however, if you want to do any activity for additional price let us know, option is Rain bow mountain hike for $160 per person

Accommodations: Rumi Punku ( 3-star hotel )
Meals: Breakfast

Day 8: Journey to Lima

You will have one last chance for souvenir shopping in Cusco. There will be optional time to visit the Weaving Center Museum on El Sol Avenue. We will transfer you to the airport for your flight to Lima.

 ( Let us know your flight details to schedule the transfer to the airport )

Meals: Breakfast Only at hotel
Inclusions
Included

All transportation, including transfers to and from airports
All entrance fees, including your permit for the Inca Trail, entrance to Machu Picchu and entrance for the Sacred Valley tour sites
For the Inca Trail we provide a tour guide, food, and equipment
Four nights in a hotel in Cusco (based on availability)
Rain ponchos (made in Cusco by Alpaca Expeditions)
Day pack rain covers (made in Cusco by Alpaca Expeditions)

Not Included

Flights and taxes
Meals that are not mentioned on your itinerary
Some hiking equipment that you might need to rent (sleeping bags, inflatable sleeping pads and trekking poles)
Insurance
Tips

It is important that you attend your briefing at the Alpaca Expeditions office. Your tour guide will provide you with tips and a duffel bag for your Inca Trail trek
Price
Price:

With 3 Star Hotels: $1,255 per person

With Upgraded Hotels (Mix or 4 and 5 Star): $1675 per person

* prices are based on a shared room

Options:

Book Without Hotels: $-225 per person

Single Room (with 3 stars): + $225 per person

Single Room (with 4 stars): + $625 per person

Discount:

$35 discount for all children under 16-years-old, or those with a valid student university card.

Student discounts apply to anyone who has a valid UNIVERSITY STUDENT CARD at the time of the trek or who is 17-years-old or younger. For those using an university student card to receive the discount, we need to see a copy of the card at booking. For those booking children 17-years-old or younger, we need a copy of their passport at booking time. Please send all to info@alpacaexpeditions.com.

More Information about  STUDENT CARD

Hotel:

The hotels listed in itineraries are always our first options when booking, but a similar hotel will be booked if they are unavailable. Your Alpaca Expeditions Representative will give you the name of the confirmed hotel after booking.
An additional day can be added before and/or after your tour. Ask your Alpaca specialist for prices and options.
Travel Info
Altitude

As soon as people book their trip to Peru, specifically Cusco, they start wondering about altitude sickness. The air at high altitudes contains less oxygen than at sea level and forces your body to work harder to get the oxygen it needs. Over several days at high altitude, your body adjusts to the lower amount of oxygen in the air. This is why we always recommend spending at least two days in Cusco before beginning any trek. If you have more time, even better. Cusco is an amazing city with a lot to do, so you won't be bored.

With altitude sickness, you may first feel like you have the flu or a hangover. You may have a headache, tiredness, loss of appetite, nausea or vomiting, dizziness, trouble sleeping, trouble breathing during exercise. If any of these effects become severe, please contact our office and we will help you get to a doctor.

Most of the time, these symptoms will be mild. We always recommend easing into activity slowly, allowing your body to adjust. Drink plenty of fluids such as water or coca tea. Coca tea has been used since ancient times to help prevent altitude sickness. Leaves from the Coca Plant contain alkaloids which helps bring oxygen into your blood, helping your body avoid the effects of altitude sickness. Avoid drinking a lot of alcohol and coffee. They will cause you to urinate more often and become dehydrated. Avoid smoking. Smoking makes it more difficult for your body to get oxygen. Avoid sleeping pills. They may cause shallow breathing at night, making it more difficult for your body to absorb oxygen while you sleep.

Remember the trek to Machu Picchu is not a race. Even those in the best shape will suffer from altitude sickness when they race to the top of the mountain too quickly. Go slowly, it will give your body time to adjust to the mountain.

Your healthcare provider may prescribe medicines, such as acetazolamide and dexamethasone, to help prevent altitude sickness. Start the medicine two days before you get to a high altitude. Continue to take it while you are at high altitude.

You must remember that this is your holiday and you do not want to stress out about the possibility of getting sick from the mountains. Do everything slowly. Drink lots of water. And enjoy the coca tea. If anything does happen and you unfortunately get sick, let your guide know right away – all Alpaca Expeditions guides are trained in how to help you get through it.

Weather

Of course weather is unpredictable. Typically the dry season in Cusco is from April through October, but this does not stop rain from falling in June or the sun from coming out in December – just be prepared. No matter what month you are doing the trek, please make sure that you have rain gear that includes a waterproof jacket, pants, poncho and waterproof gloves. Many people forget about gloves, but being cold and wet makes hiking very unpleasant.

Also prepare for four seasons. Many of the treks through the Andes involve many micro-climates and you will need to be prepared for all seasons. Layers are always key as they are easy to adjust to the different temperatures. And evenings will always be cold, so please be prepared with a warm, winter-weight jacket.

First Aid

Every Alpaca Expeditions guide has received training in first aid from a physician. We conduct mandatory training every February – every single Alpaca guide attends. When guiding you, they will have with them a first aid kit for basic medical problems (traveler's diarrhea, cuts, scrapes, etc.) and oxygen. They know how to make you feel better.

In case something unexpected happens and you feel you can no longer complete the trek, they will figure out the safest and quickest way off the course and to a clinic. You will never be left alone; you will have a member of the team escort you every step of the way until safely with a doctor. When you are feeling up to it, we will make sure that you still have the chance to visit Machu Picchu and re-connect with your group, traveling by train comfortably.

Travel Insurance

Because there are so many logistics to plan and pay for before your trek occurs, payment for your trek is due even if you are unable to complete the hike. Please read our Booking Conditions carefully so you know what is due. Obtaining travel insurance before you leave home is strongly encouraged. This way, if something happens, and this is rare, you will not be out of pocket a tremendous amount of money. Alpaca will provide a letter and your invoice to submit to your insurance in this case to help expedite your processing.

Environmental Impact

Alpaca Expeditions uses biodegradable soap and transports all our garbage back to Cusco. Our porters are trained to look after the trail and pick up any waste from other groups, as well. We also use environmentally-friendly chemical portable toilets that allow us to pack waste out. We believe in leaving no footprint behind.

Community

Alpaca Expeditions is really proud of the work we do for our community. This is a main focus for our company. We have worked with villages directly to help supply them with needs their families were missing. We have supported local schools by giving them computers and books. We currently sponsor a teacher at the village most of our porters come from to ensure their children are offered the best education.

We buy all our food from local farmers and markets and serve the freshest ingredients. We provide English classes for all our team: guides, porters, chefs and drivers. And we are building a house for our porters to give them a safe and comfortable place to stay before and after our treks so they no longer need to sleep on the floor of a friend.

And twice every year we bring our porters and their families to Machu Picchu. This is our favorite trip to do as the guys who work tirelessly have never visited the Lost Citadel of the Incas. Showing them this place is our biggest honor.

We are always looking to do more for our partners. Please let us know of your ideas and we will work to help.

Personal Porter Included

All of our treks include porters, who are responsible for carrying and setting up all equipment. They will also carry your personal duffel, which you will receive at your briefing the night before your trek. This duffel can not exceed 7 kg/14 lbs, and must include your sleeping bag and air mattress.

Each Alpaca Expeditions porter is given a proper uniform, salary and insurance. They are the backbone of our company.
Packing List
Packing List

Good day back pack
Copy of your passport
Good hiking gear like hiking boots, warm jackets, gloves, hat warm fleece and socks
Sleeping bag
Walking boots
Waterproof jacket/rain poncho
Hat and gloves
Warm clothes: Layers for variable temperatures, especially at night
T-shirts
Comfortable trousers
Sun hat
Sun protection cream
Insect Repellent
Re-usable plastic or metal water container or camel bags
Water (only for first 4 hours of trek, then we will provide you with drinking -previously boiled- water)
Toiletries
Personal medication
Camera and film
Flashlight with spare batteries
Walking stick
Bathing suit for the hot springs
Extra money for souvenirs, drinks & tips
Food & Nutrition
Enjoy the Best Chefs in the Mountains

We include all meals and snacks for every trek until the last lunch (after your tour of Machu Picchu). For your last lunch in Aguas Calientes, or for all train tours, you will have the option to dine at one of the many restaurants in Aguas Calientes village.

We understand you may be curious about the quality of the food provided by Alpaca Expeditions during the treks. While each meal is prepared by a chef in a small tent on a small stove, our reviews prove our meals to be excellent! Each chef is professionally trained to prepare the best breakfasts, lunches, dinners and snacks, and they are all served with a smile! After completing each day's trek, you will enjoy a social happy hour before enjoying a delicious buffet dinner, that will undoubtedly exceed all your expectations about food on Inca Trail.

All food is prepared from fresh ingredients, that are purchased in the Cusco local market. Everything is transported by the porters, and then prepared by the chef. We do not use any canned or rehydrated food. It is all fresh, healthy and delicious!

Do you have special dietary needs? No problem! We cater to vegetarians, vegans and any food allergies.

How about the water? We take tap water from each campsite and boil it for 15 minutes, so it is safe for you to drink. There is plenty of water provided during each trek, but you will only need to carry enough water to get you to the first lunch stop. You can refill your bottles at breakfast, lunch and dinner.

You will be well fed during any of our Adventure Treks. Food will be provided five times a day, beginning with a big breakfast, a snack, a tremendous lunch, an afternoon tea (happy hour), and finally dinner.

You will be treated like royalty when you're on the Trail! Please, just in case, bring some coca leaves.

Below are some of our sample menus:

Breakfast: Scrambled eggs, pancakes, omelettes, porridge, cereal, fruit salad, toast, orange juice, milk, tea, coffee, hot chocolate

Snack: Fruit, cookies, cereal, chocolate, candies

Lunch: Corn or mushroom soup, chicken and rice, sausage, fried fish, ceviche, steak, beans, fried rice, french fries, boiled potatoes, vegetables, salad

Happy Hour: Popcorn, fried wontons, tea, coffee

Dinner: Stuffed chicken, vegetable tortillas, pizza, spaghetti, pork cutlet, sauteed vegetables, salad
The Path to the Sun Gate 8D/7N
Please fill in our BOOKING FORM carefully with your correct personal details.
Inca Trail Trek Daily Videos: See What Each Day Is Like!
---
The Alpaca Difference
---
Alpaca Expeditions is a 100% peruvian, indigenous owned company. Started by Raul Ccolque, a former porter and tour guide, Alpaca Expeditions separates ourselves by our dedication to both our customer and our team. We work very hard to make sure that all our clients needs are taken care of throughout the tour with us. At the same time, we never forget about our brothers and sisters working tirelessly for us to make all of this possible. Responsible and sustainable tourism that gives as much to our community as to our clients.
Meet the AE Trekking Team!
---
Everyone on the Alpaca Team is from Cusco region, living the traditions and history they share with you while on one of our tours. Our guides are all graduates of university studying tourism, history and english. Our chefs are trained every February by a professional cooking team learning new meals, adding varieties of entrees for all types of eating. And all our porters are from HUARQUI, HUACAHUASI, PATACANCHA, QUISWARANI, CANCHACANCHA, QUEYUPAY, UMACHURCO and CCACCACCOLLO villages, very often working this job on top of maining their farms back at home. Most of our team has been with us for years, as we have the most loyal, hard working, happy employees in Cusco. We know how lucky we are to have the best team trekking and you will immediately fall in love with all the men and women who call Alpaca Expeditions their home.
What do we do for our porters?
---
Alpaca Expeditions would not be where we are today without these hardworking men and women. We could not imagine a harder job and our team does it smiling. We do our best to thank them for their hard work and loyalty by doing as much as we can to make their lives and their families lives better. All our porters receive all their equipment for free from warm winter hats to proper hiking boots. They sleep in proper tents and are given warm sleeping bags for night. They enjoy the same food we serve our clients and all leftovers are donated to their families. We visit their villages with doctors and dentists, donate school supplies and sports equipment. And our favorite time of the year is when we bring a group of porters and their families to Machu Picchu to visit the ruins for the first time.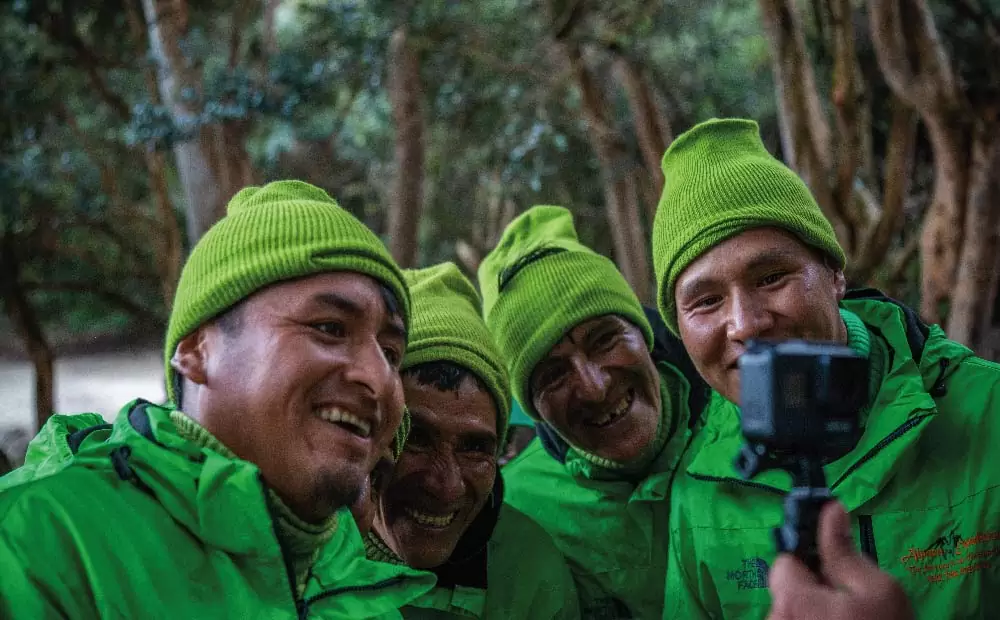 Our Porters represent the Peruvian people, both men, and women who are at the heart of our company. It is not possible to ...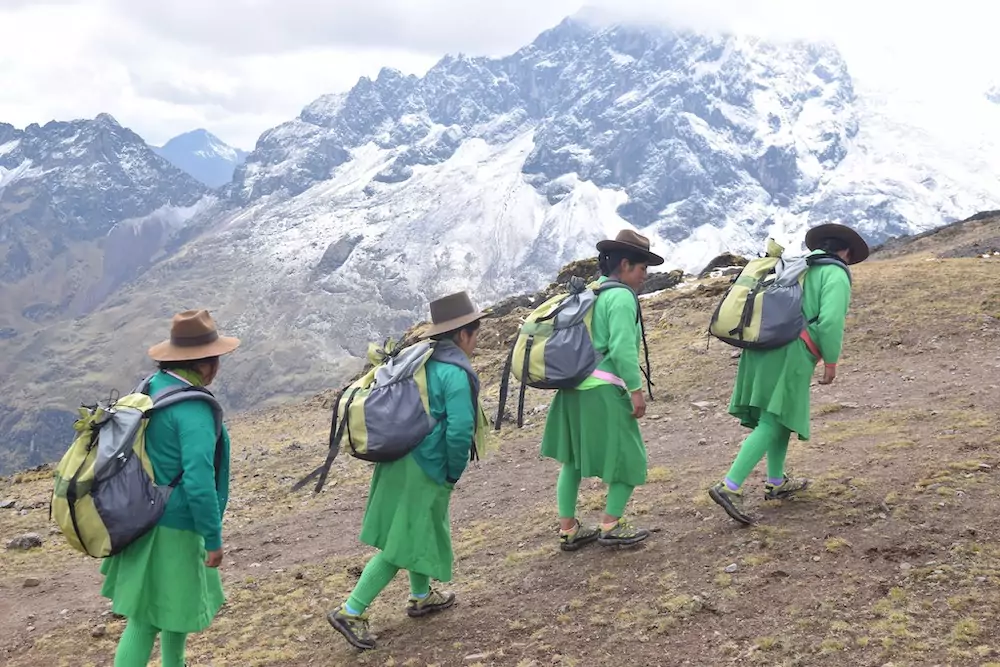 Alpaca Expeditions aims to promote gender equality and empower women, hiring first Peru Women as Porters opening the door ...
Free Medical Assistance to Porters
In 2019, we hired our first Alpaca Expeditions Medical Doctor to help tend to our guides, drivers, chefs…
Our Porter's bus
We treat our porters with the same dignity and respect as we do our clients. Just as our clients enjoy our…
Our Porter's House
As we mentioned above, our Porters like many Peruvian people come from distant villages to work our treks…
Tents and Sleeping bags
Again, this is something unique that Alpaca Expeditions provides, and sad others are not doing. We supply…
Proper Equipment for our Porters
Every porter of ours receives proper equipment. That includes moisture-wicking long/short sleeve shirts…
Nutritious Meals for our Porters
A general comment from trekkers on an Alpaca Expeditions tour is that we serve too much food. Well…
Extra information
---
Alpaca Expeditions is always ready to make your trip safe and as easy as possible for you. Because these trips are a bit more complicated than your typical tour, we have put together some notes on logistics, storage, and even recommendations on where to stay in Cusco. And of course our team is ready to answer any other question, as we promise to be your partner from the moment you first contact us to our last goodbye in Cusco.
Alpaca Expeditions Recognitions
---
ISO (International Organization for Standardization)
In the pursuit to stand out from the rest, Alpaca Expeditions has obtained four ISOs plus our carbon footprint certificate to date. These achievements result from our efforts to implement the internationally-recognized integrated management system. They also represent our commitment to all of our clients and staff of operating sustainability and responsibility in every way possible.