Rainbow Mountain Trek, Ausangate + Machu Picchu

4 Days / 3 Nights
---
Alpaca Expedition created the Ausangate + Machu Picchu package based on our client's feedback. They wanted a hike that included the Ausangate trek, the famous Rainbow Mountain tour AND Machu Picchu all in 4 days.
Tour Location: Rainbow Mountain Trek, Ausangate and Machu Picchu
Tour Type: Hiking, adventure, camping
Good For: Those with a sense of adventure and in good shape
Temperature: Cold, temperature may go below 0 degrees at night
Difficulty: Challenging
Considerations: Enjoy the amazing colors of Rainbow Mountain and Ausangate before they are discovered by the public
Best Seller
Tour Price
Rainbow Mountain Trek, Ausangate + Machu Picchu
4 Days / 3 Nights
---
Price from
$
750
USD
Per Person
---
Trip Details
---
Highlights

Highlights

Alpaca Expedition created the Ausangate + Machu Picchu package based on our client's feedback and requests. They wanted a hike that included the Ausangate trek, the famous Rainbow Mountain tours AND Machu Picchu all in 4 days.

This experience includes the Ausangate trek during the first 2 days and will offer you a challenging yet rewarding experience along the high Mountains. The 3rd day will be dedicated to the Rainbow Mountain tour. This is a full day experiencing the Rainbow Mountain Hike Peru's newest gem. Your Alpaca Expeditions' highly experienced guide with answer ALL of your questions. You'll also be joined by one of our renown trekking chefs who will carefully prepare your breakfast and lunch to ensure you experience some of the amazing food that Peru has to offer!

Once your Rainbow Mountain tour is done you will be taken to Ollantaytambo to have an amazing train ride to Aguas Calientes. That's where you will relax in a great hotel night to you can be be ready for Machu Picchu the next morning. .

Your last day with Alpaca Expeditions will be focused on Machu Picchu. You will be taken on one of the first buses up and be the first ones at the ruins. You'll be guided on an educational and immersive walking tour of all of Machu Picchu tour. You'll discover some of its secrets and get filled with the energy coming from this sacred place of the Incas.

Once your Machu Picchu walking tour is complete you will take another scenic train ride back to Ollantaytambo and be taken to your hotel with a whole adventure accomplished.

Itinerary Overview

Day 1: 16km: Start your Rainbow Mountain Trek in Cusco – Pukutuni School – Pucaccocha
Day 2: 8km: Pucaccocha – Condor pass – Alpaca pass – Sororni Lake
Day 3: 6km: Soroni Lake – Rainbow Mountain – Kayrawiri – drive to Ollantaytambo and train to Aguas Calientes
Day 4: Machu Picchu Visit
Itinerary
Day 1: Cusco– Pukutuni School – Pucaccocha

The Rainbow Mountain Trek team from Alpaca Expeditions will pick you up at 4 a.m. Then you'll have a three hour drive to the trailhead at Pukutuni School. Here you'll enjoy some breakfast and meet your Alpaca Expeditions team including the local chef, porters and horsemen.

Then you'll have a three-hour hike to your lunch spot at Upis village in the skirt of Ausangate Mountain. After you've enjoyed your freshly prepared lunch, you'll hike for 1.5 hours uphill to the first pass called Vicuña Pass (4850 meters above sea level). We'll break there for a bit to allow you to enjoy the views.

Then you'll continue the last leg of Day 1 on the Rainbow Mountain trek with a 3-hour walk to your evening campsite at Pucaccocha. You'll be able to enjoy breathtaking views along the way. You'll see stunning views of the valleys, waterfalls and glacier peaks.

Your Alpaca Expeditions chef and porters will be waiting for you at your evening campsite. They'll prepare food and get your tent set up so you can just relax and enjoy your surroundings.

Trailhead elevation: 4200m
Walking distance. 16km
Campsite elevation. 4600m
Weather: Cold
Rate: Challenging

Day 2: Pucaccocha - Condor pass – Alpaca pass - Sororni Lake

After an early nutritious breakfast cooked by your Alpaca Expeditions chef, you'll continue the Rainbow Mountain Trek with a 2-hour climb to Condor pass (4900 meters above sea level). On the way, you'll have magical views of Ausangate mountain, lagoons and perhaps even see some llamas and alpacas. It is then a gradual downhill hike for 2 hours to your lunch spot. After lunch, you'll have a small climb to Alpaca pass (4950 m) where you can see a small part of Rainbow Mountain. After one more hour of downhill hiking, you'll get to this evening's campsite. Here your Alpaca Expeditions team will take care of all the details while relax you and experience one of the most beautiful spots to take in the Andean sky.

Walking distance: 08 km
Campsite elevation: 4700m
Weather: cold
Rate: Challenging

Day 3: Soroni Lake – Rainbow Mountain – Kayrawiri - drive to Ollantaytambo and train to Aguas Calientes

Spending the night in the mountains means you'll be one of the first to arrive at the stunning Rainbow Mountain. You'll enjoy a pleasant breakfast with hot drinks served by your Alpaca Expeditions team to start your morning. You'll hike 2 hours gradually uphill to get to this famous mountain.

On the way, you'll have the chance to see some wildlife of vicuñas. Upon your arrival the views will be stunning and because it'll be so early you should be able to get some spectacular photographs without worrying about crowds. Your Alpaca Expeditions guide will explain all the mountains' different colors and minerals. Once you are ready to leave it'll be 1 hour to the end of the trail. You'll then say goodbye to your Alpaca Expeditions trekking team and continue from this point with your Rainbow Mountain Trek guide.

It'll be a 4-hour drive to Ollantaytambo where you'll have some dinner before catching your 7 p.m. train to Aguas Calientes. Then you'll have the opportunity to take a nice hot shower and sleep in a comfortable bed in a local hotel.

Walking: 6 km
Weather: Cold
Rainbow mountain elevation: 5030m
Rate: Challenging

Day 4: Machu Picchu & return to Cusco

Today is the day on the Rainbow Mountain tour that you'll get to visit Machu Picchu. To get the most out of the day Alpaca Expeditions encourages every one of our groups to start the day early. You can grab some breakfast before catching one of the first buses up to Machu Picchu (starting at 5:30 a.m.).

The hotel will hold your bags for you, allowing you to only have to bring your day pack with you. It's a 30-minute bus ride from Aguas Calientes to Machu Picchu. Once you arrive at Machu Picchu your tour guide will introduce you to the world-famous Machu Picchu ruins.

The very first thing your guide will do is bring you the best place to watch the sunrise and get pictures. Once the sun rises, your tour guide will walk you around the main areas and explain the history for a 2.5 hour long walking tour. You'll learn more about the history and culture of the Inca Empire. At the end of the guided tour participants in the Rainbow Mountain Trek will have some time to yourselfs to walk the ruins without interruption or if you arranged to hike Huayna Picchu* (must be booked in advance as it sells out and costs $75 per person). Then your guide will show you where to begin this hike which will take no more than 2 hours round-trip.

For your return trip from Machu Picchu we recommend beginning heading back to Aguas Calientes town by no later than 2 hours before your train departure. Your guide will inform you of your train times before your return. It's a 2 hour return train trip from Aguas Calientes to Ollantaytambo. In Ollantaytambo the Alpaca Expeditions staff will be waiting for you at the train station's exit door to bring you back to Cusco by car. It's about a 2 hour car ride to Cusco. You do have the choice to hike the Machu Picchu Mountain instead of Huayna Picchu Mountain. However, this hike is more challenging and takes three hours minimum, round-trip (at an extra cost of $75 per person).
Inclusions
Included

Professional Guides: All of Alpaca Expeditions' guides on our Rainbow Mountain Trek studied English and tourism at Cusco National University. They all grew up in the Cusco region and are committed to teaching others about their heritage. They're fun yet professional and will ensure you are safe and happy on your Rainbow Mountain tour.
Briefing: The night before your Lares Trek around Rainbow Mountain and Ausangate to Machu Picchu, you'll come to Alpaca Expeditions' office at 6:30 p.m. for your briefing with your trekking guide. You'll receive your Alpaca Expeditions duffel bag for your items that must include your sleeping bag and air mattress (ours weigh 2.5 kg and 1 kg respectively). All duffel bags will be carried by your porters and will only be available at your campsite each day (morning and evening). Any items that are needed while hiking should be packed in your daypack.
Porters & Horsemen: Alpaca Expeditions includes a personal porter who is responsible for carrying your duffel bag containing your items. There is no additional fee for this. Your duffel bag will be provided at your briefing the night before and to be filled with your necessities for the next night and day. You will not have access to your duffel bag until you arrive at your evening campsite.
Emergency Horse: All of Alpaca Expeditions' alternative treks include an extra horse for our clients to use if they need a break from trekking.
Transportation: All your transportation is included in this trek. You'll be picked up directly from your hotel around 4:30 a.m. and brought to the trailhead to begin your trek. Once you complete the trek, you'll be brought back directly to your hotel in Cusco for drop off.
Equipment: Alpaca Expeditions has the best equipment. We use Eureka Timberline 4 person tents that are shared by only two people. You'll have a spacious dining tent to enjoy your meals in.
Food: The Alpaca Expeditions chefs cook delicious meals that many previous trekkers have loved. We honor all food restrictions so be sure to add any that you have on your booking form and let your guide know at your briefing. Food is typically all served family-style.
You'll enjoy breakfast, lunch, and dinner each day for the trek along with a happy hour of tea and snacks. A snack will be provided each morning for you to enjoy along the hike. Your last meal with your chef will be after breakfast on day four. Lunch on the last day is not included.
Water: Beginning from your first lunch until your last breakfast Alpaca Expeditions will supply all the water needed. This water is boiled, filtered, and then cooled before distributing. You must bring personal water bottles and or a camelback, we recommend carrying about 3L worth. You'll be able to refill your water at each meal.
First Aid: Every Alpaca Expeditions guide has received training in first aid from a physician. We conduct mandatory training sessions every February which every Alpaca tour guide must attend. Your tour guide will always have a first-aid kit for basic medical situations (traveler's diarrhea, cuts, scrapes, etc.) and oxygen. We'll get you off the trail as quickly and comfortably as possible if needed and ensure you get directly to a clinic for treatment.
Extras: Alpaca Expeditions believes it´s the attention to small details that separates us from other tour companies. Every Alpaca Expeditions trekker receives a small pillow to sleep with, a foam mattress for insulation, a day pack cover to protect their things while hiking, and a rain poncho. We work very hard to ensure that you have the very best vacation.
Satellite Phones: Alpaca Expeditions' top priority will always be the safety of you and our team. While all Alpaca Expeditions guides are prepared and trained to deal with issues clients may have on the mountain. Being a phone call away from any doctor, hospital, or friend helps everyone feel assured that they are safe. Radios which all our guides have are limited in how far they can reach so Alpaca Expeditions has added Satellite Phones to every trek. Every guide will have a fully charged phone that can be used anywhere on the mountain to reach us. They can be used by our clients for non-emergencies as well. While they are not cheap to use, they're available just in case you need to check in at home.

Not Included

Rentals: Every trekker needs a sleeping bag when camping. Inflatable air mattresses and walking sticks (with rubber tips) are optional but encouraged. If you don't want to bring any of the above, they are all available for rent:Sleeping Bag: $20
Inflatable Air Mattress: $15
Walking Sticks (Pair): $15
Price
750

Student Discount:

$25 off per person

Student discounts apply to anyone who has a valid UNIVERSITY STUDENT CARD at the time of the trek or who is 17-years-old or younger. For those using an university student card to receive the discount, we need to see a copy of the card at booking. For those booking children 17-years-old or younger, we need a copy of their passport at booking time. Please send all to info@alpacaexpeditions.com.

More Information about STUDENT CARD

Rentals:

Sleeping Bag (four season): $20 (Maximum size 1.95m / 6'4″)
Pair of walking poles (Black Diamond): $15
Inflatable air mattress (Thermarest): $15
* Foam mats and small pillows are provided for everyone.
Travel Info
Getting to Cusco

The airport in Cusco currently is only for domestic flights. Therefore, all international travelers by plane must disembark in Lima and go through Customs. Even if your flight to Cusco is the same day by the same airline carrier, you must grab your bags in Lima and then check them back in.

The best way to get to Cusco is by air and there are several options in airlines. LAN tends to be the most expensive but has the most options and flights. Expect delays or flight cancellations. Due to the high altitude of Cusco, it tends to be difficult to land and any acclimate weather will stop air traffic. Bus travel is always available and while the trip can be long, especially from Lima the buses in Peru are very well maintained and comfortable. This option is strongly encouraged if coming from a city closer to Cusco like Puno. Lima buses will take about 20 hours to arrive.

Luggage Storage

Any extra luggage you have with you can be left safely in Cusco at either your hotel or with us at the Alpaca Expeditions office while you trek. We'll store your luggage on the morning of your trek and return it once you're back in Cusco. Make sure your bags have tags on them so they are easy to locate.
Altitude

As soon as people book their trip to Peru, specifically Cusco they start wondering about altitude sickness. The air at high altitudes contains less oxygen than at sea level and forces your body to work harder to get the oxygen it needs. Over several days at high altitude your body adjusts to the lower amount of oxygen in the air. For this reason, we always recommend spending at least two days in Cusco before beginning any trek in the Andes. Cusco is a marvelous city with lots to do so if you have more time to acclimate you won´t be bored.

With altitude sickness you may first feel like you have the flu or a hangover. You may have a headache, tiredness, loss of appetite, nausea, vomiting, dizziness, trouble sleeping, or trouble breathing during exercise. If any of these effects become severe please contact our office and we'll help you get to a doctor.

Most of the time these symptoms will be mild. We always recommend easing into activity slowly allowing your body time to adjust. Drink plenty of fluids such as water or coca tea. Coca tea has been used since ancient times to help prevent altitude sickness. Leaves from the Coca Plant contain alkaloids that help bring oxygen into your blood. This helps your body avoid the effects of altitude sickness. Avoid drinking a lot of alcohol and coffee since they will cause you to urinate more often and become dehydrated. Avoid smoking. Smoking makes it more difficult for your body to get oxygen. Avoid sleeping pills. They may cause shallow breathing at night, making it more difficult for your body to absorb oxygen while you sleep.

Remember the trek to Machu Picchu is not a race. Even those in the best shape will suffer from altitude sickness if they race to the top of the mountain too quickly. Go slow and it'll give your body time to adjust to the elevation. Your healthcare provider may prescribe medication such as Acetazolamide and Dexamethasone to help prevent altitude sickness. Start the medicine two days before you get to high altitude and continue to take it while you are at high altitude. You must remember that this is your holiday and you don't want to stress out about the possibility of getting sick from it. Do everything slowly, drink lots of water, and enjoy the coca tea. If anything does happen and you unfortunately get sick, let your guide know right away. Alpaca Expedition guides are trained to help you get through it.

Weather

Of course, the weather is unpredictable. The Cusco dry season is April thru October. Although this does not stop rain from falling in June or the sun from coming out in December so just be prepared. No matter what month you are doing the trek make sure that you have rain gear that includes a waterproof jacket, pants, poncho, and waterproof gloves. Many people forget about gloves but being cold and wet makes hiking very unpleasant.
Also be ready for four seasons. Treks in the Andes involve various microclimates and you will need to be prepared for each one. Layers are always key since they are easy to adjust to different temperature changes. Be prepared with a warm packable down jacket since the evening will be cold.

First Aid

Every Alpaca Expeditions guide has received training in first aid from a physician. We conduct mandatory training every February and every Alpaca guide attends. When guiding you they'll have with them a first aid kit for basic medical situations (traveler's diarrhea, cuts, scrapes, etc.) and oxygen.
In case something unexpected happens and you feel you can no longer complete the trek they'll figure out the safest and quickest way off the trail and to a clinic. You'll never be left alone, you'll have a member of the team escort you every step of the way until safely with a doctor. When you're feeling up to it, we'll make sure that you still have the chance to visit Machu Picchu and re-connect with your group. This way you can finish your trip traveling by train comfortably.

Travel Insurance

To protect your travel investment, we highly recommend the purchase of travel insurance. Getting travel insurance before you leave home is strongly encouraged and very easy. We work with a great agency in the United States that has helped to make it easy and affordable. It's an excellent way to protect yourself while you are visiting Peru.

If interested in booking through our trusted partner, Ahart, Frinzi & Smith, CLICK HERE.

Environmental Impact

Alpaca Expeditions uses biodegradable soap and transports all our garbage back to Cusco. Our porters are trained to look after the trail and pick up any waste from other groups, as well. We also use environmentally-friendly chemical portable toilets that allow us to pack waste out. We strongly believe in leaving no footprint behind.

Community

Alpaca Expeditions is proud of the work we do for our community as this is the main focus of our company. We've worked with villages directly to help supply them with the needs their families were missing. We've supported local schools by giving them computers and books. Alpaca Expeditions also sponsors a teacher at the village. This is where most of our porters come from and ensures their children have the best opportunity for education.
We buy all our food from local farmers and markets and serve the freshest ingredients. We provide English classes for all our team including guides, porters, chefs, and drivers. We're also building a house for our porters. By giving them a safe and comfortable place to stay before and after our treks.
Twice every year we bring our porters and their families to Machu Picchu. The men and women who work tirelessly have never visited the Lost Citadel of the Incas. So that makes this trip our favorite to do. It's an honor to show them this place.

We're always looking for partners as well as doing more. Please let us know about your ideas and we'll work to help.

Personal Porter Included

All Alpaca Expeditions camping treks include porters who're responsible for carrying and setting up all equipment. They'll additionally carry the duffel bag you receive at your briefing the night before your trek. Each duffel bag cannot exceed 7kg/14lbs and must include your sleeping bag and air mat. Alpaca Expeditions gives each porter a proper uniform, salary, and insurance. They're the backbone of our company.
Packing List
Packing list

Day pack
Copy of your passport
Good hiking gear: hiking boots, warm jackets, gloves, hat, warm fleece, and socks
Sleeping bag
Walking boots
Waterproof jacket/rain poncho
Hat and gloves
Warm clothes: Layers for variable temperatures, especially at night
T-shirts
Comfortable trousers
Sun hat
Sunscreen
Insect repellent
Reusable plastic/metal water bottle, or camel bags
Water for first four hours of trek, then we'll provide you with drinking water
Toiletries
Personal medication
Camera and films
Flashlight with spare batteries
Walking stick
Bathing suit for the hot springs
Extra money for souvenirs, drinks and tips
EQP & Food
Equipment

Every Alpaca Expeditions camping tour includes a spacious four-person tent that'll be shared by only two people so you can spread out a bit. These are Eureka Timberline's all-season tents. Our rentals are top of the line: Black Diamond Adjustable Walking Sticks and Thermarest Luxury Air Matts. Sleeping Bags rented from us are mummy-style down bags and rated for 15C and liners are always included.

For more information on our equipment, CLICK HERE.

Food

Every Alpaca Expeditions trek includes a chef trained in culinary school. They have learned the skills of mountain cooking which will amaze you. You'll enjoy a full breakfast, lunch, and dinner served hot. We also include Happy Hour with snacks and some hot tea before dinner. The key to feeling good on a trek like this is eating well and staying hydrated.

Meals are all served family-style with large plates for everyone to take what they like. And all food restrictions are honored. No matter if you are vegetarian or gluten-free you'll always be well fed.

Water

Alpaca Expeditions will provide water at every meal. We will boil, filter, and cool all water before distributing it to our clients to ensure that it's safe for drinking. Because of this process you need to provide water for yourself the first morning of your trek. We won't have a chance to get you clean water until lunch on Day 1.

Always begin your hike with 2-3 liters of water so make sure you have a large enough water bottle or camelback to store this.
Porters & Horsemen
Our Alpaca Expeditions Ausangate treks include a combination of porters and horsemen to help carry all the needed equipment and bags. We also include an extra emergency horse that can be used at any time if you need a break from hiking.

Alpaca Expeditions porters, who we lovingly call the Green Machine, are the pride and joy of our company and what separates us from others. We are dedicated to making a difference in their lives and their family's life. For that we are rewarded with the hardest working team in the mountains.

Alpaca Expeditions Porters:

Raul Ccolque Ccolque, the owner & general manager of Alpaca Expeditions, worked as a porter from 2000 to 2003. While he saw some companies treating their porters better than others, he felt there was not enough done for them and their families. We could not have a company without our porters and because of that we want them to be part of our family. We want to know them, listen to them, and follow through on our promise to make their lives better.
Our porters range from 18 years old until 55 and come from different villages in the Cusco region. We employ approximately 250 porters from the following communities:

Comunidad Wakatinku 25 porters, located at 3800 meters
Comunidad Llullucha 20 porters, located at 3700 meters
Comunidad Choquekancha 25 porters, located at 3400 meters.
Comunidad Pumapunko 25 porters located at 3700 meters
Comunidad Kachin 25 porters located at 3700 meters
Comunidad Anparaes 25 porters located at 3500 meters

Quechua is their main language and farming is their main economic activity. Being a porter is a second income for them.

Our Promise to Our Porters:

Alpaca Expeditions clearly understands that we would not be successful without our team of porters. They have promised us that they will continually work hard to make sure each trekker has a magical journey. In return we made a promise to them that we'll do what we can to make this difficult job a little less daunting.

As we explained earlier most of our porters live in a village outside of Cusco – typically 2 to 4 hours away. We cover all entrance fees (45 soles – $15 US per porter) and transportation to and from the trek for our porters separate from their salary. They're paid promptly after the trek eliminating the need to travel back to Cusco before heading home.

They receive better wages, health insurance, and all their equipment for free including amazing food to eat. Alpaca Expeditions makes sure they have a comfortable bed and a nice room to sleep in before (and after if needed) the trek. Alpaca Expeditions visits the communities they live in and provide needed supplies to their families like toothpaste, toothbrushes, soap, and books for students.

This is just the beginning for us and we're always looking for ways to do more.

How much does the Alpaca Expeditions Porter Carry?

While the government allows each porter to carry up to 25kg we keep our limit at 20kg. Each porter will carry up to 15kg from the company and 5kg of their stuff. The reason why it's so important to keep your duffel light and not exceed our allowed 7kg. You will see other companies carrying more than the allotted weight. We'll not allow our porters to carry this burden.

Keeping them Comfortable…

Every year Alpaca Expeditions provides a new sleeping bag and sleeping pad for each porter. Our jackets are all lined for warmth and the boots that we provide are all waterproof.

What do the Porters Eat?

Alpaca Expeditions porters will eat the very same amazing meals you have. Our chef buys enough food to cook for all our trekkers and porters and makes enough for everyone to be full at the end of the day. We serve large portions and none of it is wasted. Whatever is left over after you and our team eats will go back home to the families of the team.

Helping Their Families…

All Alpaca Expeditions porters are Quechua language speakers who come from farming villages. They take advantage of the seasons to grow their crops. Alpaca Expeditions helps them to keep growing their community in education, health, and culture. We have different ongoing projects and hope to add many more. Some of the projects we have completed or continue doing are:

Every three months Alpaca Expeditions takes a kit of toiletries to Wakantinku elementary school for 204 Quechua speaking children. They range from 3 – 12 years old and are in grades kindergarten to 6th. Years ago, when we first arrived at this village, we found that many children had trouble keeping up with daily hygiene. We make sure they always have toothpaste, toothbrushes, soap, and hand sanitizer.

Alpaca Expeditions has planted more than 3,000 native trees, Queuña (Andean Polylepis) in the community of Wakatinku to reforest their village. This tree will be more sustainable than others they have used and will eventually be a fertilizer. Which can be used for their village to help grow more grass for their Alpacas. Alpacas are the most common and typical animals located in this village.

We currently sponsor a full-time teacher's salary for the High School of Wakatinku to teach math, art, and English. This teacher has done great work and we plan to continue this sponsorship as long as possible.

Every February we invite our porters and their families to come with us to visit Machu Picchu.

Often our clients have asked how they can help. Some Alpaca Expeditions trekkers raised money back at home to buy some computers to donate to a local village. We matched their donation and went together to donate four computers to the school in Wakatinku village for the kids to enjoy. Being their first time donating computers, this was something new. We know it is hard for 204 students to use four computers. That is why we have provided computers in 2019 and hope to continue to do so every year.

To help celebrate the anniversary of Llulucha village this last July, we booked and provided transpiration for a local band, Alicia de Acomayo, to play. It was a great party for everyone to enjoy.

We are working with a local clinic in Cusco to provide dental care and skin examinations for the children of each of our porter's villages.

We have recently bought land in Cusco that is currently being constructed to create dormitory classrooms and teaching kitchens for our team. We created this for our porters outside of Cusco to have a place to sleep before their treks. We'll have free English, computer, and cooking classes for any member of our team and their family to use. We're very excited about this big project and what it'll bring.

Those are just some of the projects we've done and continue to do. We're a small local company here in Cusco, who promises to be as dedicated to our team as they are to us. We're lucky enough to have the best porters in the region. We feel it's necessary to make sure they're healthy, stable, and capable of providing for their families the best life possible.
Ausangate, Rainbow Mtn & Machu Picchu – 4D/3N
Please fill in our BOOKING FORM carefully with your correct personal details.
The Alpaca Difference
---
Alpaca Expeditions is a 100% peruvian, indigenous owned company. Started by Raul Ccolque, a former porter and tour guide, Alpaca Expeditions separates ourselves by our dedication to both our customer and our team. We work very hard to make sure that all our clients needs are taken care of throughout the tour with us. At the same time, we never forget about our brothers and sisters working tirelessly for us to make all of this possible. Responsible and sustainable tourism that gives as much to our community as to our clients.
Meet the AE Trekking Team!
---
Everyone on the Alpaca Team is from Cusco region, living the traditions and history they share with you while on one of our tours. Our guides are all graduates of university studying tourism, history and english. Our chefs are trained every February by a professional cooking team learning new meals, adding varieties of entrees for all types of eating. And all our porters are from HUARQUI, HUACAHUASI, PATACANCHA, QUISWARANI, CANCHACANCHA, QUEYUPAY, UMACHURCO and CCACCACCOLLO villages, very often working this job on top of maining their farms back at home. Most of our team has been with us for years, as we have the most loyal, hard working, happy employees in Cusco. We know how lucky we are to have the best team trekking and you will immediately fall in love with all the men and women who call Alpaca Expeditions their home.
What do we do for our porters?
---
Alpaca Expeditions would not be where we are today without these hardworking men and women. We could not imagine a harder job and our team does it smiling. We do our best to thank them for their hard work and loyalty by doing as much as we can to make their lives and their families lives better. All our porters receive all their equipment for free from warm winter hats to proper hiking boots. They sleep in proper tents and are given warm sleeping bags for night. They enjoy the same food we serve our clients and all leftovers are donated to their families. We visit their villages with doctors and dentists, donate school supplies and sports equipment. And our favorite time of the year is when we bring a group of porters and their families to Machu Picchu to visit the ruins for the first time.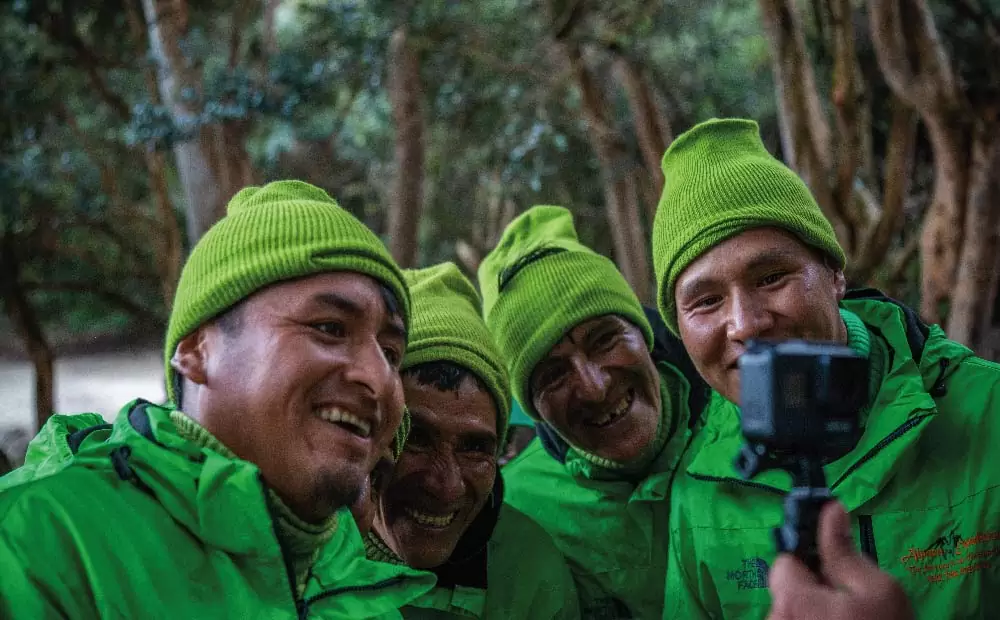 Our Porters represent the Peruvian people, both men, and women who are at the heart of our company. It is not possible to ...
Alpaca Expeditions aims to promote gender equality and empower women, hiring first Peru Women as Porters opening the door ...
Free Medical Assistance to Porters
In 2019, we hired our first Alpaca Expeditions Medical Doctor to help tend to our guides, drivers, chefs…
Our Porter's bus
We treat our porters with the same dignity and respect as we do our clients. Just as our clients enjoy our…
Our Porter's House
As we mentioned above, our Porters like many Peruvian people come from distant villages to work our treks…
Tents and Sleeping bags
Again, this is something unique that Alpaca Expeditions provides, and sad others are not doing. We supply…
Proper Equipment for our Porters
Every porter of ours receives proper equipment. That includes moisture-wicking long/short sleeve shirts…
Nutritious Meals for our Porters
A general comment from trekkers on an Alpaca Expeditions tour is that we serve too much food. Well…
Extra information
---
Alpaca Expeditions is always ready to make your trip safe and as easy as possible for you. Because these trips are a bit more complicated than your typical tour, we have put together some notes on logistics, storage, and even recommendations on where to stay in Cusco. And of course our team is ready to answer any other question, as we promise to be your partner from the moment you first contact us to our last goodbye in Cusco.
Alpaca Expeditions Recognitions
---
ISO (International Organization for Standardization)
In the pursuit to stand out from the rest, Alpaca Expeditions has obtained four ISOs plus our carbon footprint certificate to date. These achievements result from our efforts to implement the internationally-recognized integrated management system. They also represent our commitment to all of our clients and staff of operating sustainability and responsibility in every way possible.