2024 Inca Trail Availability & Permits

Important Booking Tips!
---
The majestic Inca Trail is one of the most important trails in the world. For many, this is a bucket list trip, and 2024 is the perfect time to cross this off your list. Get out of your routine to travel to Peru. The classic Inca Trail is an ideal trip for family, friends, fellow students, and more, as the total distance is 26 km/ 25 miles. Additionally, please let us know if you have a large number of travelers in your party, so we can accommodate you.
The Inca Trail is open to the public in 2024, but you must book early. Permits will go on sale the first week of October for 2024.
Alpaca Expeditions, a number 1 tour operator in the area, has daily departures for the classic Inca Trail. The 4 days and 3 nights option is the most popular, but we also have 5 days and 4 nights, 2 days and 1 night, and 7 days and 6 nights.
Trails are located in the Machu Picchu National Park and are highly regulated by the government. Permits are limited; therefore it is recommended not to wait. Simply fill out the brief form and put down a minimal deposit to secure your spot. Ensure all information is correct for ease of permit acquisition.
Tips for Booking Your 2024 Inca Trail Trek:
Book your spot with a reputable, sustainable Inca Trail tour operator and make a difference for Peruvian communities. You can only hike the Inca Trail with a tour operator licensed by Peru, so DIY trekking is not an option. With Alpaca Expeditions, you get the #1 tour company in Peru AND we are 100% local, sustainable, and indigenous.
Reserve your spot on the trail at least 6 months in advance for the best chance of landing trail permits for your ideal dates.
Book even further in advance for the peak trekking months of May through September. This is Peru's dry season and the most popular time on the trail. We recommend booking 12 months in advance to hike during peak season. Are last minute trips available? Sometimes…

Important: Last-minute bookings are still possible, whenever Inca Trail permits are not sold out. The best way to get updated information on last minute availability for any Inca Trail tour is to contact Alpaca directly.
Ensure you account for every person in your trekking group when you reserve spots.
Reserve your 2024 trek before October 2023 to lock in 2023 prices. The New Porter's Law, which requires tour operators to significantly expand benefits for Inca Trail Porters, will increase 2024 pricing for all.
How Permits Work: 2024 Inca Trail permits will be released by the Peru government the first week in October, 2023. By getting your reservation in to us before October 1, we will be able to submit your permit dates request immediately upon the release of permits. Get all the details on how Inca Trail permits work. It's a similar process to buying concert tickets, getting in line well before the concert is the best way to ensure you get a ticket!
Leading Tour Operator in Peru and South America
---
Limited Permits Available to Trek the Trail
The Inca trail is by far one of the most important trekking trails in the world. In fact, the classic Inca Trail is one of the most essential Incan roads in South America and the top one in Peru. This trail is 26 km/ 25 miles and is open from March 1st until January 31st the following year. It is important to note that the trail is closed in February for maintenance, and the permits offered to hike this trail are limited to 500 people per day. This includes porters, guides, chefs, and tourists. Everyone needs a permit to trek the trail. Permits are only required for the starting day of your trek.
Once the permits go on sale in October, licensed tour operators submit requests for visitors to receive their permits. Permits sell out quickly, so it is essential to reserve yours as soon as possible. Alpaca Expeditions understands this process well and will ensure your spot for your preferred date if you book your spot now with a $200 deposit and submitting this form. If you wait, there may not be a permit available.
Inca trail 2024 permits will be relased as follow after agreetment among the government and private tour operators:
October 9th for January 2024
October 10th for March 2024
October 11th for Abril 2024
October 12th for May 2024 ( from May 1st to May 15th)
October 13th for May 2024 ( from May 16th to May 31st )
October 16th for June 2024
October 17th for July 2024
October 18th From August to December 2024
Inca Trail Hikes – Which One Should You Choose?
While our most popular tour is the 4-Day Inca Trail Trek to Machu Picchu, we have Inca Trail trips that range from 2 days to 7 days. Check our tour options below and choose the Inca Trail trek that best fits your interests!
How to Reserve Your Inca Trail Hike
---
Step 01

Check the calendar below for availability, then click the "book now" button to get started.

Step 02

Fill out your personal information and select the type of service and number of passengers for your trip.

Step 03

You can add extra services such as Huayna Picchu tickets, Machu Picchu Mountain tickets, and the ability to upgrade your train tickets.

Step 04

Review and accept our service policies before submitting the form; after submitting the form, you will have the option to pay USD 200 per person via PayPal.
Calendar 2024 Inca Trail Permit Availability
---
IMPORTANT TO NOTE: The Inca Trail Permit Availability Calendar will show 100% permit availability for 2024 until the Peruvian government starts releasing permits to tour operators, starting typically in October of 2023. This does not mean that those spots all open! Tour operators are collecting permits now through fall and will secure permits as soon as they open. your trip dates as soon as possible to ensure you get permits. Alpaca Expeditions has a great success rate of getting permits for all our trekking guests. Reservations require only a $200 deposit.
If you don't see permits for your ideal trip dates for the Inca Trail, we highly recommend exploring exceptional alternative treks around Peru!
If you have any questions during this process, call or email our amazing bilingual team in Alpaca's Cusco office!
Available
Few permits available
Sold out
RESERVE YOUR TRIP
Get Questions to Answers about Hiking the Inca Trail
---
How do I know this trek is for me?
98% of Inca Trail hikers are beginners and have a great time. A basic level of fitness is required as the Andes Mountains have a high altitude level.
How do I get the permits and secure my spot?
You don't need to secure any permits; you only need to book with Alpaca Expeditions from our Book Now menu. Fill out the form and put down your deposit. We will secure your spot as the top tour operator in the area. We guarantee at least 99% of the first options every year.
I do not have my passport, or my passport is expired. Can I still book?
Absolutely! You can book with your current passport or driver's license if you don't have a passport. When you receive your new passport, email us a picture of the new passport and old one, and we will update your info at the government office to ensure everything runs smoothly entering the trail.
Can I cancel and get my deposit refunded?
If you book it soon and want to change the date or cancel it, you can only do so until the permits are released. After permits are released and we obtain and pay for them, permits are non-transferable. Therefore, a refund is not possible.
When will I know you have obtained my official permit?
Currently, we are accepting bookings for all 2024, you have to fill out our booking form and pay your $200 deposit., When the permits are released in the first week of October, we will obtain your permits and immediately email you the confirmation. Then, you are free to book other vacation needs.
Which Inca Trails are the ones I need to book now?
You must book now the following Inca Trails :
● The Classic Inca Trail hike as a group or private tour (4 Days / 3 Nights)
● The Inca Trail 5 Days / 4 Nights
● The Salkantay and Inca Trail 7 Days / 6 Nights Inca Trail 2 Days / 1 Night with hotel option
● Inca Trail 2 Days / 1 Night with camping option
All these treks are located in the national park, and permits are limited, so secure in advance.
Inca Trail Magazine – See Everything About the Inca Trail Tours
The pictures in this magazine are amazing, and somehow, it still doesn't do the area justice. Download our Inca Trail magazine to get a peek into what you'll see and experience on the Inca Trail!

Get Your Inca Trail Magazine here
Alternative Treks Around Peru – Salkantay, Lares, Rainbow Mountain & More
Alternative Treks, like Salkantay, Lares, Ausangate & Rainbow Mountain, and Choquequirao, are hiking tours that travel on historic footpaths that are not the Classic Inca Trail. As a result, they are less crowded, have more booking flexibility and availability, and do not require trail permits. They still end up at Machu Picchu, but not via hiking directly into the UNESCO mountaintop citadel. Not sure how all these treks compare to each other? Check out Which Trek is Right For Me
If there are no Inca Trail permits for your ideal dates, we highly recommend you explore our alternative treks, or book a year out.
WHY CHOOSE ALPACA EXPEDITIONS?
Local, Sustainable, Indigenous and Award-Winning #1 Tour Operator in Peru
Alpaca Expeditions is a 100% Peruvian, indigenous-owned company. Started by Raul Ccolque, a former porter and tour guide, Alpaca Expeditions is dedicated to both our customers and our team. We work very hard to ensure that all client needs are handled throughout the tour, from providing quality camping equipment and satellite phones to offering delicious chef-made food for every meal. 
At the same time, we never forget about our brothers and sisters working tirelessly for us to make all of this possible. We pride ourselves in offering responsible and sustainable tourism that gives as much to our community as to our clients.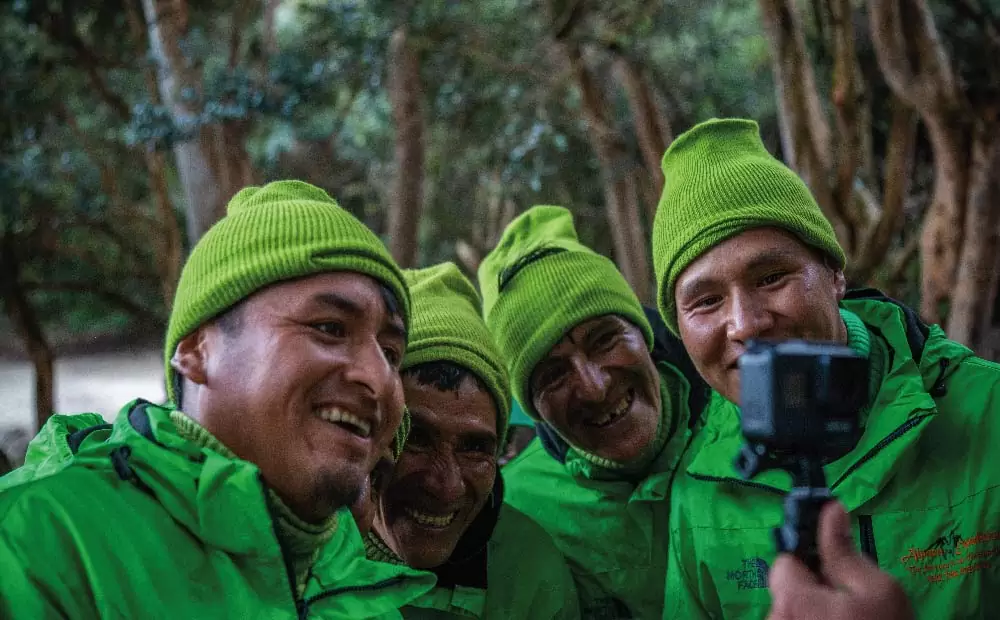 Our Porters represent the Peruvian people, both men, and women who are at the heart of our company. It is not possible to create the experience we pro
---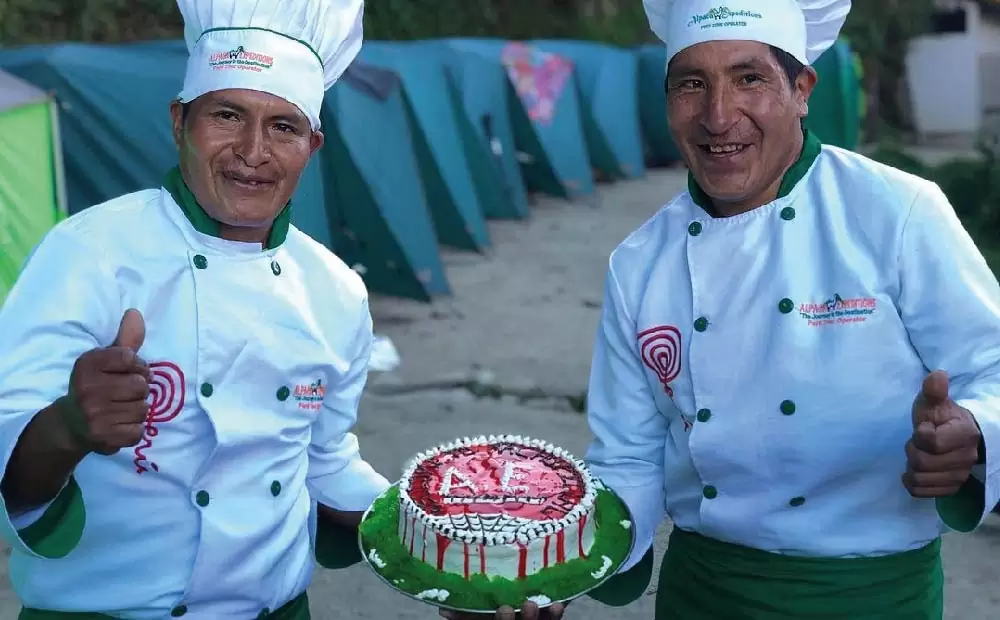 Trekking along the mountain on your way to conquer Machu Picchu is a once in a lifetime experience. Which won't be possible to be done without our s
---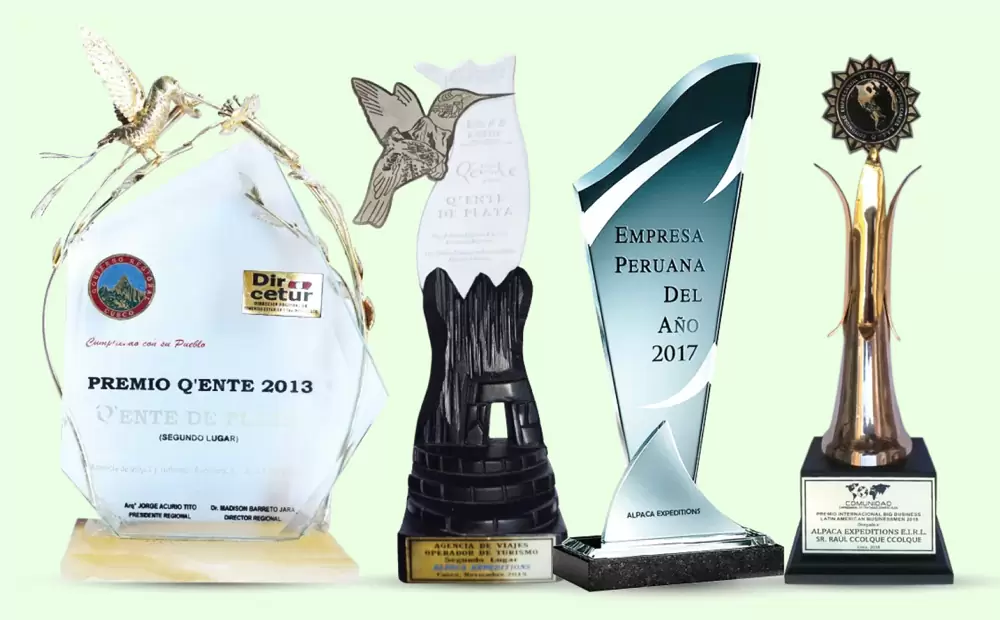 Here at Alpaca Expeditions, we follow our own philosophy and enjoy the journey as much as the destination all while never forgetting where we came fro
---
Alpaca Expeditions Recognitions
---
ISO (International Organization for Standardization)
In the pursuit to stand out from the rest, Alpaca Expeditions has obtained four ISOs plus our carbon footprint certificate to date. These achievements result from our efforts to implement the internationally-recognized integrated management system. They also represent our commitment to all of our clients and staff of operating sustainability and responsibility in every way possible.