Inca Trail Trek to Machu Picchu

4D, 3N Group Hiking Tour
---
Experience the famous Inca Trail for 4 amazing days, and pass through the Sun Gate for that first magical sighting of Machu Picchu! This itinerary is the perfect combination of history and beauty: visiting amazing Inca ruins along the way while you take in the lush green cloud forest, Andean mountain passes and vast landscape.
Hiking this trail with Alpaca Expeditions means completing it with no stress. We will take care of everything including securing all the best campsites, serving delicious and nutritious meals, providing top notch equipment and surrounding you with the most dedicated team from your guide who will become a teacher and a friend to our porters who do it all flawlessly.
Our motto is "the journey is the destination" and we can promise this will be your best journey yet.
Why Book Inca Trail Trek with us
Best Seller
Tour Price
Inca Trail Trek to Machu Picchu
4D, 3N Group Hiking Tour
---
Price from
$
750
USD
Per Person
---
Activity Level Challenging
Trip Details
---
Inca Trail Highlights

INTRODUCTION

The Classic Inca Trail to Machu Picchu is one of the most famous treks in all of Peru and South America. This 26-mile trail is only a portion of what it used to be during the Inca Empire and holds great historical importance. This sacred path is now the only direct access to Machu Picchu through the Andes mountains.

The Inca Trail is dated to the 1450s, when it is said to have been designed and built by the Inca emperor of the time. This religious trail was used for pilgrimage from Cusco to Machu Picchu citadel and is known for its various archaeological sites along the way. All which were used for resting, religious ceremonies and astronomical observation.

Nowadays, the Inca Trail is strictly regulated by the Peruvian government. Only licensed tour operators are allowed to operate tour groups along the trail. Tour groups are thus required to operate with licensed tourism guides, and registered assistance crews of cooks and porters. Only 500 people, including travellers and support teams, are allowed on the trail per day. As a result, permits for the Inca Trail sell out rapidly and must be booked in advance.

Our recommendation is to book your Inca Trail trek to Machu Picchu well in advance, at least 3-6 months. Checking Inca Trail permit availability is also highly recommended and can be with Alpaca Expeditions via our contact us.

Inca Trail during & after COVID-19

The tourism industry has been one of the most affected industries worldwide. In our attempt to reactivate our industry, Alpaca Expeditions has implemented all the safety regulations stipulated by the government to guarantee safe and best quality of services to all travellers.

All of our operations are now run based on and with the following safety protocols:

Proper handwashing and sanitizing in our office in Cusco
Temperature recording during all hikes
Mandatory use of masks in crowded areas and group activities
Proper sanitation of all of our hiking equipment (i.e., tents, hiking poles etc.)
Limited group sizes for all of our services (i.e., maximum group size of 10 to 12 people)
Use of private Alpaca Expeditions buses and vans for the use of Alpaca Expeditions clients only
Strict and organized use of our equipment during any service so that all travellers use clean, sanitized and disinfected equipment at all times

Highlights of the Inca Trail

THE TRAIL. Built in the 1450s by the powerful Inca Empire, the trail required the use of rocks which were transported from nearby quarries and delicately carved to fit in precision and meticulously.
NATURE. The Inca Trail to Machu Picchu passes through a wide range of microclimates as a result of varying altitudes. Along this trail, travellers hike from high altitude puna to high brow of jungle.
INCA ARCHAEOLOGICAL SITES. The trail takes hikers along valleys and through mountain passes, and grants hikers access to the archaeological sites of Patallacta/Llactapata, Runkurakay, Sayacmarca, Phuyupatamarca, Inti Pata, Winay Wayna, and Intipunku. The Inca Trail leads directly to Machu Picchu and offers the hike of a lifetime.
HISTORICAL SIGNIFICANCE. The Inca trail to Machu Picchu holds great significance as it is the only hiking trail that grants access to Machu Picchu. After hiking 3 days along valleys and through mountain passes, all hikers reach Machu Picchu via the Sun Gate – and important construction of Machu Picchu citadel.

Highlights of hiking with Alpaca Expeditions

LOCALLY OWNED COMPANY. Alpaca Expeditions is an 100% locally owned company in Cusco, Peru. Created by Raul Ccolque, Alpaca Expeditions is the only tour operator and agency founded by a former Inca Trail porter.
CAMPING EQUIPMENT. Alpaca Expeditions is considered a leading agent of change due to its implementation of top-quality equipment such as tents, sleeping pads, sleeping bags and others.
FOOD. During your hike with Alpaca Expeditions you are guaranteed to put on some pounds. Our chefs have special yearly training to create unique meals while on the trail. Our food is prepared with fresh ingredients, and is served buffet style. Our services includes breakfast, snacks, lunch that will come with soup, main course ad hot drinks, happy hours with hot drinks upon your arrival to each campsite and dinners that include with soup, main course and deserts. We also provide all hikers with potable drinking water while on the trails.
SATELLITE PHONES. Alpaca Expeditions is the only company that has satellite phones availble along all its operating trails. Hikers have access to satellite phones to contact their love ones.
PORTABLE TOILETS. Alpaca Expeditions provides portable ecological toilets at each of its campsites and for the private use of our clients only.
PERSONAL PORTER. All of our hiking services include porter service which allows travellers to take 7KG of personal belongings on the trail. All belongings are carried by our porters.
HOTEL TO HOTEL SERVICE. Alpaca Expeditions offers hotel to hotel service to all of its travellers. All of our services begin with direct pick up from your hotel accommodation in Cusco and end with a direct drop off in Cusco.
FREE LUGGAGE STORAGE. Alpaca Expeditions offes free luggage storage for all extra bags and personal belongings.
TOP QUALITY SERVICE. We are the only company that has more than 8000 excellent reviews on TRIPADVISOR which speaks about our services and explains what kind of tour you will have with us.

Day by Day breakdown of the Inca Trail

DAY 1.- CUSCO – KM82 – AYAPATA

Hiking distance: 14km
Trail head elevation: 2720m/8923ft
Campsite elevation: 3300m/10829ft
Hiking difficulty: moderate challenging
Weather: Warm to cold
Inca sites to see / visit: Ccanabamba & Llactapata

DAY 2.- AYAPATA – DEAD WOMENS PASS- RUNKURACCAY PASS – CHAQUICCOCHA

Hiking distance: 16 km
Trail head elevation: 3300m/10829ft
Campsite elevation: 3600M/11800ft
Hiking difficulty: challenging
Weather: cold
Inca sites to see/visit: Runkuraccay & Sayacmarca

DAY 3.- CHAQUICCOCHA – PHUYUPATAMARCA PASS – WIÑAYWAYNA

Hiking distance: 10 km
Trail head elevation: 3600M/11800ft
Campsite elevation: 2680m/8792ft
Hiking difficulty: challenging
Weather: cold
Inca sites to see/visit : Phuyupatarmarca, Intipata & Wiñay Wayna

DAY 4.- MACHUPICCHU THE SACRED CITY OF THE INCAS

Hiking distance: 5 km
Trail head elevation: 2680m/8792ft
Machupicchu elevation: 2400meters/7873ft
Hiking difficulty: moderate
Weather: warm

Which month is good to hike?

Weather in Cusco is determined by two dominant seasons DRY SEASON and RAINY SEASON.

Dry season is characterized by blue skies and sunny conditions. This season spans from April to October and is considered to be the best season for hiking in the Cusco region,

In contrast, the rainy season spans from November to March and is characterized by rains. Rains are often torrential and short in duration and make for lush greenery and replenished flora and fauna.

The Inca Trail closes for maintance on FEBRUARY each year. No groups are operated during this time of year.

Extra reasons to choose Alpaca Expeditions?
Itinerary
Day 1: Cusco - Piskacucho Km 82 - Llactapata- Ayapata

Alpaca Expeditions will pick you up from where ever you are staying in Cusco, Urubamba, or Ollantaytambo. Pick-up from Cusco will be from 4 to 4:30 AM, from Urubamba from 5:30 to 6 AM, and if you stay in Ollantaytambo, you get to sleep in a bit with your pick-up from 6:30 to 7 AM. These times will be confirmed at your briefing, as they might fluctuate based on where you are staying. We will take you to the Porter House which is located in Ollantaytambo after a delicious breakfast prepared by your cook, your guide will introduce you to your team of porters.

We will then drive to Km 82, we'll go through the first Inca Trail checkpoint to begin our trek. Please make sure you have your original passport with you to enter the Inca Trail. The first 2 hours of the trek are relatively easy as we make our way to our first Inca site. Patallacta is an ancient Inca checkpoint for the approach to Machu Picchu.

From Patallacta it's another 2-hour hike to our lunch stop. After lunch, we will hike for another 2½ hours until we reach the first night's campsite at Ayapata (3300 meters). On this last stretch, we pass through 2 small communities. If you want to buy any energy drink, snacks, or essential items you may have forgotten such as batteries you can do so here. We'll arrive at our campsite by 5:00 PM. After settling in for a bit, you can relax and have a hot drink and snack with your team of porters, chefs, and guides. By 7:30 PM, your dinner will be ready, and after you can get some well-deserved rest.

Walking distance: 8.7 miles/14 km (6-7 hours)
Campsite altitude: 3300 meters (high) above sea level
Considered: Moderate day (getting used to the Inca Trail)
Weather: Warm and windy

Day 2: Dead Woman´s Pass - Runcuraccay Pass - Chaquiccocha

Your porters will wake you up early with a hot cup of coca tea to get you ready for the day. We will have an early start since it will be our longest day. We'll hike for roughly 4 hours to the highest pass of the trek, Dead Woman's Pass (4215 meters/13829 feet). On reaching the pass, we'll stop for a short break to enjoy the views before setting off again to descend to the next valley (Pacaymayu Valley – Hidden River). It's another hour and a half down the side of the valley to our lunch spot, where you will have a chance to refill your water bottles. After lunch, we begin ascending again to the second pass of the trek. It's 2 hours over the pass where we will stop at a small Inca site (Runcu Raccay) and see two huge waterfalls cascading down the opposite side of the valley. After the second pass, it's another hour downhill hike to reach the magnificent Inca site, Sayacmarca (an otherwise inaccessible village).

We'll stop here to rest and have a quick tour. Afterward, we will be able to watch the sunset over the Vilcabamba mountain range.  It's then just another 20 minutes until we stop for the night at our second campsite Chaquicocha (Dry Lake, 3600 meters). After dinner, if you're not too exhausted, we can do some star gazing, and we'll point out the fascinating Inca constellations. In the magnificent Southern Hemisphere sky, away from all the artificial lighting, this sky is something to behold!

Walking distance: 9.94 miles/16 km (7-8 hours)
Campsite altitude: 3600 meters (high) above sea level (chilly weather)
Considered: Top day (you will have survived the two highest passes)
Area: Andes and Cloud Forest
Weather: Cold and rainy

Day 3: Chaquiccocha - Wiñaywayna

Completing Day 2 and beginning Day 3 certainly deserves a pat on the back! We will start early again, waking up at 6:30 am to begin what is commonly felt to be the most beautiful day of the whole Inca Trail. We hike for 2 hours along what we like to call "Inca flat" (gradual inclines) and begin to enter the jungle, known as the Cloud Forest. As we walk, we will have the opportunity to see Salkantay, the second highest snow-capped mountain in the Sacred Valley, and a fantastic panoramic view of the Vilcabamba mountain range. Towards the end of the Inca flats, we begin to make our way up to the last peak at Phuyupatamarka (3600 meters) from where we'll have great views overlooking the Urubamba River.  Down the valley, we get our first view of Machu Picchu Mountain, but the site itself is still hidden. From Phuyupatamarka it´s a 3-hour walk down a flight of steps to our last campsite, close to Wiñay Wayna (Forever Young). Wiñay Wayna is the most spectacular Inca site on the trail after Machu Picchu and the most popular campsite because of its proximity to Machu Picchu.  During the descent, we visit 2 Inca ruins, Phuyupatamarka (Town in the Clouds) and Intipata (Terraces of the Sun).  We arrive at our campsite around 1:00 PM to have lunch.

Then we will relax so that you are ready for your final day at Machu Picchu. At around 4:30 PM your guide will give you a short orientation, and you will visit the Inca ruins of Wiñay Wayna for an hour and a half there. Your guide will explain the significance of the site and combine all the information given during the trek. This way you will be fully prepared for your visit to Machu Picchu the following day. We like to spoil our guests as we enjoy our last feast with the porters and chefs.  It's an Inca Trail tradition to organize a ceremony in the evening to introduce the team to the tourists once again. This is to thank them for the great job done (if you wish to provide tips for them then you can do so at this time). It is advisable to go to bed at a reasonable time to get up in the early hours of the morning to arrive to Machu Picchu at the crack of dawn in the hopes that the weather will give us a beautiful sunrise over the ruins at Machu Picchu.

Walking distance: 6.2 miles/10km (5 hours)
Campsite altitude: 2.600 meters (high) above sea level (chilly weather)
Considered: Easy day – all downhill!
Area: High Cloud Forest
Weather: Warm and very humid

Day 4: Sun Gate - Machu Picchu - The Lost City Of The Incas

Wake up time is at 3:30 AM. We'll eat breakfast at 4:00 AM and wait at the checkpoint to be one of the first to start trekking when they open the gates at 5:30 AM. We'll wave goodbye to our team of porters and chefs and then it's "Forward On" to the Sun Gate (Inti Punku). From here we have spectacular views of the mountains and Machu Picchu in all its glory.  We will reach the Sun Gate by 6:30 am, and then it's just an hour trek down to reach the Lost City of the Incas. As we hike and get closer to Machu Picchu, the views of the city get better! At about 7:40 AM we'll reach the final checkpoint and enter Machu Picchu to begin our 2 hours private guided tour. After the tour, you'll be given your bus tickets to make your way down to Aguas Calientes, and you'll have plenty of free time to explore the city on your own or climb one of the neighboring mountains – Huaynapicchu (must be arranged ahead of time).

Your guide will offer to meet you down in the village of Aguas Calientes to enjoy your last lunch in a local restaurant.  This is optional and not included. At lunch, your guide will hand out train tickets, so if you choose to skip, please arrange to get these before leaving him at Machu Picchu. Unless you arranged for an upgraded train, we will book the Expedition class train departing Aguas Calientes at 2:55 p.m. or  3:20 p.m. Please make sure you are on the platform at least 30 minutes ahead of time. This will be a 2-hour train to Ollantaytambo or Poroy (based on which train you get), where an Alpaca driver will meet you and drive you back to the city on our bus, then drop you off at your hotel.

Considered: The most exciting and magical day (early wake up 3.30 AM)
Area: High Cloud and Subtropical Forest
Weather: Hot and very humid (bring lots of water)
WHAT'S INCLUDED?
Included

Professional Guides:All of our guides studied English and tourism at Cusco National University. They all grew up in this region and have a true passion to teach others about their heritage. They are fun yet professional, and will ensure you are safe and happy.
Permits and Machu Picchu:In order to hike the Inca Trail, you must have a permit to enter the trail. This can only be obtained by licensed Inca Trail tour operators, like Alpaca Expeditions. As soon as we receive your details and deposit we will purchase your permits. These permits are given for a specific date and in your name. They can't be changed, once they are confirmed. The only thing that can be updated is your passport number. The permit includes entrance to Machu Picchu.
Briefing:The night before your trek, you will have a trek briefing at our office with your guide and other trekkers in your group. At the briefing, you will receive your duffel bag, that will be with the porters while you hike. This bag should not exceed 7kg/14 lbs and needs to include your sleeping bag and air mattress, if you have chosen to rent or bring one. Remember, layering your clothes is key.
A Porter for your Personal Belongings:We include a personal porter who is responsible for carrying your duffel bag. There is no additional fee for this. You will not have access to your duffel bag until your evening campsite. The duffel should not exceed 7kg which will include 4kg of clothes, 3 kg for your sleeping bag and sleeping mat.
Green Machine Porters: The men and women that make up our porter team are the most loyal, hardest working on the planet. They make magic happen, always with a smile and a helpful hand. They are responsible for carrying all the camping equipment and food, setting up and breaking down each campsite, assist the chef with all food preparation. By law, they can carry up to 20 kg max, which is a rule we take very seriously. For example, with a group of 8 trekkers there will be 15 porters.
Trekking Chef and Food: Our Porters are not the only ones making magic on the mountain. There is nothing comparable to what the Alpaca Expeditions chefs do on the mountainside. They will make prepare amazing meals for breakfast, lunch and dinner, often starting with a nutritious soup and mostly serving family style. There will always be a protein, salad, assorted sides, and even amazing desserts. They will cater to all food restrictions and make sure everyone has enough to make it up the mountain. Please make sure that your Alpaca Expeditions booking agent knows of any food restrictions at time of booking.
Water: Water is the key to feeling good on the trek. Hydration helps battle any effects of the altitude, so be prepared with something that can hold at least 3 liters of water. We will provide water at each meal – boiling it, filtering it and then cooling it down to make sure all water is clean and ready to drink.
* Water will not be provided until your first lunch when our porters will have the ability to prepare clean water. Please bring enough water for your first morning on the trail.
Equipment: Alpaca Expeditions uses the best equipment on the market including Eureka Timberline 4 person tents shared by only 2. Single tents are available ($30US). We have large dining tents for clients to enjoy their meals. Every client will receive a pillow for sleeping and foam sleeping pad to insulate you from the cold ground. All dining equipment including chairs and dishes are provided.
Hotel to Hotel Service: You will be picked up from your hotel the morning of your trek and driven to KM 82 in our comfortable, Alpaca Expeditions van. After the trek, we will drive you from the train station back to your hotel or Air BNB.
Transportation and Train Service: All your logistics are included in this trek including the bus ticket from Machu Picchu to Aguas Calientes as well as your tourist class train from Aguas Calientes to Ollantaytambo. This is a 2 hour trip and it will be another 2 hours by car back to Cusco. If you wish to upgrade to the Vistadome train, a train with larger windows and more comfortable seats, it will cost $75 per person.
First Aid:Your safety is our number one concern. All our guides are trained and re-trained every February by a medical doctor. They all carry first-aid kits and full oxygen tanks. If needed, we will get you off the trail as quickly and comfortably as possible to be taken directly to a clinic for treatment. While these situations are rare, we prepare for them.
Satellite Phones: While our guides can handle most first aid issues that happen on the trek, there are some that need a bit more attention. Every guide has a fully charged satellite phone with them when they leave for a trek. Being a phone call away from any doctor, hospital, or friend helps everyone feel assured that they are safe. Radios, which all our guides have, are limited in how far they can reach, so Alpaca Expeditions includes this feature to make sure that we can connect no matter where we are on the mountain. And they can be used by our clients for non-emergencies as well. While they are not cheap to use, they are available just in case you need to check in on the puppy you left at home with grandma.
Extras: We believe it´s the attention to small details that separates us from other tour companies. As we wrote earlier, every trekker receives a small pillow to sleep with, a foam mattress for insulation, a day pack cover to protect their things while hiking, and a rain poncho. We provide hot water bins each day to help our clients clean and feel good at night. We enjoy happy hour each evening to relax and unwind and discuss the days events. We will work very hard to create your best vacation.
Taxes and Fees:  All taxes and permit fees associated with this trek are included in our price. There are no hidden fees.
The Alpaca Difference: While the below list is less tangible, its equally important and part of everything we do and include at Alpaca Expeditions.

Ethical and Responsible Treatment to our Porters: Most people would not be able to handle the challenges of these treks if it wasn't for the porters helping with all the lifting, preparing and cheering. They are the backbone of our company and the reason why Raul Ccolque created Alpaca Expeditions to begin with. He began in this industry as a porter and understands their needs better than anyone. We are dedicated and promise a better life to every member of our Green Machine. This includes better salaries that they can live from so they do not need to beg for tips to make ends meet. This is our job. We provide all their gear including warm, down jackets, proper hiking boots, backpacks, hats, headlamps, sleeping bags and pads and tents for them. We have a Porters House for our porters to sleep in the night before and after their trek since they often travel far from home. We include a medical doctor to work Monday through Friday at the Porters House to tend to our team and make sure they feel good and are looked after. And we support their families with helping their village schools, bringing doctors and dentists to visit with the families, planting trees in their valleys. We are committed to our social projects and it is appreciated by the more than 300 porters on our team.
Porters Trip: We love meeting all our clients, but our favorite trips are when our porters and their families become our clients. While our porters hike to Machu Picchu dozens of times per year, they never make it inside our famous citadel. We take 4 trips a year to bring our team inside and spend two days travelling around the important ruins and letting them touch and see the history of their ancestors.
Equality Matters: Another big difference is that we believe that we are all equal and every person contributes something different and beautiful to our team. We have always had female guides and have had female porters and chefs on our team since 2017. While the number are not equal yet, we are hoping for the day when we have 50/50 men and women working on the mountains as part of the Alpaca Expeditions team.
Sustainable and Responsible Tour Operator: Alpaca Expeditions is far ahead of our competitors on being a sustainable tour operator. We honor our planet by making sure there is no trace behind on any of our treks. We even include an extra porter to make sure they help clean the trash left from other groups. We use local products that are biodegradable and organic whenever possible.

DAY BY DAY INCLUSIONS

---

DAY 1.- CUSCO – KM82 – AYAPATA

Briefing at our office the night before of your hike to provide the duffle bags
Pick up from your hotel to begin the hike
Storage if you have extra luggage
Breakfast on the first day
Drive to Km 82 in our AE bus
Porters bus to transport Porters
Entrance ticket to the Inca trail
Porters in general to carry your camping stuff
We will carry 7km/14pound of personal porter.
Snack for hiking
Lunch which will have appetizer, main course and hot drinks
Happy Hour with hot drinks
Tents to stay tonight for two people with from pads

DAY 2.- AYAPATA – DEAD WOMENS PASS- RUNKURACCAY PASS – CHAQUICCOCHA

Wake up coca tea in your tent
Breakfast to begin the hike
Snack for during the hike
Complete lunch with soup, main course, and hot drinks
Drinking water in the morning, Lunch time and dinner time
Happy hour with hot drinks upon your arrival to the campsite
Dinner

DAY 3.- CHAQUICCOCHA – PHUYUPATAMARCA PASS – WIÑAYWAYNA

Morning wake up hot drinks
Breakfast
Snack
Drinking water
7kg of your clothes is carried by our team
Lunch Happy hour
Visit the Inca sites
Happy Hour
Dinner

DAY 4.- MACHUPICCHU THE SACRED CITY OF THE INCAS

Early breakfast
Snack
Entrance ticket to Machu Picchu
Guided tour of Machu Picchu citadel
Bus ticket from Machu Picchu citadel to Agaus Calientes
Expedition class train with great views
AE bus transfer back to your hotel in Cusco

Not Included

Rentals
Every trekker needs a sleeping bag when camping. Inflatable air mattresses and walking sticks (with rubber tips) are optional but encouraged. If you don't want to bring any of the above, they are all available for rent:
Sleeping Bag: $20
Inflatable Air Mattress: $15
Walking Sticks (Pair): $15
Huayna Picchu
Huayna Picchu is the mountain that stands next to Machu Picchu. It is a 45-minute hike to the top. Going back down is quite steep if you are scared of heights. You would do this after your tour of Machu Picchu. The cost is $75. Arrangements need to be made at least one month in advance due to popularity. Please understand that the weather is out of our control.
Price
Price per person

Student Discount

Student discounts apply to anyone who has a valid UNIVERSITY STUDENT CARD at the time of the trek or who is 17-years-old or younger. For those using a University Student Card our under 17-years-old, we need to see a copy of their card or passport at the time of booking to receive the discount.

Please send all to info@alpacaexpeditions.com.

More Information about STUDENT CARD

Additional Items

Below is a quick list of prices, but check our Additional Options section for more details.

Huayna Picchu is the mountain that stands next to Machu Picchu. It is a 45-minute hike to the top. Even when you will do this hike on your own, your guide will still show you the trail entrance. This trek is an additional entrance ticket that we can secure for you with advance notice. 

Your tickets will be purchased to coincide with when you need to start the trail. Tickets are either for the First Session from 7-8 AM or Second Session from 10-11 AM. We purchase the Second Session for our clients for you to enjoy your tour of Machu Picchu before you begin. This window is only your start time, and you may take your time up and down, so no rush.

The ticket is $75 per person.

Machu Picchu mountain

* Only possible to do if you have an extra day to visit Machu Picchu

Machu Picchu mountain is the other mountain that stands above the Machu Picchu ruins. It offers even more stunning views than Huayna Picchu but takes an hour and a half to reach the top. For this trek, it will be an additional entrance ticket that we can secure for you.

Tickets for Machu Picchu Mountain are now also within a timeframe of when you can begin – which is between 9-10 AM. Due to this limited time frame, it is not possible to hike the Inca Trail and hike Machu Picchu Mountain. You can, however, schedule a second visit to the citadel on the next day.

This ticket is $75 per person.

Vistadome Train

All our tours include the Expedition Train. This train is usually booked at 4:22 p.m., leaving from Aguas Calientes. The Vistadome Train is an upgraded train that offers slightly larger seats, windows, and even some entertainment. Usually, the Vistadome train is booked for 4:43 p.m. and travels to Poroy, a train station closer to Cusco. While this is an upgraded fee, we will still include your transportation back to your hotel.

This train is $75 per person.
Travel Info
BRIEFINGS

All briefings are done at our office at 6:30 PM the night before your trek. If you are unable to make this time, you need to coordinate another time with a member of the Alpaca Expeditions office team. Briefings are approximately 30 -45 minutes long, and where you will receive your duffel bags.

* 2D/1N Inca Trail Trek with HOTEL does not include a briefing. Our office staff will review all the details at your check-in time.

DUFFEL BAGS

You will receive your duffel bags at your briefing. Your porters will carry them and have them returned to you at each campsite. They measure 66 cm long X 36 cm wide/2ft long X 1ft wide.

Every duffel has a maximum weight of 7kg. Remember 4kg will be for your clothes and other personal items. The remaining 3kg will be for your sleeping bag and pad.

PICKUPS

Alpaca Expeditions is one of the only companies to pick you up directly from your hotel. As long as your hotel is in the center of Cusco city, we will coordinate this pickup based on a time that your guide will discuss at the briefing. Pick up times may vary 30 – 45 minutes based on traffic conditions and previous pickups.

Cusco is an old city with cobblestoned streets and very narrow passageways. Smaller hotels and Airbnbs are often located on streets that cars can´t pass through. They also are frequently on hillsides with long steep climbs, making it difficult to carry luggage. We highly recommend that you book accommodations with better access. We have a list of hotels that are all comfortable with easy access to pick up and drop off. HOTEL LIST HERE.

Some treks will allow for pickups in the Sacred Valley, which is outlined below.

The following chart refers to possible locations we can pick you up from when beginning the tour.

| | |
| --- | --- |
|   Trek |   Possible Starting Locations |
|   Inca Trails |   Cusco, Urubamba, Yunahuara & Ollantaytambo |
|   Salkantay Treks |   Only Cusco |
|   Lares Trek |   Only Cusco |
|   Huchuy Qosqo Trek |   Only Cusco |
|   Ausangate and Rainbow Treks |   Only Cusco |
|   Day Tours |   Cusco, Urubamba & Ollantaytambo |

RETURNING TO CUSCO

Leaving Machu Picchu requires a lot of logistics, which are all included in your tour.

From Machu Picchu to Aguas Calientes, you will take a 25-minute bus down to the village. Buses are first come first serve and run all day.
You will take a train from Aguas Calientes to Ollantaytambo or Poroy. Your guide will give you your train tickets with train time. Make sure you get to the platform 30 minutes ahead of time.
* Train from Aguas Calientes to Ollantaytambo is 2 hours
* Train from Aguas Calientes to Poroy is 3.5 hours
Once you arrive to the train station, look for a gentleman wearing green with an Alpaca Expeditions sign. He will then drive you to San Francisco square, Cusco
* Van ride from Ollantaytambo to nearby San Francisco square is 2 hours
* Van ride from Poroy to nearby San Francisco square is 30 minutes
Once you arrive nearby San Francisco square, you will separate into separate pre-paid taxis and driven back to your hotel.

MACHU PICCHU ENTRANCE TIMES

Machu Picchu now has two different time windows of when you can visit: either morning or afternoon. Your entrance ticket will be for only one session, morning session, and when your time window is over, the Rangers will ask you to leave.

MORNING SESSION: 6AM – 12PM

AFTERNOON SESSION: 12PM – 5:30PM

** If you have tickets to hike either Huaynapicchu or Machu Picchu Mountain, you will have some extra time until 2:30PM.

If you would like to spend the whole day at Machu Picchu, we can add an afternoon session ticket to your booking for $50 per person.

HUAYNAPICCHU/MACHU PICCHU MOUNTAIN

Machu Picchu is most beautiful when seen from above, which is why hiking one of the mountains next to the ruins is very popular to do after your tour.

Huaynapicchu is the most popular and must be booked in advance since it sells out very quickly. This hike takes approximately 45 minutes to the top, and another 45 minutes back down. Tickets are sold in time sessions stating when you can start this hike. The first session is from 7-8 AM, and the 2nd session is from 10-11 AM. Again, this refers to the timeframe when you can start your hike. We usually book the second session so you can enjoy your tour with your guide first. You will do this hike on your own, but your guide will show you where to begin. 

Machu Picchu Mountain is a bit longer and a bit less popular. It takes 1.5 hours to the top and another 1.5 hours to the bottom. Again there are two time windows – from 7-8 AM and 9-10 AM and we usually purchase the second time window. 4 Day and 7 Day Inca Trail Trekkers CAN NOT do this hike and enjoy a tour of the ruins. Time will not allow for this.

Hiking either mountain will allow you to have some extra time at the ruins once you complete, as listed above.

HEALTH CONCERNS

You must be honest with your guide about any health conditions or concerns you might have. While our guides are not medical professionals, they do have first aid training. We also work with a clinic in Cusco that can help assist our team.

You are responsible for assessing whether a Tour is suitable for you. You should consult your physician to confirm your fitness for travel and participation in any planned activities. You should seek your physician's advice on vaccinations and medical precautions. Alpaca Expeditions will not provide medical advice. It is your responsibility to assess the risks and requirements of each aspect of the Tour based on your unique circumstances, limitations, fitness level, and medical requirements.

If you develop extreme altitude sickness or any other illness that prevents you from hiking, and you still wish to visit Machu Picchu by train, we will work with you to coordinate this trip. Since this will be a new trip, it may require additional fees. We will use as much of the original itinerary to keep costs low.

If you experience issues while hiking and can not continue, a porter will accompany you to the closest road and wait while a car comes to pick you up and bring you to the nearest health clinic.

GROUP TOURS

Group tours are made up of all different types of people, with various hiking skills and ages. By agreeing to a group tour, you agree that some people might be slower or faster than you are. Everyone can go at their own pace for the trek, and the guide will work with the group to spend time with everyone. Groups might request some modifications to the tour, and the guide will work with everyone to make the best decision for the group.

STRIKES

Unfortunately, strikes are frequent in Peru and can disrupt our tours. Roads are often blocked, and trains stopped. We will make sure your trek continues as planned, even if that means leaving the night before your start date. Under these circumstances, tours might need to be canceled. But our operations department will coordinate with you in this situation. Your safety is always our top concern and will dictate how we decide.

LOST ITEMS

You are responsible for your items throughout the Tour. Please be diligent about where you leave your things and remember to remove all items from our vans, your tents, restaurant, etc. Do not leave anything unintended during your hike. Other trekkers or teams might pick it up not knowing whos it is.

TIPS

Tipping is part of the tradition of any trek to Machu Picchu. While we pay good wages to our entire team, anything extra is always appreciated. Please know that this is not obligatory and that you should never feel pressured into this.

Typically the participants in a group pool their tipping money together for the porters and chef. The amount recommended is different per trek and listed below. For the guide, this is more personal and needs to be decided based on your relationship with them and done separately from the group. Porters and Chefs prefer soles if possible. Guides are happy with U.S. dollars, Peruvian Soles, or even your credit card 😉

| | | |
| --- | --- | --- |
|   Trek |  Per Porter |  Chef |
|   Inca Trails (4, 5 and 7 Days) |  60 – 80 soles |  150 soles |
|   2D/1N Inca Trail with Camping |  50 soles |  100 soles |
|   Salkantay Treks |  100-120 soles |  200 soles |
|   Lares Trek |  100-120 soles |  200 soles |
|   Huchuy Qosqo Trek |  50 soles |  100 soles |
|   Ausangate |  100-120 soles |  200 soles |

* These numbers refer to what each member of the Green Machine should receive after the group pools their money. This is just a reference guide.

TRAVEL INSURANCE

Travel insurance is inexpensive and strongly recommended. With trips being planned months ahead of time, you never can predict what could happen. Adventure travel includes more risk than the average trip. Insurance is a way to protect the investment you have made on this journey. We can help recommend an agent to walk you through this type of insurance if needed.

WEATHER

Of course, the weather is unpredictable. Typically the dry season in Cusco is from April through October, but this does not stop rain from falling in June or the sun from coming out in December so just be prepared. No matter what month you are doing the trek, make sure that you have rain gear that includes a waterproof jacket, pants, poncho, and waterproof gloves. Many people forget about gloves, but being cold and wet makes hiking very unpleasant.

Also, prepare for four seasons. Several of the treks through the Andes involve various microclimates and you will need to be prepared. Layers are always key since they are easy to adjust to different temperature changes. Be prepared with a warm packable down jacket since the evening will be cold.

It's also important to note that the weather can change a listed itinerary. There are times that routes become impassable, and our guides will be forced for your safety to rework your tour.

ALTITUDE

As soon as people book their trip to Peru, specifically Cusco, they start wondering about altitude sickness. The air at high altitudes contains less oxygen than at sea level and forces your body to work harder to get the oxygen it needs. Over several days at high altitude, your body adjusts to the lower amount of oxygen in the air. For this reason, we always recommend spending at least two days in Cusco before beginning any trek in the Andes. Cusco is a marvelous city with lots to do, so if you have more time to acclimate you won´t be bored.

With altitude sickness, you may first feel like you have the flu or a hangover. You may have a headache, tiredness, loss of appetite, nausea or vomiting, dizziness, trouble sleeping, trouble breathing during exercise. If any of these effects become severe, please contact our office, and we will help you get to a doctor.

Most of the time, these symptoms will be mild. We always recommend easing into activity slowly, allowing your body to adjust. Drink plenty of fluids such as water or coca tea. Coca tea has been used since ancient times to help prevent altitude sickness. Leaves from the Coca Plant contain alkaloids that help bring oxygen into your blood, helping your body avoid the effects of altitude sickness. Avoid drinking a lot of alcohol and coffee. They will cause you to urinate more often and become dehydrated. Avoid smoking. Smoking makes it more difficult for your body to get oxygen. Avoid sleeping pills. They may cause shallow breathing at night, making it more difficult for your body to absorb oxygen while you sleep.

Remember the trek to Machu Picchu is not a race. Even those in the best shape will suffer from altitude sickness if they race to the top of the mountain too quickly. Go slow, and it will give your body time to adjust to the elevation.

Your healthcare provider may prescribe medications, such as acetazolamide and dexamethasone, to help prevent altitude sickness. Start the medicine two days before you get to a high altitude. Continue to take it while you are at high altitude.

You must remember that this is your holiday and you do not want to stress out about the possibility of getting sick from the mountains. Do everything slowly and drink lots of water, and enjoy the coca tea. If anything does happen and you, unfortunately, get sick, let your guide know right away. Alpaca Expedition guides are trained to help you get through it.

GETTING TO CUSCO

The airport in Cusco currently is only for domestic flights, so all international travelers by plane must disembark in Lima and go through Customs. Even if your flight to Cusco is the same day by the same airline carrier, you must grab your bags in Lima and then check them back in.

The best way to get to Cusco is by air, and there are several options in airlines. LAN tends to be the most expensive but has the most options and flights. Expect delays or flight cancellations. Due to the high altitude of Cusco, it tends to be difficult to land, and any acclimate weather will stop air traffic. Bus travel is always available, and while the trip can be long, especially from Lima, the buses in Peru are very well maintained and comfortable. This option is strongly encouraged if coming from a city closer to Cusco, like Puno. Lima buses will take about 20 hours to arrive.
Packing List
ESSENTIALS

Passport
Valid, STUDENT CARD (if you booked as a student)
Immigration Card (given on the plane as you enter Peru)
Good daypack (the smaller, the better)
Water storage: Water reservoir like Camelbaks are encouraged – but enough for at least 2-3 liters.
Comfortable hiking boots (lightweight with good soles)

FOR YOUR DUFFEL

Porters will carry up to 7 kg of your personal items. This must include your sleeping bag and air matt (if you bring/rent one). From us these two items weigh 3.5 kg.

2-3 wicking t-shirts
2-3 hiking pants
4 sets of undergarments.
4 sets of hiking socks
1 Fleece
1 Warm, down jacket: gets very cold at night
1 Rain jacket and pants
1 sun hat
1 wool hat
Headlamp: essential
Waterproof gloves (even if they are ski gloves, take them)
Comfortable shoes for camp
Walking boots
Waterproof jacket/rain poncho
Quickdry towel. We provide small ones, you might enjoy something a little larger.
Small bottle of soap: we provide warm water each day to clean – might make you feel fresh if you had a little soap.
Battery Charger: There is no place to plug in while trekking!
Large plastic bags: to help organize and keep clean from dirty.
Sleeping bag: Recommend down bags for -10C at least

TOILETRIES

Sunscreen
Face moisturizer
Bug spray
Handsanitizer
Wet wipes
Toothbrush and paste
Toiletpaper
Personal medication
First aid kit: band aids, moleskin, etc.

INSIDE YOUR DAYPACKS

Daypacks can be any size for hiking, but we always say the smaller, the better. Inside Machu Picchu, bags larger than 25L will not be allowed in. If it is larger, you will need to store it outside citadel gates. But don´t worry, they have a secure storage facility.

Water: we supply clean water at each meal. You are responsible for your first morning of water only as we won't have time to filter water until your first lunch.
Sunhat
Rain gear
Fleece
Camera
Music (IPhone)
Handsanitizer
Toilet paper and small plastic bag for waste
Extra Money for Souvenirs, Drinks & Tips
Earplugs
Inca Trail (Classic) 4D/3N Group Tour
Please fill in our BOOKING FORM carefully with your correct personal details.
Select a departure date
---
Upcoming departures
Adult: USD$ 750

Student: USD$ 715

Adult: USD$ 750

Student: USD$ 715

Adult: USD$ 750

Student: USD$ 715

Adult: USD$ 750

Student: USD$ 715

Adult: USD$ 750

Student: USD$ 715

Adult: USD$ 750

Student: USD$ 715

Adult: USD$ 750

Student: USD$ 715

Adult: USD$ 750

Student: USD$ 715

Adult: USD$ 750

Student: USD$ 715

Adult: USD$ 750

Student: USD$ 715

Adult: USD$ 750

Student: USD$ 715

Adult: USD$ 750

Student: USD$ 715

Adult: USD$ 750

Student: USD$ 715

Adult: USD$ 750

Student: USD$ 715

Adult: USD$ 750

Student: USD$ 715

Adult: USD$ 750

Student: USD$ 715

Adult: USD$ 750

Student: USD$ 715

Adult: USD$ 750

Student: USD$ 715

Adult: USD$ 750

Student: USD$ 715

Adult: USD$ 750

Student: USD$ 715

Adult: USD$ 750

Student: USD$ 715

Adult: USD$ 750

Student: USD$ 715

Adult: USD$ 750

Student: USD$ 715

Adult: USD$ 750

Student: USD$ 715

Adult: USD$ 750

Student: USD$ 715

Adult: USD$ 750

Student: USD$ 715

Adult: USD$ 750

Student: USD$ 715

Adult: USD$ 750

Student: USD$ 715

Adult: USD$ 750

Student: USD$ 715

Adult: USD$ 750

Student: USD$ 715

Adult: USD$ 750

Student: USD$ 715
Adult: USD$ 750

Student: USD$ 715

Adult: USD$ 750

Student: USD$ 715

Adult: USD$ 750

Student: USD$ 715

Adult: USD$ 750

Student: USD$ 715

Adult: USD$ 750

Student: USD$ 715

Adult: USD$ 750

Student: USD$ 715

Adult: USD$ 750

Student: USD$ 715

Adult: USD$ 750

Student: USD$ 715

Adult: USD$ 750

Student: USD$ 715

Adult: USD$ 750

Student: USD$ 715

Adult: USD$ 750

Student: USD$ 715

Adult: USD$ 750

Student: USD$ 715

Adult: USD$ 750

Student: USD$ 715

Adult: USD$ 750

Student: USD$ 715

Adult: USD$ 750

Student: USD$ 715

Adult: USD$ 750

Student: USD$ 715

Adult: USD$ 750

Student: USD$ 715

Adult: USD$ 750

Student: USD$ 715

Adult: USD$ 750

Student: USD$ 715

Adult: USD$ 750

Student: USD$ 715

Adult: USD$ 750

Student: USD$ 715

Adult: USD$ 750

Student: USD$ 715

Adult: USD$ 750

Student: USD$ 715

Adult: USD$ 750

Student: USD$ 715

Adult: USD$ 750

Student: USD$ 715

Adult: USD$ 750

Student: USD$ 715

Adult: USD$ 750

Student: USD$ 715

Adult: USD$ 750

Student: USD$ 715

Adult: USD$ 750

Student: USD$ 715

Adult: USD$ 750

Student: USD$ 715
Adult: USD$ 750

Student: USD$ 715

Adult: USD$ 750

Student: USD$ 715

Adult: USD$ 750

Student: USD$ 715

Adult: USD$ 750

Student: USD$ 715

Adult: USD$ 750

Student: USD$ 715

Adult: USD$ 750

Student: USD$ 715

Adult: USD$ 750

Student: USD$ 715

Adult: USD$ 750

Student: USD$ 715

Adult: USD$ 750

Student: USD$ 715

Adult: USD$ 750

Student: USD$ 715

Adult: USD$ 750

Student: USD$ 715

Adult: USD$ 750

Student: USD$ 715

Adult: USD$ 750

Student: USD$ 715

Adult: USD$ 750

Student: USD$ 715

Adult: USD$ 750

Student: USD$ 715

Adult: USD$ 750

Student: USD$ 715

Adult: USD$ 750

Student: USD$ 715

Adult: USD$ 750

Student: USD$ 715

Adult: USD$ 750

Student: USD$ 715

Adult: USD$ 750

Student: USD$ 715

Adult: USD$ 750

Student: USD$ 715

Adult: USD$ 750

Student: USD$ 715

Adult: USD$ 750

Student: USD$ 715

Adult: USD$ 750

Student: USD$ 715

Adult: USD$ 750

Student: USD$ 715

Adult: USD$ 750

Student: USD$ 715

Adult: USD$ 750

Student: USD$ 715

Adult: USD$ 750

Student: USD$ 715

Adult: USD$ 750

Student: USD$ 715

Adult: USD$ 750

Student: USD$ 715

Adult: USD$ 750

Student: USD$ 715
Inca Trail Trek Daily Videos: See What Each Day Is Like!
---
The Alpaca Difference
---
Alpaca Expeditions is a 100% peruvian, indigenous owned company. Started by Raul Ccolque, a former porter and tour guide, Alpaca Expeditions separates ourselves by our dedication to both our customer and our team. We work very hard to make sure that all our clients needs are taken care of throughout the tour with us. At the same time, we never forget about our brothers and sisters working tirelessly for us to make all of this possible. Responsible and sustainable tourism that gives as much to our community as to our clients.
Meet the AE Trekking Team!
---
Everyone on the Alpaca Team is from Cusco region, living the traditions and history they share with you while on one of our tours. Our guides are all graduates of university studying tourism, history and english. Our chefs are trained every February by a professional cooking team learning new meals, adding varieties of entrees for all types of eating. And all our porters are from HUARQUI, HUACAHUASI, PATACANCHA, QUISWARANI, CANCHACANCHA, QUEYUPAY, UMACHURCO and CCACCACCOLLO villages, very often working this job on top of maining their farms back at home. Most of our team has been with us for years, as we have the most loyal, hard working, happy employees in Cusco. We know how lucky we are to have the best team trekking and you will immediately fall in love with all the men and women who call Alpaca Expeditions their home.
What do we do for our porters?
---
Alpaca Expeditions would not be where we are today without these hardworking men and women. We could not imagine a harder job and our team does it smiling. We do our best to thank them for their hard work and loyalty by doing as much as we can to make their lives and their families lives better. All our porters receive all their equipment for free from warm winter hats to proper hiking boots. They sleep in proper tents and are given warm sleeping bags for night. They enjoy the same food we serve our clients and all leftovers are donated to their families. We visit their villages with doctors and dentists, donate school supplies and sports equipment. And our favorite time of the year is when we bring a group of porters and their families to Machu Picchu to visit the ruins for the first time.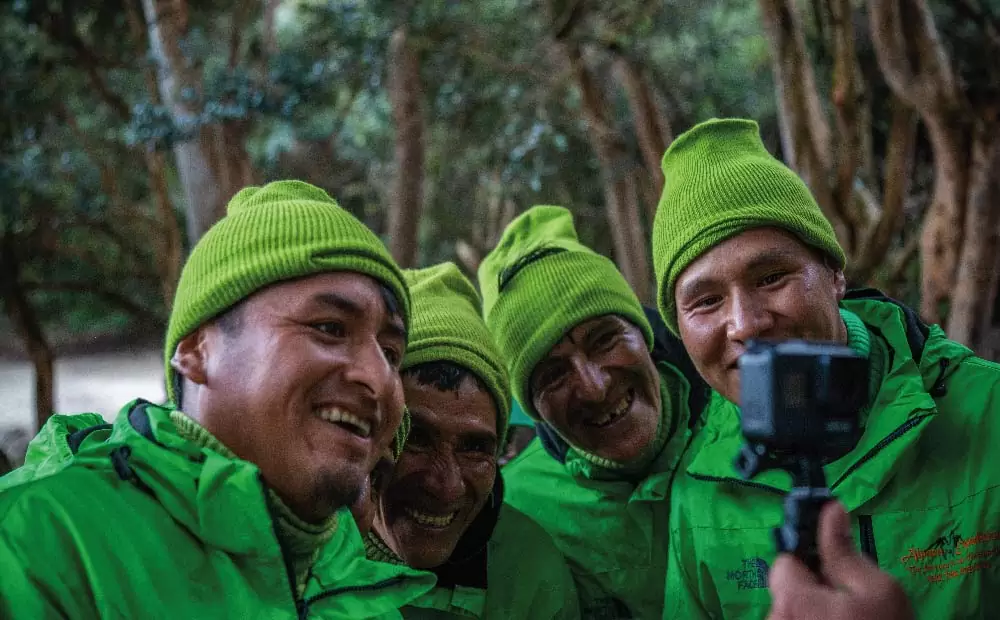 Our Porters represent the Peruvian people, both men, and women who are at the heart of our company. It is not possible to ...
Alpaca Expeditions aims to promote gender equality and empower women, hiring first Peru Women as Porters opening the door ...
Free Medical Assistance to Porters
In 2019, we hired our first Alpaca Expeditions Medical Doctor to help tend to our guides, drivers, chefs…
Our Porter's bus
We treat our porters with the same dignity and respect as we do our clients. Just as our clients enjoy our…
Our Porter's House
As we mentioned above, our Porters like many Peruvian people come from distant villages to work our treks…
Tents and Sleeping bags
Again, this is something unique that Alpaca Expeditions provides, and sad others are not doing. We supply…
Proper Equipment for our Porters
Every porter of ours receives proper equipment. That includes moisture-wicking long/short sleeve shirts…
Nutritious Meals for our Porters
A general comment from trekkers on an Alpaca Expeditions tour is that we serve too much food. Well…
Extra information
---
Alpaca Expeditions is always ready to make your trip safe and as easy as possible for you. Because these trips are a bit more complicated than your typical tour, we have put together some notes on logistics, storage, and even recommendations on where to stay in Cusco. And of course our team is ready to answer any other question, as we promise to be your partner from the moment you first contact us to our last goodbye in Cusco.
Alpaca Expeditions Recognitions
---
ISO (International Organization for Standardization)
In the pursuit to stand out from the rest, Alpaca Expeditions has obtained four ISOs plus our carbon footprint certificate to date. These achievements result from our efforts to implement the internationally-recognized integrated management system. They also represent our commitment to all of our clients and staff of operating sustainability and responsibility in every way possible.