Gates to Peru Tour

14 Days / 13 Nights
---
Tour Location: An all-encompassing Peru tour covering all the historic locations in 14 days 
Tour Type: Hiking, camping, adventure, history, culture, the Amazon
Good For: Those who enjoy hiking and are moderately in shape
Difficulty: Moderate, but challenging
Considerations: Permit required for Inca Trail. Must arrive and depart the Amazon around noon.
We will have everything taken care of for you for two weeks on your Gates to Peru Tour, but you won't feel rushed or over scheduled. This trip includes four days in the Amazon, hiking the Inca Trail, and an overnight with a local family on Lake Titicaca.
Tour Price
Gates to Peru Tour
14 Days / 13 Nights
---
Price
$
2,995
USD
Per Person
---
Activity Level Challenging
Trip Details
---
Highlights

GATES TO PERU PACKAGE DETAILS

Note: The hotel must be booked on the main town due the early pick up for our services we are unable to go to the airbnb as most of them do not have a name or address easy to find and some of them are located far away from the main town.
Itinerary
Night 1: Welcome to Lima

Our representative will meet you at the airport and transfer you to your hotel in Miraflores (you may also stay at the airport or at the hotel next to the airport, if you prefer). You will have a free evening in Lima.

Please send us your flight arrangements.

Accommodations: Casa Andina Standard in Miraflores * (3 stars)
Meals Included: None
Entrance Tickets: N/A

Since the lodges book up quickly we have chosen two options  described below for your Amazon stay. It will depend on availability, both lodges are located in the same area and the tours held are almost the same, after you book we will let you know which will be your lodge on your itinerary.

First Option

Day 1: Flight to Puerto Maldonado (Flight arrangements must be before 13:00 hours )

We will transfer you back to the airport for your morning flight to
Puerto Maldonado.

Please send us your flight information. This is not included.

Upon arrival, you will be met at the airport by your naturalist guide and transferred to a dugout canoe for the trip up the Tambopata River to the lodge. On the journey, the vegetation changes from colonized deforested areas to virgin rain forest. A box lunch is provided on board. Once you arrive, you'll be offered a welcome drink and meet the rest of the staff. In the late afternoon, you set off for an introductory walk into the "terra firme" forest behind the lodge (trail two), dominated by giant Brazil-nut and Dipteryx trees. Frequently seen mammals on this trail are Saddle-back Tamarins, Brown Capuchins, Agoutis, Pacas, Blue-Morpho butterflies, Trogons, Toucans and many other species of birds. After dinner, there will be a night walk to find nocturnal animals or insects by the eye-shine, a specialization for increasing the light and to see better. About 50 percent of the animals in the rain forest are nocturnal.

Accommodations: Tambopata Eco Lodge* (3 stars)
Accommodations: Incaterra Reserva Amazonica* (4 stars)
(itinerary is slightly different)
Meals Included: Breakfast, Boxed Lunch, Dinner
Entrance Tickets: N/A

Day 2: Hike to Lake Condenado

After an early breakfast, you and your nature guide will board the motorized canoe, once again. You will partake in a short journey to the trail head to begin a morning's exploration by foot and paddle canoe of the lake system of Condenado, which is rich in bird and aquatic life. A family of Giant Otters lives in the vicinity of the lake and is often observed. Birds to look forward to are: Rufescent Tiger-herons, Great Egrets, Wattled Jacanas, Hoatzin, and the noisy Donacobius, among many others. Remember to bring your hat and sunscreen, for there is no shade out on the water. You will return to the lodge in time for lunch. The afternoon is for exploring the forest close to the lodge (with or without your guide) or relaxing and bathing in the Gallucunca (a cool clear stream beside the lodge). After dark, you will go searching for caiman (alligators) and other nocturnal animals by motorized canoe along the Tambopata River.

Accommodations: Tambopata Eco Lodge* (3 stars)
Incaterra Reserva Amazonica* (4 stars)
(itinerary is slightly different)
Meals Included: Breakfast, Boxed Lunch, Dinner
Entrance Tickets: N/A

Day 3: Hike to Lake Sachavacayoc (Tapir Lake)

After an early breakfast, you will take a short boat ride down river to the trail head. Here, you will embark on a longer trail which leads to a spectacular hidden lake, requiring the crossing of streams and swampy ground, past the giant Lupuna trees (Kings of the Jungle), which abound in this part of the forest. On the walk you are introduced to more aspects of the forest and its animals. At the lake itself, it is possible to spot the elusive Black Caiman and Giant Otters. We will return for lunch. The afternoon is free for relaxation and bathing.

Accommodations: Tambopata Eco Lodge* (3 stars)
Incaterra Reserva Amazonica* (4 stars)
(itinerary is slightly different)
Meals Included: Breakfast, Boxed Lunch, Dinner
Entrance Tickets: N/A

Second Option

Day 1: Flight to Puerto Maldonado (Flight arrangements must be before 13:00 hours )

Arrival & Reception by Guide

Our guides are biologists, tourism professionals, or community members. Unless noted otherwise, our guides speak English. We assign guides at 10:1 ratio in Posada Amazonas. This means groups smaller than 10 people will be merged with other groups under one guide. If you would like a private guide or a guide in a language other than English please let us know.

Transfer Airport to Puerto Maldonado Headquarters

Upon arrival from Lima or Cusco, we will welcome you at the airport and drive you ten minutes to our Puerto Maldonado headquarters. While enjoying your first taste of the forest in our gardens we will ask you to pack only the necessary gear for your next few days, and leave the rest at our safe deposit. This helps us keep the boats and cargo light.

Transfer Pto Maldonado Headquarters to Tambopata River Port

Skirting Puerto Maldonado, we drive 20 kilometers to the Tambopata River Port, entering the Native Community of Infierno. The port is a communal business.

Boxed Lunch

Transfer Boat – Tambopata River Port to Posada Amazonas
The forty five minute boat ride from the Tambopata Port to Posada Amazonas will take us into the Community´s Primary Forest Private Reserve.

Orientation

Upon arrival, the lodge manager will welcome you and brief you with important navigation and security tips.

Canopy Tower

A twenty minute walk from Posada Amazonas leads to the 30 meter scaffolding canopy tower. A bannistered staircase running through the middle provides safe access to the platforms above. From atop you obtain spectacular views of the vast expanses of standing forest cut by the Tambopata River winding through the middle. Now and then toucans, parrots or macaws are seen flying against the horizon, or mixed species canopy flocks land in the treetop next to you.

Ecotourism Lecture

A daily presentation on the Infierno ecotourism project is available every night from a staff member.

Accommodations: Posada Amazonas*
Meals Included: Boxed Lunch, Dinner
Entrance Tickets: N/A

Day 2: Tres Chimbadas Oxbow Lake

Tres Chimbadas is thirty minutes by boat and forty five minutes hiking from Posada Amazonas. Once there you will paddle around the lake in a catamaran, searching for the resident family of nine giant river otters (seen by 60% of our lake visitors) and other lakeside wildlife such as caiman, hoatzin and horned screamers. Otters are most active from dawn to eight or nine AM.

Ethnobotanical Tour

A twenty minute boat drive downriver leads you to a trail designed by the staff of the Centro Ñape. The Centro Ñape is a communal organization that produces medicines out of forest plants and administers them to patients who choose their little clinic. They have produced a trail which explains the different medicinal (and other) uses of selected plants.

Night walk

You will have the option of hiking out at night, when most of the mammals are active but rarely seen. Much easier to find are frogs with shapes and sounds as bizarre as their natural histories.

Accommodations: Posada Amazonas *
Meals Included: Breakfast, Lunch, Dinner
Entrance Tickets: N/A

Day 3: Parrot Clay Lick

This clay lick is only a twenty minute walk from Posada Amazonas. From a blind located about twenty meters away you will see dozens of parrots and parakeets descend on most clear mornings to ingest the clay on a river bank. Species such as Mealy and Yellow- headed Amazon, Blue-headed Parrot and Dusky headed Parakeet descend at this clay lick. The clay lick is active at dawn, during the late mornings and mid-afternoons.

Ceiba Trail Hike

We leave from the lobby at Posada Amazonas and embark on a two hour hike crowned by the largest tree in the vicinity: a giant ceiba tree. During the hike we will focus on the natural history of the rain forest and its principal taxonomic groups.

Farm Visit

A thirty minute boat drive downriver takes us to the most complete farm in the community of Infierno. The owner grows a diverse variety of popular and unknown Amazon crops. In his garden, just about every plant and tree serves a purpose.

Accommodations: Posada Amazonas*
Meals Included: Breakfast, Lunch, Dinner
Entrance Tickets: N/A

Day 4: Journey to Cusco

Your morning activities will be based on when your flight is leaving Puerto Maldonado. Try to schedule your flight departing around noon. If time allows, you will enjoy the morning watching the wildlife, that is particularly active at this time, often the sounds of howler monkeys surround you. When you are ready, you will make your way back to the airport for your next adventure.

Please send us your flight arrangements (arrange around lunchtime).

Once you arrive to Cusco, we will welcome you at the airport and transfer you to your hotel. The rest of the day will be free to explore Cusco.

Accommodations: Hotel Rumi Punku*
Meals Included: Breakfast
Entrance Tickets: N/A

Day 5: City Tour

Your afternoon, private tour of the city will begin at 1 p.m. It will leave from your hotel and visit Cathedral , Koricancha, Sacsayhuaman, Quenqo, Tambomachay and Puca Pucara. This tour ends around 6.30 p.m. We will return you to Hotel.

Accommodations: Hotel Rumi Punku*
Meals Included: Breakfast
Entrance Tickets: Included

Day 6: Sacred Valley Tour

This is a private full day tour will begins at 8 a.m. from your hotel. You will visit an Alpaca farm, Pisaq market, Pisaq ruins, and Ollantaytambo ruins. It will end around 6 p.m. and we will return you back to your hotel. In the evening, you will go to the Alpaca Expeditions office where we will brief you for your trek.

Accommodations: Hotel Rumi Punku
Meals Included: Breakfast and Lunch
Entrance Tickets: Included

Day 7: Km 82: The Inca Trail

Today you will begin your Inca trail trek, group tour. After an early wake up, you will drive to Km 82, the trailhead, and start the trek. You will see views of Inca ruins, valleys, waterfalls and of course, snow capped peaks.

Accommodations: Camping, alpaca style
Walking distance: 14 km/around 8 miles
Meals Included: Breakfast, Lunch, and Dinner
Entrance Tickets: N/A

*You can leave your larger luggage at your hotel or with Alpaca. We will provide duffel bags at your briefing that the porters will carry for you. Please make sure these do not weigh more than 7kg/14 lbs (including your sleeping bag and air mattress, if you choose to use one).

Day 8: Dead Woman's Pass: The Inca Trail

Today, we will survive the two highest peaks on the Inca trail and see views from the tops of the mountains. We will also visit some spectacular ruins along the way.

Accommodations: Camping, Alpaca style
Total Walking Distance: 16 km/around 9 miles
Meals Included: Breakfast, Lunch, and Dinner
Entrance Tickets: N/A

Day 9: Wiñay Wayna: the Inca Trail

While, today is the shortest day of hiking, it is the most beautiful one. We will hike in the morning and then lunch will be at the final campsite. In the afternoon, we will visit the most famous ruins, called Wiñay Wayna. There will be plenty of time to explore. Throughout the day, you will walk around 3,000 steps down. In the evening, you will say goodbye to your porters.

Accommodations: Camping, Alpaca style
Meals Included: Breakfast, Lunch, and Dinner
Entrance Tickets: N/A

Day 10: Machu Picchu

After an early wake up and breakfast, we will walk to the Sun Gate and following, to Machu Picchu. You will get there around 7: 30 a.m. and will then, begin your two hour guided tour. There will be plenty of time afterwards, to explore on your own. If you have a Huayna Picchu ticket, your guide will direct you to your climb. Afterwards, you will take the bus down to Aguas Calientes and take an afternoon expedition (tourist) train, at either 2:55 p.m. or 3:20 p.m. to Ollantaytambo. You will be transferred back to your hotel in Cusco.

Accommodations: Hotel Rumi Punku*
Meals Included: Breakfast
Entrance Tickets: Included

*Hiking Huayna Picchu after your tour needs to be arranged in advance and costs $75 per person.

Day 11: Journey to Puno

After an early breakfast, we will pick you up between 6:00 a.m. to 6:20 a.m. to transfer you to the bus station, where you will take the tourist bus. This is a full day ride, to Puno. You will enjoy stops along the way and visit some Inca and pre-Inca ruins. When you arrive at Puno, our representative will pick you up and transfer you to your hotel.

Accommodations: Tierra Viva Puno*
Meals Included: Breakfast and Lunch
Entrance Tickets: Included

Day 12: Lake Titicaca: The Floating Island

Pick up will be between 7:30 a.m. to 8 a.m. You will be transferred to the lakes port where you will take a boat to the floating islands of Uros, where you will have time to explore. Following, you will take a boat to the next island to stay with a local family. Tonight will be a basic accommodation, but a memorable one, as you will be surrounded by a nice family. This will allow for an opportunity to see how the indigenous people of the lake live. In the afternoon, you will climb to the mountain to watch the sunset and party with the locals.

Accommodations: Overnight with a local family
Meals Included: Breakfast, Lunch and Dinner
Entrance Tickets: N/A

Day 13: Lake Titicaca: Taquile Island

You will have an early breakfast with the family and take a boat to the next islands called Taquile. You will learn about agriculture and textile of local people. You will return to Puno around 4:30 p.m. and transfer to your hotel.

Accommodations: Tierra Viva Puno*
Meals Included: Breakfast and Lunch
Entrance Tickets: N/A

Day 14: Goodbye

When you are ready, we will transfer you to Juliaca's Airport for departure. Please send us your flight arrangements.

END OF TOUR

*All hotels are based on availability. Any changes will be made with your approval. 4 and 5 star hotels are available – inquire within for rates.
Inclusions
Included

Professional Guides: All of our guides studied English and Tourism at Cusco National University. They all grew up in this region and have a true passion to teach others about their heritage. They are all a lot of fun to be around, but know when they need to be professional and will always look after you to make sure you are safe and happy – enjoying the tour.
Hotels: This tour includes all your hotels, from the moment you land in Lima. Included hotels are all three stars, but can be upgraded at additional cost. If one of the hotels listed is not available, we will work with you to find another of equal quality.
Ground Transportation: All ground transportation for all your tours and transfers is included. An Alpaca Expeditions representative will be waiting for you at the airport to bring you to your first hotel and will be there for each transfer needed. Buses are all tourist class which are comfortable and enjoy stops along the route at beautiful sites.
Most Meals: You will have the opportunity to enjoy some amazing meals on this tour. Your meals during the Amazon tour, Inca Trail and Lake Titicaca will all be included. These are all annotated on the itinerary.
Entrance Fees: All needed entrance fees on this tour are included. This includes your permit for the Inca Trail and entrance to Machu Picchu.
Private Day Tours: While in Cusco, your day tours will all be done just for you, privately, by the Alpaca team.

Not Included

Rentals: If you prefer to not bring your own sleeping bag, you can rent one from us. We use all down sleeping bags that are good for -15˚C. You will also receive a liner that is machine washed after use. We also rent air mats that are 3 inch Luxury Therm-a-Rest mats and Black Diamond trekking poles.
Sleeping Bags: $20 US
Air Mats: $15 US
Walking Sticks: $15 US
Flights: Flights do need to be arranged on your own. Some flights need to be arranged at specific times, and we have annotated this in our itinerary. Please remember we are always here to help with any questions or advice.
Huayna Picchu: Huayna Picchu is the mountain that stands next to Machu Picchu and has beautiful views from the top of Machu Picchu from above. It takes 45 minutes to get to the top and then 45 minutes back down and is quite steep for those scared of heights. This is done after your tour of Machu Picchu and is $75 per person to hike. This is extremely popular and needs to be arranged at least a month or two prior to your trek. Since you are hiking the Inca Trail, you will experience a similar view from the Sun Gate – but sli
Price
Price:

With 3 Star Hotels:  $2295 per person

With 4 & 5 Star Hotels: $3125 per person

*These prices are based on shared rooms (either double, matrimonial or triple). 

Options:

Single Room (with 3 stars): + $430 per person

Single Room (With 4 and 5 stars): +$1085 per person

* Amazon tours are done through Lodge so this tour can only be done when reserving suggested room. Upgraded itineraries include Inkaterra Reserva Amazona.

Student discounts apply to anyone who has a valid UNIVERSITY STUDENT CARD at the time of the trek or who is 17-years-old or younger. For those using an university student card to receive the discount, we need to see a copy of the card at booking. For those booking children 17-years-old or younger, we need a copy of their passport at booking time. Please send all to info@alpacaexpeditions.com.

More Information about STUDENT CARD

Discount:

$35 discount for all children under 16 or those with a valid student university card.

Notes:

1. Huaynapicchu can be added for $75 per person based on availability.
2. All trains are Tourist Expedition Train. If you want to upgrade to a Vistadome train it is $75 per person, one way and $120 roundtrip.
Travel Info
Altitude

As soon as people book their trip to Peru, specifically Cusco, they start wondering about altitude sickness. The air at high altitudes contains less oxygen than at sea level and forces your body to work harder to get the oxygen it needs. Over several days at high altitude, your body adjusts to the lower amount of oxygen in the air. This is why we always recommend spending at least two days in Cusco before beginning any trek. If you have more time, even better. Cusco is an amazing city with a lot to do, so you won't be bored.

With altitude sickness, you may first feel like you have the flu or a hangover. You may have a headache, tiredness, loss of appetite, nausea or vomiting, dizziness, trouble sleeping, trouble breathing during exercise. If any of these effects become severe, please contact our office and we will help you get to a doctor.

Most of the time, these symptoms will be mild. We always recommend easing into activity slowly, allowing your body to adjust. Drink plenty of fluids such as water or coca tea. Coca tea has been used since ancient times to help prevent altitude sickness. Leaves from the coca plant contain alkaloids which helps bring oxygen into your blood, helping your body avoid the effects of altitude sickness. Avoid drinking a lot of alcohol and coffee. They will cause you to urinate more often and become dehydrated. Avoid smoking. Smoking makes it more difficult for your body to get oxygen. Avoid sleeping pills. They may cause shallow breathing at night, making it more difficult for your body to absorb oxygen while you sleep.

Remember the trek to Machu Picchu is not a race. Even those in the best shape will suffer from altitude sickness when they race to the top of the mountain too quickly. Go slowly, it will give your body time to adjust to the mountain.

Your healthcare provider may prescribe medicines, such as are acetazolamide and dexamethasone, to help prevent altitude sickness. Start the medicine 2 days before you get to a high altitude. Continue to take it while you are at high altitude.

You must remember that this is your holiday and you do not want to stress out about the possibility of getting sick from the mountains. Do everything slowly. Drink lots of water. And enjoy the coca tea. If anything does happen and you unfortunately get sick, let your guide know right away – all Alpaca Expeditions guides are trained in how to help you get through it.

Weather

Of course weather is unpredictable. Typically the dry season in Cusco is from April through October, but this does not stop raining from falling in June or the sun from coming out in December – just be prepared. No matter what month you are doing the trek, please make sure that you have rain gear that includes a waterproof jacket, pants, poncho and waterproof gloves. Many people forget about gloves, but being cold and wet makes hiking very unpleasant.

Also prepare for 4 seasons. Many of the treks through the Andes involve many micro-climates and you will need to be prepared for all seasons. Layers are always key as they are easy to adjust to the different temperatures. And evenings will always be cold, so please be prepared with a warm winter weight jacket.

First Aid

Every Alpaca Expeditions guide has received training in first aid from a physician. We conduct mandatory training every February – every single Alpaca guides attend. When guiding you, they will have with them a first aid kit for basic medical problems (traveler's diarrhea, cuts/ scrapes, etc.) and oxygen. They know how to make you feel better.

In case something unexpected happens and you feel you can no longer complete the trek, they will figure out the safest and quickest way off the course and to a clinic. You will never be left alone, you will have a member of the team escort you every step of the way until safely with a doctor. When you are feeling up to it, we will make sure that you still have the chance to visit Machu Picchu and re-connect with your group, traveling by train comfortably.

Travel Insurance

Because there are so many logistics to plan and pay for before your trek occurs, payment for your trek is due even if you are unable to complete the hike. Please read our Booking Conditions carefully so you know what is due. Obtaining travel insurance before you leave home is strongly encouraged. This way, if something happens, and this is rare, you will not be out of pocket a tremendous amount of money. Alpaca will provide a letter and your invoice to submit to your insurance in this case to help expedite your processing.

Environmental Impact

Alpaca Expeditions uses biodegradable soap and transports all our garbage back to Cusco. Our porters are trained to look after the trail and pickup any waste from other groups as well. We also use environmentally-friendly chemical portable toilets that allow us to pack waste out. We believe in leaving no footprint behind.

Community

Alpaca Expeditions is really proud of the work we do for our community. This is a main focus for our company. We have worked with villages directly to help supply them with needs their families were missing. We have supported local schools with by giving them computers and books. We currently sponsor a teacher at the village most of our porters come from to ensure their children are offered the best education.

We buy all our food from local farmers and markets and serve the freshest ingredients. We provide English classes for all our team: guides, porters, chefs and drivers. And we are building a house for our porters to give them a safe and comfortable place to stay before and after our treks so they no longer need to sleep on the floor of a friend.

And twice every year we bring our porters and their families to Machu Picchu. This is our favorite trip to do as they guys who work tirelessly have never visited the Lost Citadel of the Incas. Showing them this place is our biggest honor.

We are always looking to do more and for partners. Please let us know of your ideas and we will work to help.

Our Equipment

Alpaca is dedicated to making sure we have the best equipment available. Casual Adventure Camping Store is a family owned business in the United States that is dedicated to the outdoor travelers needs and helps us with all our equipment needs.

Our Tents

Enjoy a good night's sleep in our spacious Eureka tents. All our tents are 4 man tents, but you will only have to share with one other trekker leaving lots of room to spread out comfortably and store your duffels. They are an A-frame design with entrances on both sides of the tent. They also include a little vestibule in front, giving you some extra outdoor space to leave your boots and walking sticks so you don't have to bring in dirt. We are proud to be the only company to use these tents.

Our Toilet Tents

No need to add some additional hiking in the middle of the night when you have to use the bathroom! We set up our spotless, environmentally friendly, toilet tents right at your camping site and lunch sites so you don't have to bother with the park toilets that are not in great condition. This is our way to lessen our footprint on the environment while adding the convenience and luxury of a private bathroom to your trekking adventure.

Our Mats

A foam mat is included to separate and insulate you from the ground. For added comfort you may want to consider upgrading by renting an inflatable sleeping pad which adds 3 inches of foam comfort on top of the provided foam mat to help you sleep like a baby alpaca each night on the Andes. We use Thermarest and Eureka inflatable air mats.

Our Sleeping Bags

We use only mummy style sleeping bags that are fully down for -15°C/5°F . Please note that if you are over 1.95 meters / 6´4? tall then you won´t be able to find a sleeping bag rental in Cusco. In this case it is recommended to bring your own. For everyone else, you will have a great night sleep in this comfy, warm bag. We provide liners to everyone that are machine washed between every use. These do need to be included in your duffel weight and weigh 2 kg.

Our Walking Sticks

All our sticks are black diamond and fold up for when you are not using them. They are sturdy and adjust to your height. Even for those of you who are great trekkers, having a set of sticks is helpful on all treks. Especially if the weather turns bad or just heading down some of the steeper portions of the hike.

Personal Porter Included

All of our treks include porters, who are responsible for carrying and setting up all equipment. They will also carry your personal duffel, which you will receive at your briefing the night before your trek. This duffel can not exceed 7kg/14lbs, and must include your sleeping bag and air mat.

Each Alpaca Expeditions porter is given a proper uniform, salary and insurance. They are the backbone of our company.
Packing List
Packing List

Good day back pack
Copy of your passport
Good hiking gear like hiking boots, warm jackets, gloves, hat warm fleece and socks
Sleeping bag
Walking boots
Waterproof jacket/rain poncho
Hat and gloves
Warm clothes: Layers for variable temperatures, especially at night
T-shirts
Comfortable trousers
Sun hat
Sun protection cream
Insect Repellent
Re-usable plastic or metal water container or camel bags
Water (only for first 4 hours of trek, then we will provide you with drinking -previously boiled- water)
Toiletries
Personal medication
Camera and film
Flashlight with spare batteries
Walking stick
Bathing suit for the hot springs
Extra money for souvenirs, drinks & tips
Gates to Peru 14D/13N
Please fill in our BOOKING FORM carefully with your correct personal details.
Inca Trail Trek Daily Videos: See What Each Day Is Like!
---
The Alpaca Difference
---
Alpaca Expeditions is a 100% peruvian, indigenous owned company. Started by Raul Ccolque, a former porter and tour guide, Alpaca Expeditions separates ourselves by our dedication to both our customer and our team. We work very hard to make sure that all our clients needs are taken care of throughout the tour with us. At the same time, we never forget about our brothers and sisters working tirelessly for us to make all of this possible. Responsible and sustainable tourism that gives as much to our community as to our clients.
Meet the AE Trekking Team!
---
Everyone on the Alpaca Team is from Cusco region, living the traditions and history they share with you while on one of our tours. Our guides are all graduates of university studying tourism, history and english. Our chefs are trained every February by a professional cooking team learning new meals, adding varieties of entrees for all types of eating. And all our porters are from HUARQUI, HUACAHUASI, PATACANCHA, QUISWARANI, CANCHACANCHA, QUEYUPAY, UMACHURCO and CCACCACCOLLO villages, very often working this job on top of maining their farms back at home. Most of our team has been with us for years, as we have the most loyal, hard working, happy employees in Cusco. We know how lucky we are to have the best team trekking and you will immediately fall in love with all the men and women who call Alpaca Expeditions their home.
What do we do for our porters?
---
Alpaca Expeditions would not be where we are today without these hardworking men and women. We could not imagine a harder job and our team does it smiling. We do our best to thank them for their hard work and loyalty by doing as much as we can to make their lives and their families lives better. All our porters receive all their equipment for free from warm winter hats to proper hiking boots. They sleep in proper tents and are given warm sleeping bags for night. They enjoy the same food we serve our clients and all leftovers are donated to their families. We visit their villages with doctors and dentists, donate school supplies and sports equipment. And our favorite time of the year is when we bring a group of porters and their families to Machu Picchu to visit the ruins for the first time.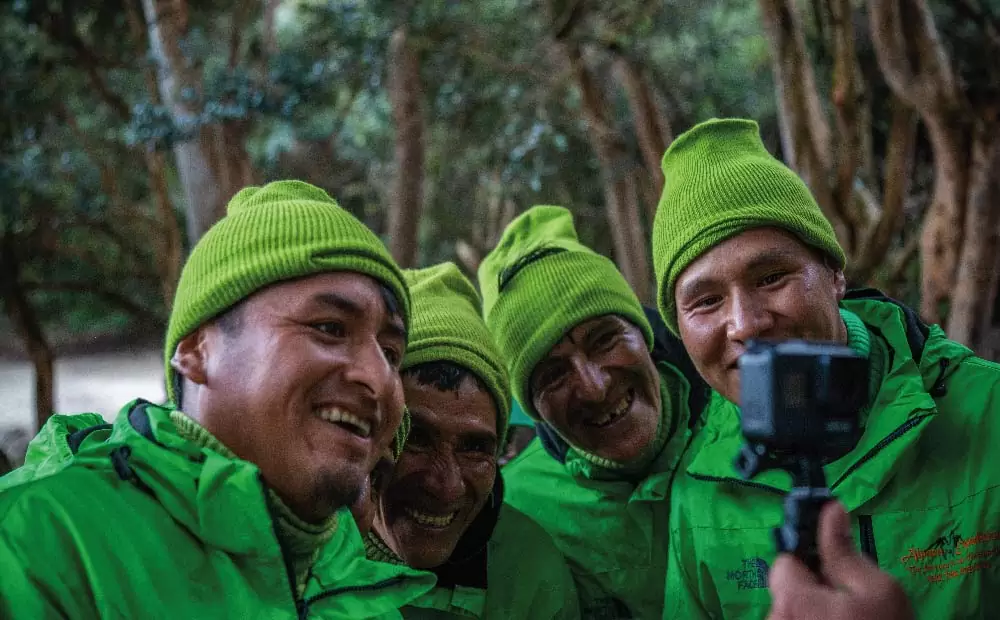 Our Porters represent the Peruvian people, both men, and women who are at the heart of our company. It is not possible to ...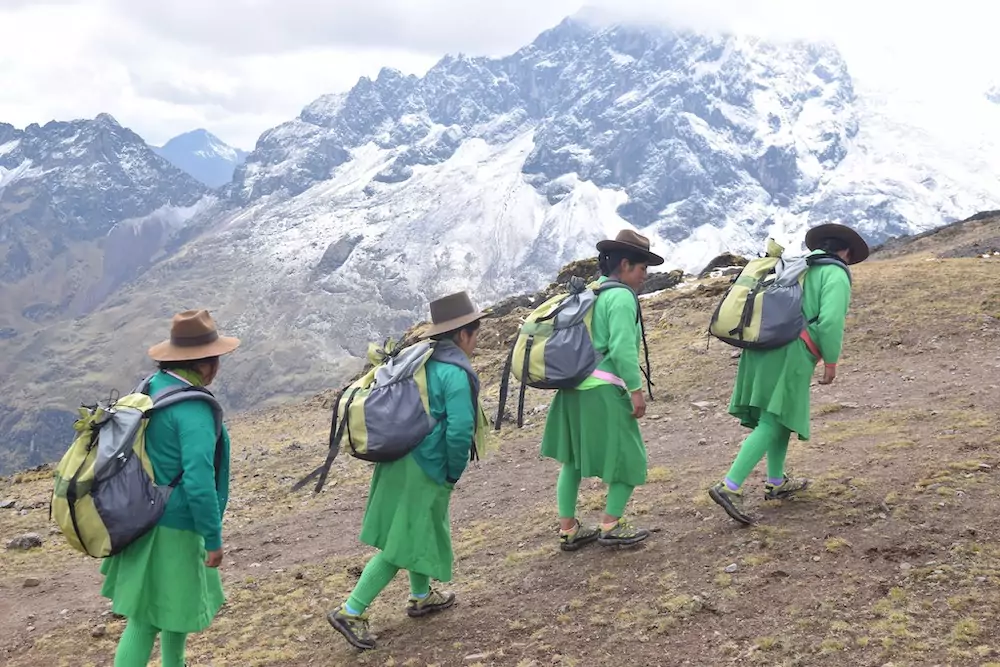 Alpaca Expeditions aims to promote gender equality and empower women, hiring first Peru Women as Porters opening the door ...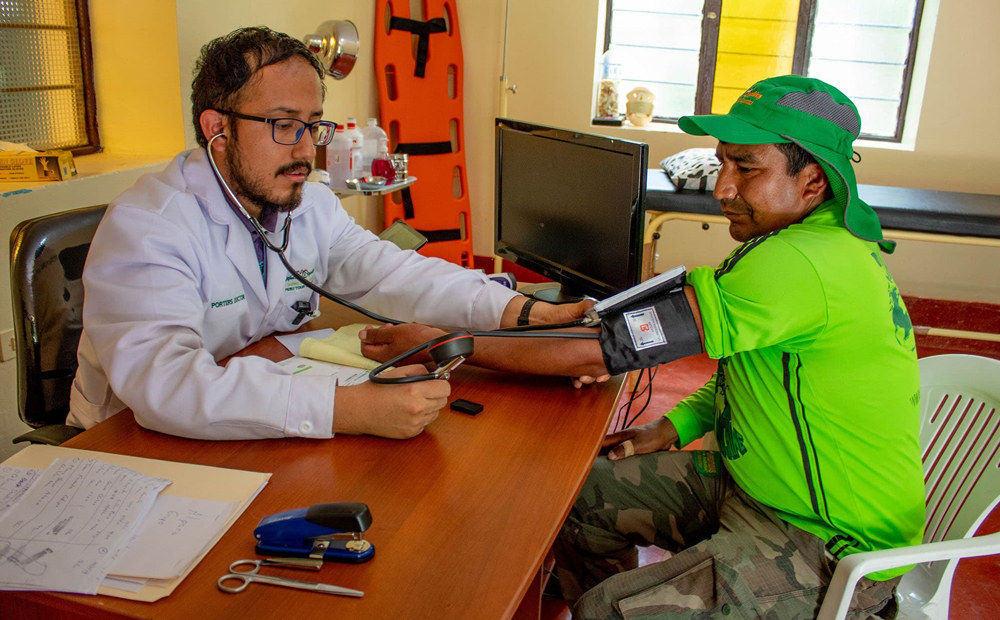 Free Medical Assistance to Porters
In 2019, we hired our first Alpaca Expeditions Medical Doctor to help tend to our guides, drivers, chefs…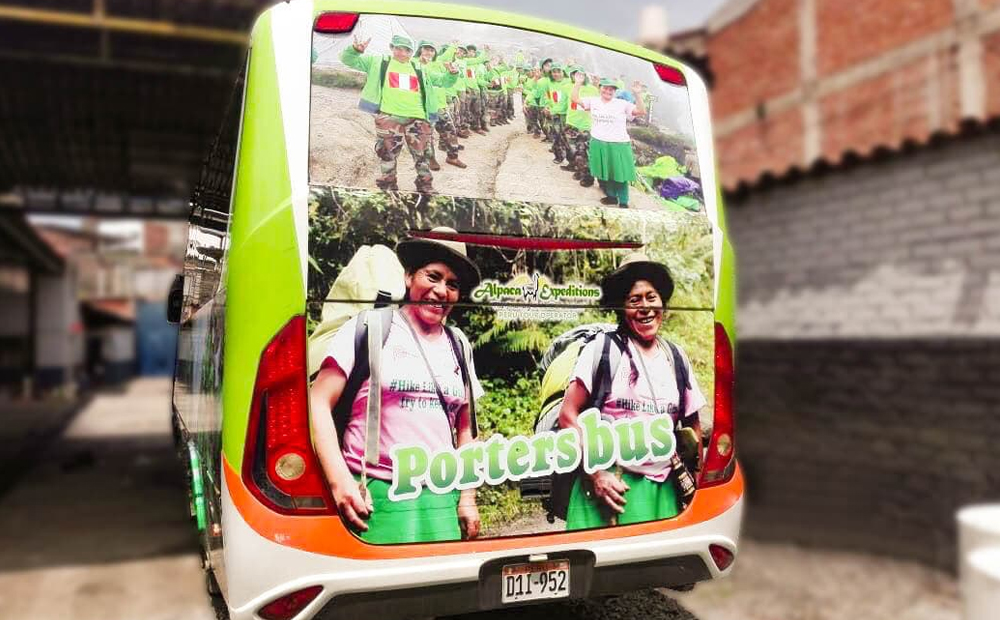 Our Porter's bus
We treat our porters with the same dignity and respect as we do our clients. Just as our clients enjoy our…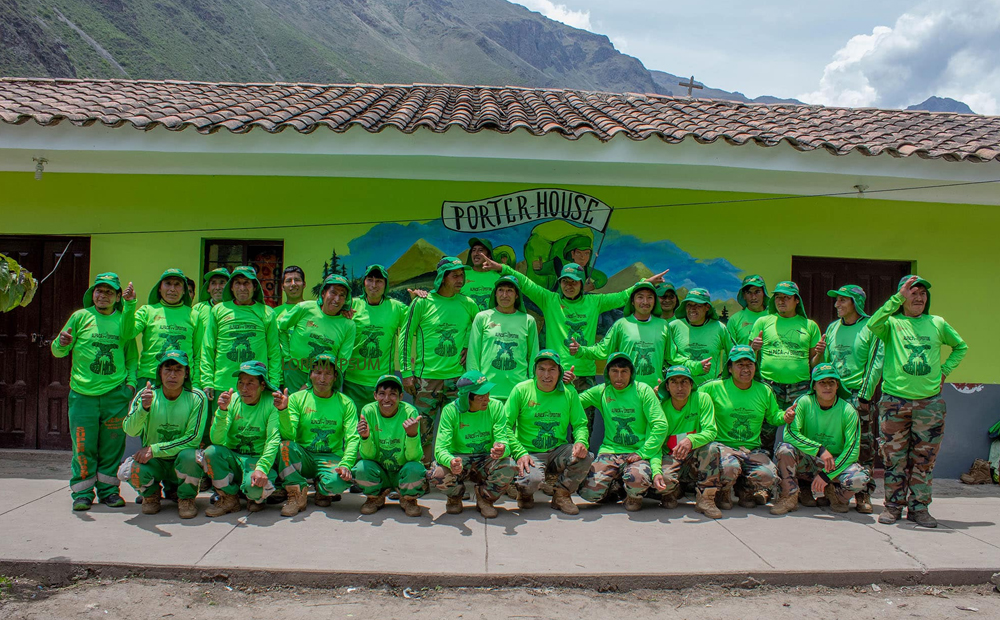 Our Porter's House
As we mentioned above, our Porters like many Peruvian people come from distant villages to work our treks…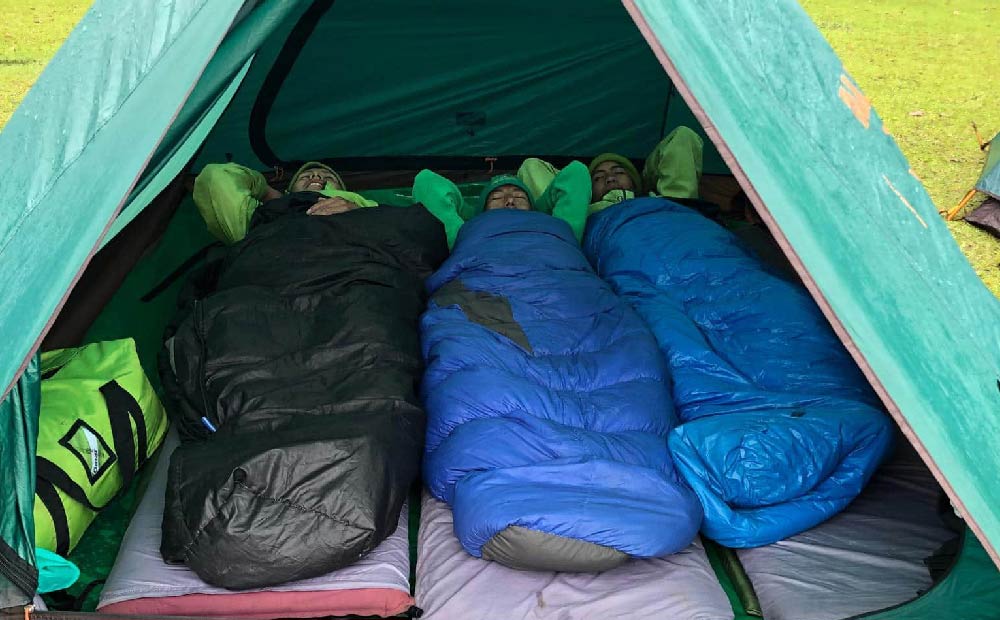 Tents and Sleeping bags
Again, this is something unique that Alpaca Expeditions provides, and sad others are not doing. We supply…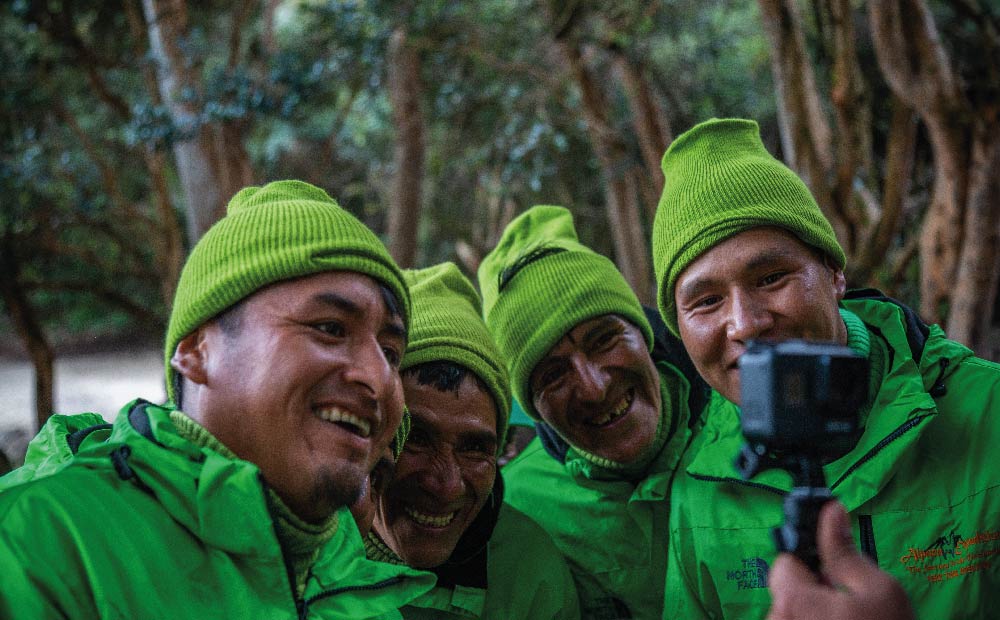 Proper Equipment for our Porters
Every porter of ours receives proper equipment. That includes moisture-wicking long/short sleeve shirts…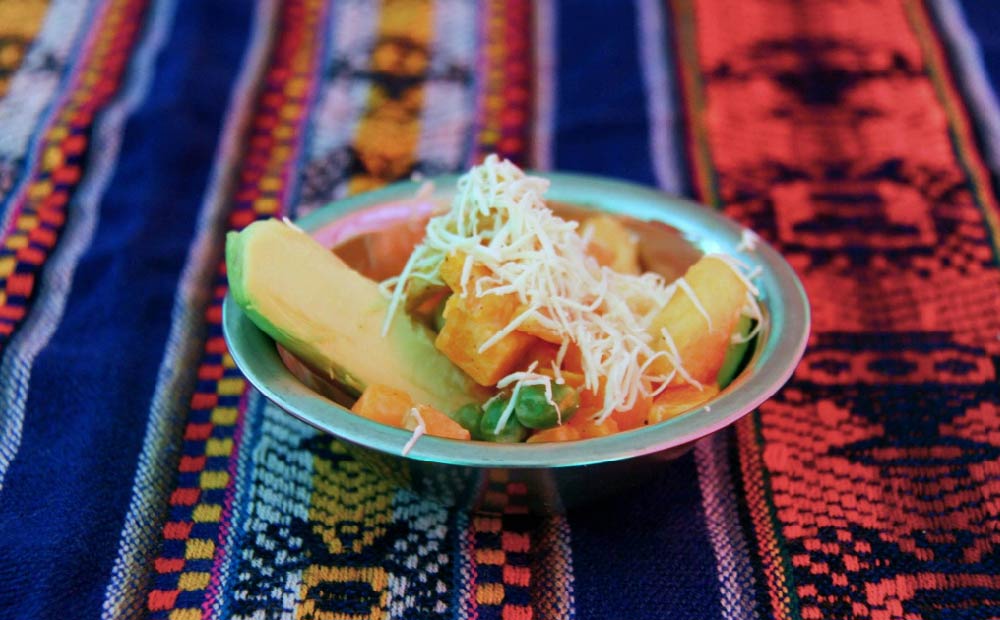 Nutritious Meals for our Porters
A general comment from trekkers on an Alpaca Expeditions tour is that we serve too much food. Well…
Extra information
---
Alpaca Expeditions is always ready to make your trip safe and as easy as possible for you. Because these trips are a bit more complicated than your typical tour, we have put together some notes on logistics, storage, and even recommendations on where to stay in Cusco. And of course our team is ready to answer any other question, as we promise to be your partner from the moment you first contact us to our last goodbye in Cusco.
Alpaca Expeditions Recognitions
---
ISO (International Organization for Standardization)
In the pursuit to stand out from the rest, Alpaca Expeditions has obtained four ISOs plus our carbon footprint certificate to date. These achievements result from our efforts to implement the internationally-recognized integrated management system. They also represent our commitment to all of our clients and staff of operating sustainability and responsibility in every way possible.