Humantay Lake Hike

Full-Day Blue Lagoon Tour via Salkantay Trail
---
Humantay Lake: The Salkantay Trek to Humantay Lake Peru (or the Blue Lagoon) is a one-day hike to visit the beautiful turquoise lake at the base of the glacial mountain of Humantay, located in the Vilcabamba mountain range.
Enjoy nature at its most spectacular! The special algae in the lake, combined with the reflection of the surrounding greenery, the blue sky, and the splendor of the Andean sun, create a deep shade of turquoise blue that is very rare indeed.
Tour Location: The vivid turquoise-blue Humantay Lake via the Salkantay Trail
Tour Type: Hiking, adventure
Good For: Those with a sense of adventure and in moderate shape
Temperature: Inconsistent, wear layers
Difficulty: Moderate
Considerations: Enjoy the amazing colors of the Blue Lagoon
See all Salkantay and Humantay Treks
Tour Price
Humantay Lake Hike
Full-Day Blue Lagoon Tour via Salkantay Trail
---
Price
$
150
USD
Per Person
---
Humantay Lake Hike Trip Details
---
Highlights

Highlights

From the scenic 3-hour drive to the beautiful hike to the stunning Humantay Lake, this Peru day trip is all about the gorgeous natural views you can find in this area of our country.

Humantay Lake is the start of this day trip. Humantay Lake, also known as Blue Lagoon or Laguna Humantay, is located under the Humantay glacier above 5470 meters above sea level. It gets its distinct color from lighting and microalgae. The result is the most concentrated blue colors you can find in a natural body of water!

With comfortable transportation, an expert guide, and chefs to make your post-hike lunch, this is the most dependable and seamless way to hike to Humantay Lake from Cusco.
Itinerary
Start your Humantay Lake Day with a Scenic Drive

Your one day hike on the Salkantay Trail to the Humantay Lake (or Blue Lagoon) starts with an early morning pick up (4 AM) from your hotel or AirBnB within Cusco city. The drive itself is most impressive with amazing views of the mountains as we drive along, passing through a few indigenous villages and cornfields en route to the trailhead. The drive to Soraypampa is about 3 hours, and we will be starting our hike at an elevation of 3800 meters/12,460 feet.

Hike the Hidden Gem Salkantay Trail

Here, surrounded by majestic mountains and valleys, your hiking team will prepare a delicious breakfast to give you lots of energy before we start our ascent. The uphill hike along the Salkantay Trail is 1½ to 2 hours, with your guide pointing out the various flora and fauna along the way, stopping for a postcard-perfect shot of the snow-capped peaks here and there.

Spend time Exploring Humantay Lake

At the top is the treasure! The magnificent Humantay Lake (Blue Lagoon), otherwise known as Laguna Humantay, is an incredible and unforgettable shade of deep turquoise with the snow-capped Humantay glacial mountains in the background! Take time to explore the lake, snap photos, and take in the mesmerizing color of the water.

Enjoy Lunch at the Base of the Trail

Of course, the descent is usually a bit quicker than your initial climb, and when we get to the bottom, we'll have a nice lunch prepared to reward you! With our hearts and bellies full, we will start our 3-hour return to Cusco in our private van.
Inclusions
Included

Pick up from your hotel
Van to transfer to the trailhead
Entrance fee to the National park
Breakfast at the trailhead
Visit to the lake with your English-speaking guide
Lunch
Oxygen tank (in case it is needed)
Van to Drive back and drop off at your hotel.
Travel Info
Getting to Cusco

The airport in Cusco currently is only for domestic flights, so all international travelers by plane must disembark in Lima and go through Customs. Even if your flight to Cusco is the same day by the same airline carrier, you must grab your bags in Lima and then check them back in.

The best way to get to Cusco is by air, and there are several options in airlines. LAN tends to be the most expensive but has the most options and flights. Expect delays or flight cancellations. Due to the high altitude of Cusco, it tends to be difficult to land, and any acclimate weather will stop air traffic. Bus travel is always available, and while the trip can be long, especially from Lima, the buses in Peru are very well maintained and comfortable. This option is strongly encouraged if coming from a city closer to Cusco, like Puno. Lima buses will take about 20 hours to arrive.

Luggage Storage

Any extra luggage you have with you can be left safely in Cusco at either your hotel or with us at the Alpaca Expeditions while you trek. We will store your luggage on the morning of your trek and return it once you are back in Cusco. Make sure your bags have tags on them, so they are easy to locate.

Altitude

As soon as people book their trip to Peru, specifically Cusco, they start wondering about altitude sickness. The air at high altitudes contains less oxygen than at sea level and forces your body to work harder to get the oxygen it needs. Over several days at high altitude, your body adjusts to the lower amount of oxygen in the air. For this reason, we always recommend spending at least two days in Cusco before beginning any trek in the Andes. Cusco is a marvelous city with lots to do, so if you have more time to acclimate, you won´t be bored.

With altitude sickness, you may first feel like you have the flu or a hangover. You may have a headache, tiredness, loss of appetite, nausea or vomiting, dizziness, trouble sleeping, trouble breathing during exercise. If any of these effects become severe, please contact our office, and we will help you get to a doctor.
Most of the time, these symptoms will be mild. We always recommend easing into activity slowly, allowing your body to adjust. Drink plenty of fluids such as water or coca tea. Coca tea has been used since ancient times to help prevent altitude sickness. Leaves from the Coca Plant contain alkaloids that help bring oxygen into your blood, helping your body avoid the effects of altitude sickness. Avoid drinking a lot of alcohol and coffee, since they will cause you to urinate more often and become dehydrated. Avoid smoking. Smoking makes it more difficult for your body to get oxygen. Avoid sleeping pills. They may cause shallow breathing at night, making it more difficult for your body to absorb oxygen while you sleep.

Remember, the trek to Machu Picchu is not a race. Even those in the best shape will suffer from altitude sickness if they race to the top of the mountain too quickly. Go slow, and it will give your body time to adjust to the elevation. Your healthcare provider may prescribe medication such as Acetazolamide and Dexamethasone to help prevent altitude sickness. Start the medicine two days before you get to high altitude, and continue to take it while you are at high altitude. You must remember that this is your holiday and you do not want to stress out about the possibility of getting sick from the mountains. Do everything slowly and drink lots of water, and enjoy the coca tea. If anything does happen and you, unfortunately, get sick, let your guide know right away. Alpaca Expedition guides are trained to help you get through it.

Weather

Of course, the weather is unpredictable. Typically the dry season in Cusco is from April through October, but this does not stop rain from falling in June or the sun from coming out in December, so just be prepared. No matter what month you are doing the trek, make sure that you have rain gear that includes a waterproof jacket, pants, poncho, and waterproof gloves. Many people forget about gloves, but being cold and wet makes hiking very unpleasant.

Also, be ready for four seasons. Treks in the Andes involve various microclimates, and you will need to be prepared for each one. Layers are always key since they are easy to adjust to different temperature changes. Be prepared with a warm packable down jacket since the evening will be cold.

First Aid

Every Alpaca Expeditions guide has received training in first aid from a physician. We conduct mandatory training every February, and every single Alpaca guide attends. When guiding you, they will have with them a first aid kit for basic medical situations (traveler's diarrhea, cuts, scrapes, etc.) and oxygen. They will take good care of you.

In case something unexpected happens, and you feel you can no longer complete the trek, they will figure out the safest and quickest way off the trail and to a clinic. You will never be left alone; you will have a member of the team escort you every step of the way until safely with a doctor. When you are feeling up to it, we will make sure that you still have the chance to visit Machu Picchu and re-connect with your group. This way, you can finish your trip, traveling by train comfortably.

Travel Insurance

To protect your travel investment, we highly recommend the purchase of travel insurance. Getting travel insurance before you leave home is strongly encouraged and very easy. We work with a great agency in the United States, that has helped to make it easy and affordable. What an excellent way to protect yourself while you are visiting Peru.

If interested in booking through our trusted partner, Ahart, Frinzi & Smith, CLICK HERE.

Environmental Impact

Alpaca Expeditions uses biodegradable soap and transports all our garbage back to Cusco. Our porters are trained to look after the trail and pick up any waste from other groups as well. We also use environmentally-friendly portable chemical toilets that allow us to carry waste out. We believe in leaving no footprint behind.

Community

Alpaca Expeditions is proud of the work we do for our community, as this is the main focus of our company. We have worked with villages directly to help supply them with the needs their families were missing. We have supported local schools by giving them computers and books. Alpaca Expeditions also sponsors a teacher at the village where most of our porters come from and ensures their children have the best opportunity for education.

We buy all our food from local farmers and markets and serve the freshest ingredients. We provide English classes for all our team: guides, porters, chefs, and drivers. We are also building a house for our porters. By giving them a safe and comfortable place to stay before and after our treks, they no longer need to sleep on the floor at a friend's house.

And twice every year we bring our porters and their families to Machu Picchu. The men and women who work tirelessly have never visited the Lost Citadel of the Incas. So that makes this trip our favorite to-do. It is an honor to show them this place.

We are always looking to do more and for partners. Please let us know about your ideas, and we will work to help.

Personal Porter Included

All of our camping treks include porters, who are responsible for carrying and setting up all equipment. They will additionally carry the duffel bag you receive at your briefing the night before your trek. Each duffel bag can not exceed 7kg/14lbs and must include your sleeping bag and air mat. Alpaca Expeditions gives each porter a proper uniform, salary, and insurance. They are the backbone of our company.
Faqs
PREPARING FOR YOUR TRIP
BOOKING

We try to make booking as easy as possible at Alpaca Expeditions. We need a completed booking form that includes all the details for the entire party (on one form, please)

HOW TO GET TO CUSCO

Most people will get to Cusco by air. Please remember that the Cusco airport is for domestic travel only. If you come directly from overseas through Lima, you must get your bags in Lima and re-check them for your flight to Cusco. Four airline carriers fly roundtrip between Lima and Cusco. That includes LATAM Airlines, AVIANCA Airlines, Star Peru, and Peruvian Airlines. They all offer similar schedules and in-flight service, but we usually recommend either LATAM airlines or AVIANCA. They tend to be the most helpful when unexpected flight cancellations or delays occur.

WHERE TO STAY IN CUSCO

While you can stay at any hotel in Cusco, the city is becoming more challenging to navigate by car. Many roads, especially near the main square, are open to pedestrian traffic only. We will notify you if it is not possible to pick you up by car and arrange another meeting point for pick up/drop off. For a list of recommended hotels, please ask your Alpaca Expeditions sales rep.

WHAT TYPE OF ELECTRICAL OUTLETS ARE USED IN PERU

Most hotels and even homes in Peru now have the standard US outlet and also the South American outlet.
Humantay Blue Lagoon Day Hike
Please fill in our BOOKING FORM carefully with your correct personal details.
The Alpaca Difference
---
Alpaca Expeditions is a 100% peruvian, indigenous owned company. Started by Raul Ccolque, a former porter and tour guide, Alpaca Expeditions separates ourselves by our dedication to both our customer and our team. We work very hard to make sure that all our clients needs are taken care of throughout the tour with us. At the same time, we never forget about our brothers and sisters working tirelessly for us to make all of this possible. Responsible and sustainable tourism that gives as much to our community as to our clients.
Meet the AE Trekking Team!
---
Everyone on the Alpaca Team is from Cusco region, living the traditions and history they share with you while on one of our tours. Our guides are all graduates of university studying tourism, history and english. Our chefs are trained every February by a professional cooking team learning new meals, adding varieties of entrees for all types of eating. And all our porters are from HUARQUI, HUACAHUASI, PATACANCHA, QUISWARANI, CANCHACANCHA, QUEYUPAY, UMACHURCO and CCACCACCOLLO villages, very often working this job on top of maining their farms back at home. Most of our team has been with us for years, as we have the most loyal, hard working, happy employees in Cusco. We know how lucky we are to have the best team trekking and you will immediately fall in love with all the men and women who call Alpaca Expeditions their home.
What do we do for our porters?
---
Alpaca Expeditions would not be where we are today without these hardworking men and women. We could not imagine a harder job and our team does it smiling. We do our best to thank them for their hard work and loyalty by doing as much as we can to make their lives and their families lives better. All our porters receive all their equipment for free from warm winter hats to proper hiking boots. They sleep in proper tents and are given warm sleeping bags for night. They enjoy the same food we serve our clients and all leftovers are donated to their families. We visit their villages with doctors and dentists, donate school supplies and sports equipment. And our favorite time of the year is when we bring a group of porters and their families to Machu Picchu to visit the ruins for the first time.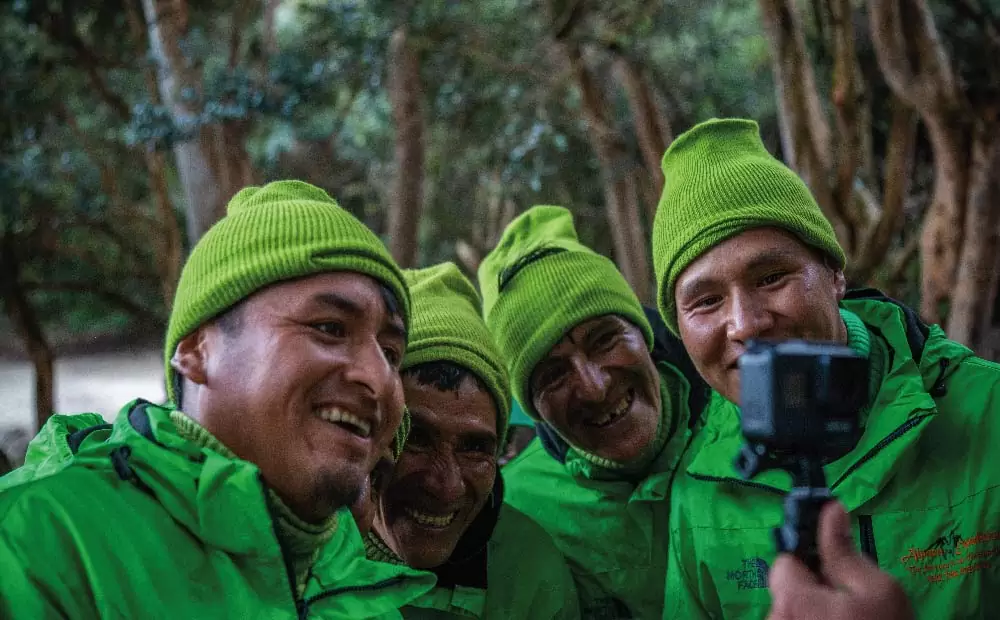 Our Porters represent the Peruvian people, both men, and women who are at the heart of our company. It is not possible to ...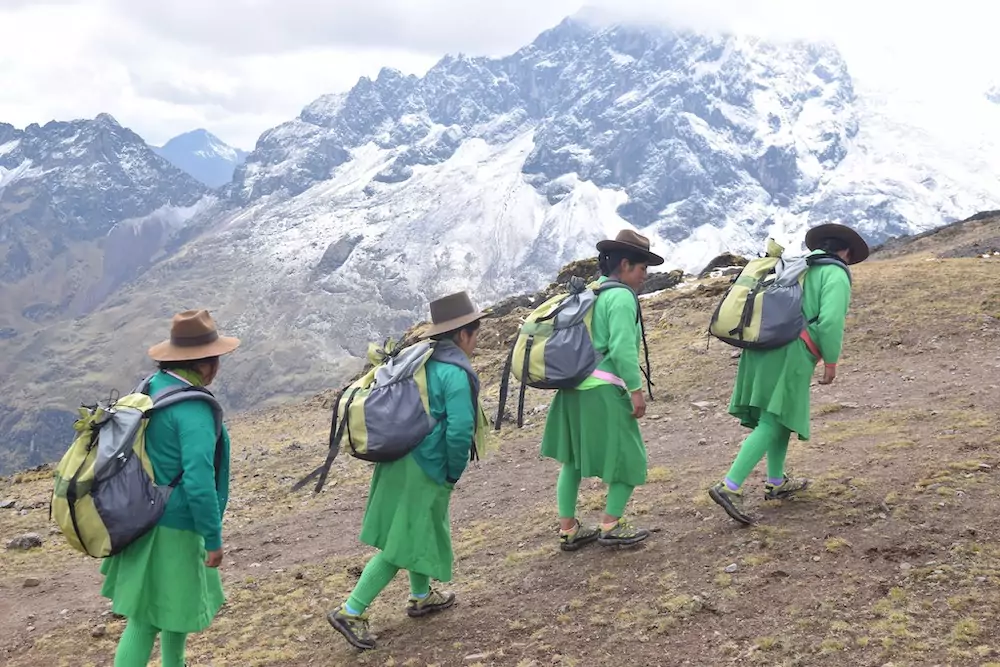 Alpaca Expeditions aims to promote gender equality and empower women, hiring first Peru Women as Porters opening the door ...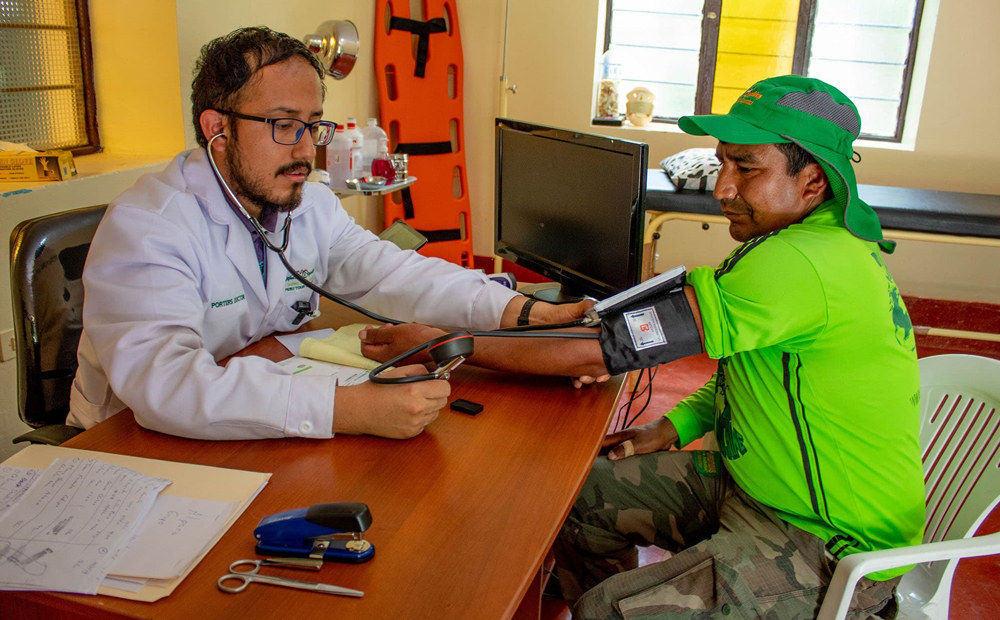 Free Medical Assistance to Porters
In 2019, we hired our first Alpaca Expeditions Medical Doctor to help tend to our guides, drivers, chefs…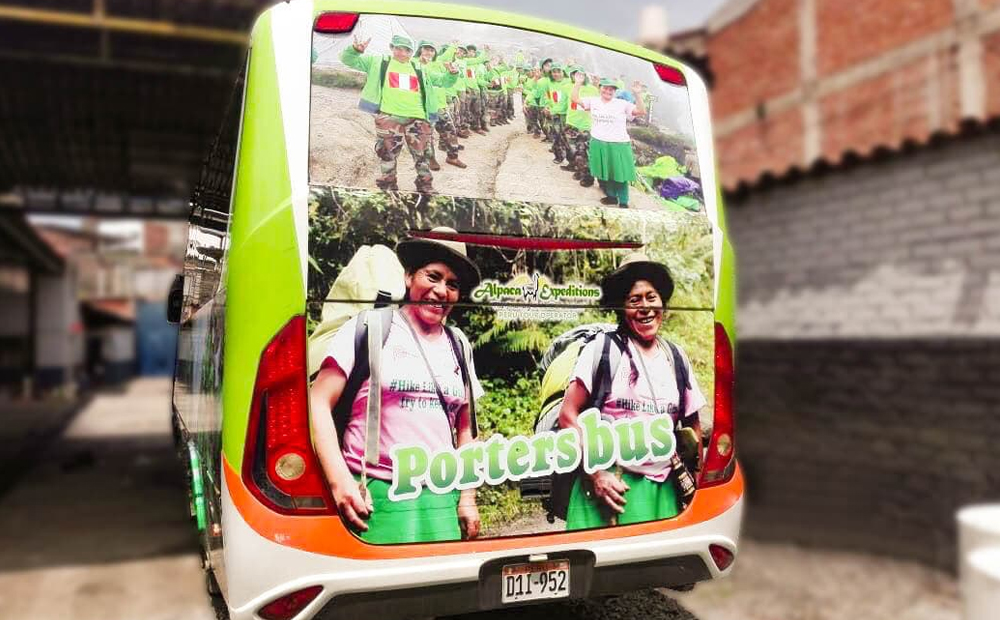 Our Porter's bus
We treat our porters with the same dignity and respect as we do our clients. Just as our clients enjoy our…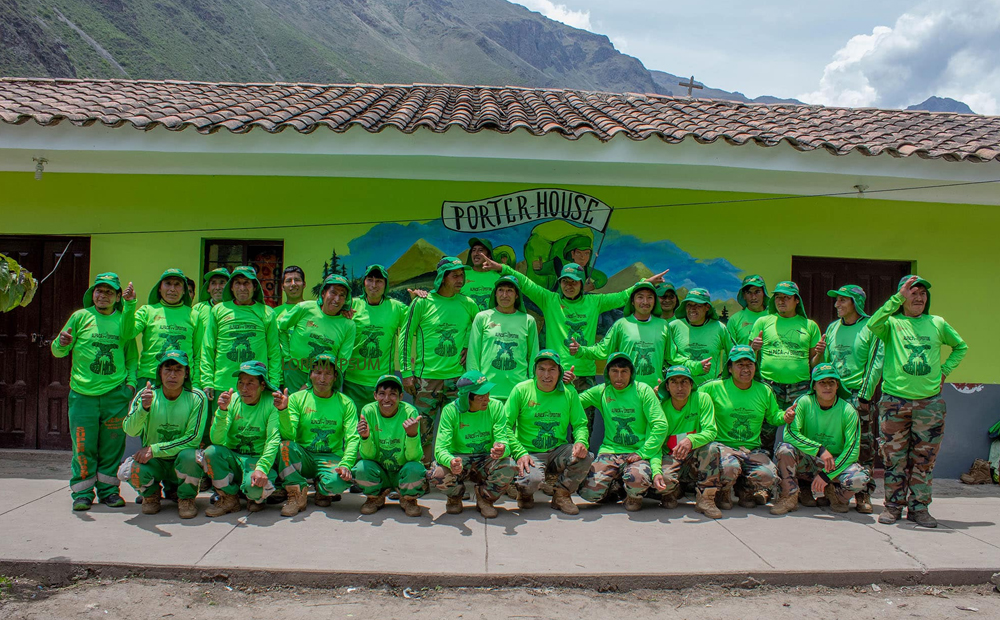 Our Porter's House
As we mentioned above, our Porters like many Peruvian people come from distant villages to work our treks…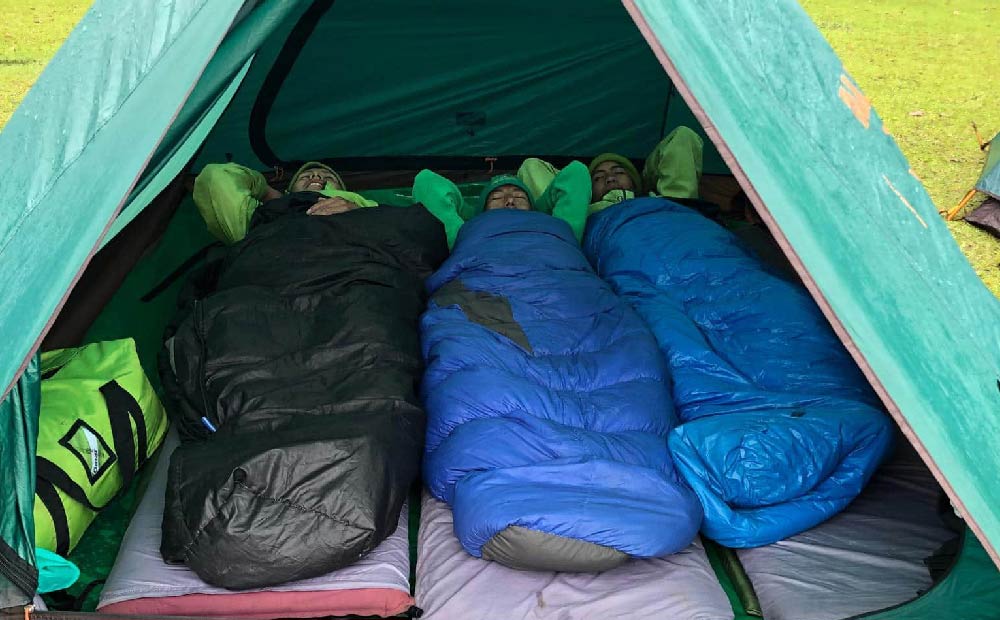 Tents and Sleeping bags
Again, this is something unique that Alpaca Expeditions provides, and sad others are not doing. We supply…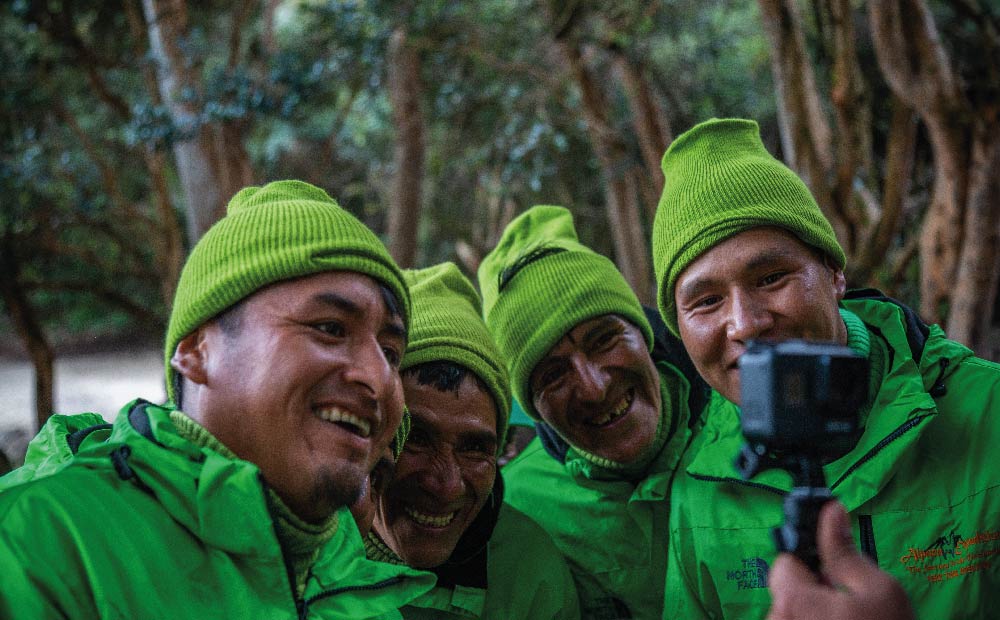 Proper Equipment for our Porters
Every porter of ours receives proper equipment. That includes moisture-wicking long/short sleeve shirts…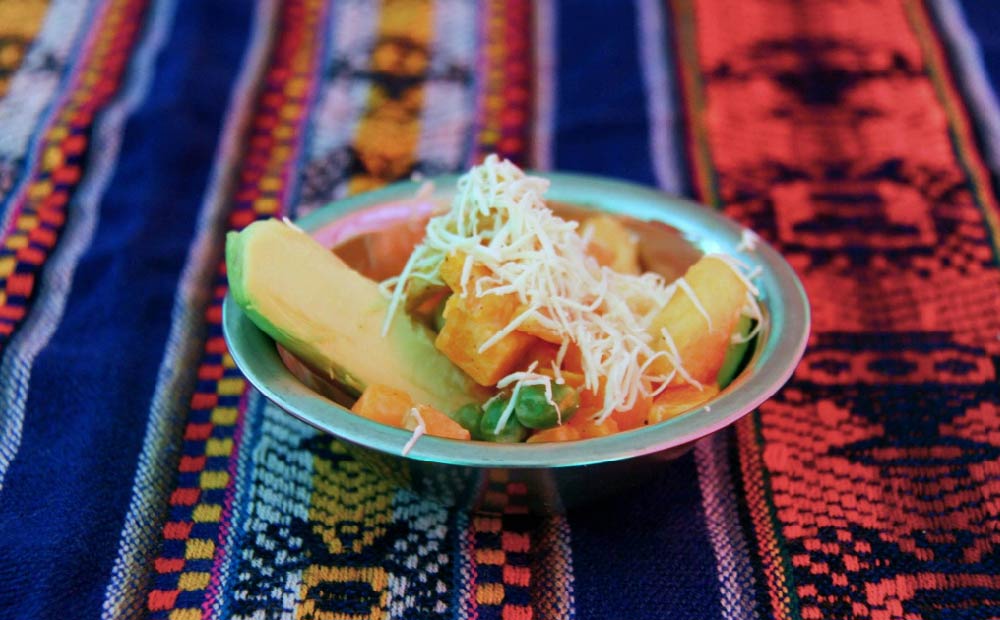 Nutritious Meals for our Porters
A general comment from trekkers on an Alpaca Expeditions tour is that we serve too much food. Well…
Extra information
---
Alpaca Expeditions is always ready to make your trip safe and as easy as possible for you. Because these trips are a bit more complicated than your typical tour, we have put together some notes on logistics, storage, and even recommendations on where to stay in Cusco. And of course our team is ready to answer any other question, as we promise to be your partner from the moment you first contact us to our last goodbye in Cusco.
Alpaca Expeditions Recognitions
---
ISO (International Organization for Standardization)
In the pursuit to stand out from the rest, Alpaca Expeditions has obtained four ISOs plus our carbon footprint certificate to date. These achievements result from our efforts to implement the internationally-recognized integrated management system. They also represent our commitment to all of our clients and staff of operating sustainability and responsibility in every way possible.