Paracas -Islas Ballestas & Sun Duns

full day Tour
---
Highlights: Paracas, Islas Ballestas, Sun Duns
Season: Year-round.
On this tour you will experience the oasis that is Huacachina! This hidden gem is a paradise in the desert surrounded by sand duns. Followed by the beautiful ISLAS BALLESTAS that are called the Peruvian Galapagos Islands full of Humboldt Penguins, the South American Sea Lion, Humpback Whales, the sea bird Guanay & so much more!
Tour Price
Paracas -Islas Ballestas & Sun Duns
full day Tour
---
Price
$
245
USD
per person
---
Trip Details
---
Itinerary
On this full-day tour, we will start from your hotel at 4:00 am! ( We suggest you book your hotel in Miraflores) Then it will be about a 3-hour drive to Paracas located south of Lima. In Paracas, you will have breakfast and then visit the famous nature place of Paraca's, called Islas Ballestas. This visit will be in a boat that fits around 30 people. Your tour guide will be with you the whole time sharing with you historic information and also your photographer during this tour that lasts about 2-hours.

The Ballestas Island are small groups or rocky islands and are home to thousands of birds and animals like penguins, sea lions, pelicans, and dolphins.
Another beautiful site you will see is the Pacaras Candelabra, also called Candelabra of the Andes. It is a well known prehistoric geoglyph that is located on the northern face of the Paracas Peninsula.

After that, we will drive for about 1-hour to Huacachina where you will have lunch.

Huacachina is a tiny village, with a lush desert oasis surrounded by sand dunes. You will have time to enjoy the sand and the beauty of the desert.

After enjoying the dunes, it will be time to go back to Lima on a drive for around 5 hours. So make sure to purchase some snacks for the trip. You will arrive back at your hotel around 8 to 9 pm.
Inclusions
INCLUDED

Pick up and drop off
Professional English speaking tour guide
Private transportation
All entrance fee to the places you will visit

NOT INCLUDED

Meals and drinks
Tips for your guide and driver(optional)
Price
| Passenger | 2 – 3 | 4 -5 | 6 -7 | 8 more |
| --- | --- | --- | --- | --- |
| Price Per person | $245 pp | $230 pp | $215 pp | $200 pp |
Paracas -Islas Ballestas & Sun Duns – full day Tour
Please fill in our BOOKING FORM carefully with your correct personal details.
The Alpaca Difference
---
Alpaca Expeditions is a 100% peruvian, indigenous owned company. Started by Raul Ccolque, a former porter and tour guide, Alpaca Expeditions separates ourselves by our dedication to both our customer and our team. We work very hard to make sure that all our clients needs are taken care of throughout the tour with us. At the same time, we never forget about our brothers and sisters working tirelessly for us to make all of this possible. Responsible and sustainable tourism that gives as much to our community as to our clients.
Meet the AE Trekking Team!
---
Everyone on the Alpaca Team is from Cusco region, living the traditions and history they share with you while on one of our tours. Our guides are all graduates of university studying tourism, history and english. Our chefs are trained every February by a professional cooking team learning new meals, adding varieties of entrees for all types of eating. And all our porters are from HUARQUI, HUACAHUASI, PATACANCHA, QUISWARANI, CANCHACANCHA, QUEYUPAY, UMACHURCO and CCACCACCOLLO villages, very often working this job on top of maining their farms back at home. Most of our team has been with us for years, as we have the most loyal, hard working, happy employees in Cusco. We know how lucky we are to have the best team trekking and you will immediately fall in love with all the men and women who call Alpaca Expeditions their home.
What do we do for our porters?
---
Alpaca Expeditions would not be where we are today without these hardworking men and women. We could not imagine a harder job and our team does it smiling. We do our best to thank them for their hard work and loyalty by doing as much as we can to make their lives and their families lives better. All our porters receive all their equipment for free from warm winter hats to proper hiking boots. They sleep in proper tents and are given warm sleeping bags for night. They enjoy the same food we serve our clients and all leftovers are donated to their families. We visit their villages with doctors and dentists, donate school supplies and sports equipment. And our favorite time of the year is when we bring a group of porters and their families to Machu Picchu to visit the ruins for the first time.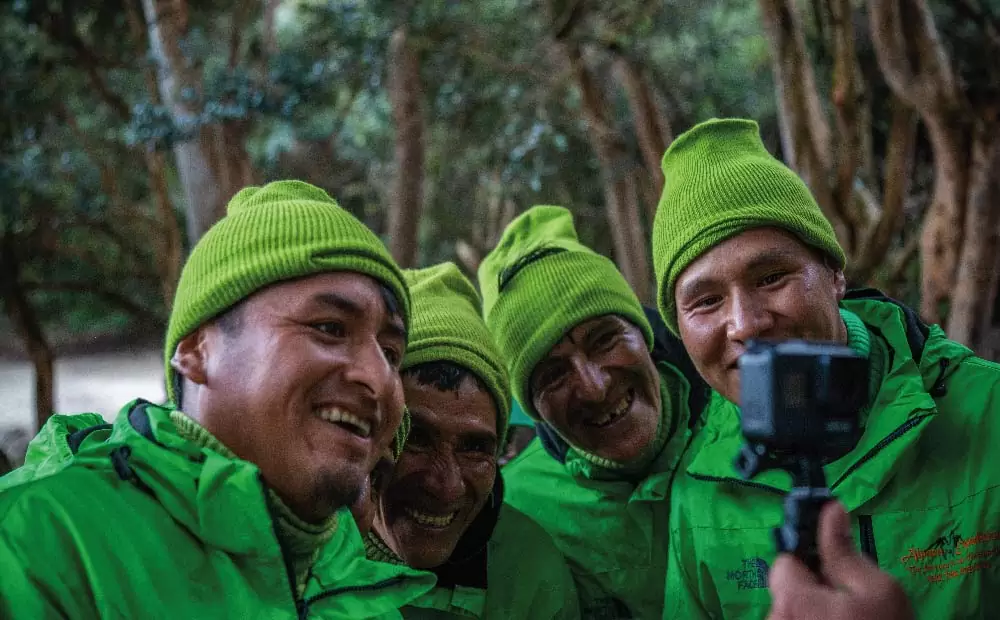 Our Porters represent the Peruvian people, both men, and women who are at the heart of our company. It is not possible to ...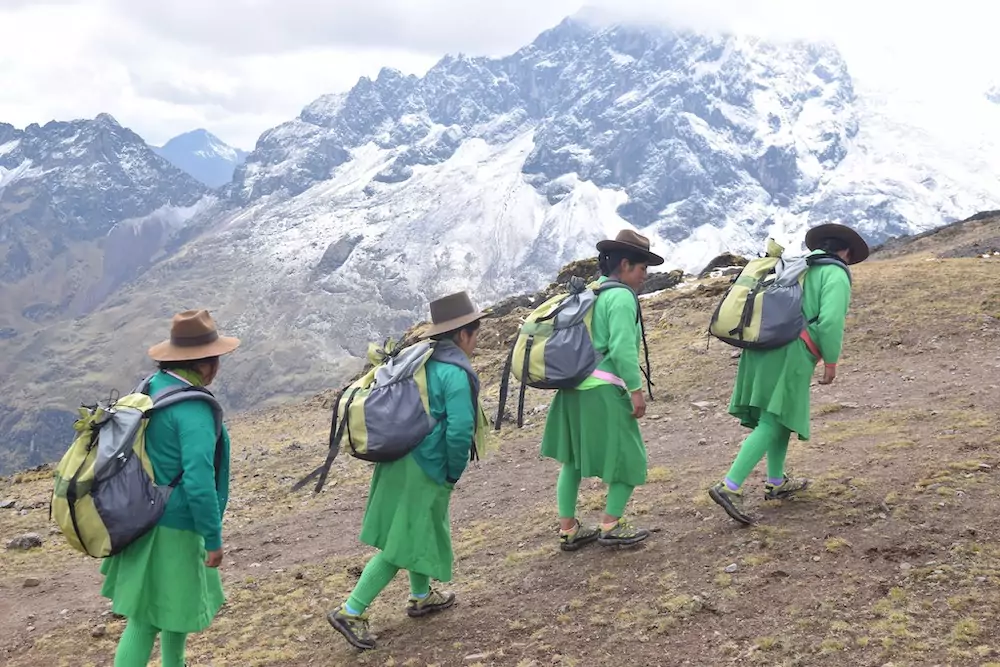 Alpaca Expeditions aims to promote gender equality and empower women, hiring first Peru Women as Porters opening the door ...
Free Medical Assistance to Porters
In 2019, we hired our first Alpaca Expeditions Medical Doctor to help tend to our guides, drivers, chefs…
Our Porter's bus
We treat our porters with the same dignity and respect as we do our clients. Just as our clients enjoy our…
Our Porter's House
As we mentioned above, our Porters like many Peruvian people come from distant villages to work our treks…
Tents and Sleeping bags
Again, this is something unique that Alpaca Expeditions provides, and sad others are not doing. We supply…
Proper Equipment for our Porters
Every porter of ours receives proper equipment. That includes moisture-wicking long/short sleeve shirts…
Nutritious Meals for our Porters
A general comment from trekkers on an Alpaca Expeditions tour is that we serve too much food. Well…
Extra information
---
Alpaca Expeditions is always ready to make your trip safe and as easy as possible for you. Because these trips are a bit more complicated than your typical tour, we have put together some notes on logistics, storage, and even recommendations on where to stay in Cusco. And of course our team is ready to answer any other question, as we promise to be your partner from the moment you first contact us to our last goodbye in Cusco.
Alpaca Expeditions Recognitions
---
ISO (International Organization for Standardization)
In the pursuit to stand out from the rest, Alpaca Expeditions has obtained four ISOs plus our carbon footprint certificate to date. These achievements result from our efforts to implement the internationally-recognized integrated management system. They also represent our commitment to all of our clients and staff of operating sustainability and responsibility in every way possible.