Inca Trail Hike 4D/3N &

Rainbow Mountain + Red Valley 1 Day
---
Trip Overview
Tour Type: Hiking, camping, adventure, history, culture.
Total Distance: 50KM/31 Miles.
Good For: Those who enjoy hiking and have a moderate level of fitness.
Difficulty: Challenging.
Considerations: Permit required (We will obtain it after you book with us).
Season: From March 1st to January 31st.
Trail closed: February for maintenance.
Why Book Inca Trail Trek with us
New!
Tour Price
Rainbow Mountain + Red Valley 1 Day


Inca Trail Hike 4D/3N &
---
Price from
$
850
USD
Per Person
---
Reduced group sizes to 8 max.
Trip Details
---
Highlights

Highlights

The government has sanctioned a small portion of the thousands of miles of Inca Trail preserved for this hike. This popular classic route is 26 miles and takes 4-days. You can do this same route at a slower pace for a 5-day trek. For those wanting to make it more challenging, there is a 7-day trek that combines the Salkantay pass with the Inca Trail. There is also s short 2-day version, that has one day of hiking and one day at Machu Picchu. No matter which route you choose, you will need a PERMIT to do the trek.

Itinerary Overview

Day 1: Km 82 – Llactapata- Ayapata (Trekking Distance: 8.7 miles/14 km (6-7 hours)
Day 2: Dead Woman´s Pass – Runcuraccay Pass – Chaquiccocha (Trekking distance: 9.94 miles/16 km (7-8 hours)
Day 3: Chaquiccocha – Wiñaywayna (Trekking Distance: 6.2 miles/10km (5 hours)
Day 4: Machu Picchu (The most exciting and magical day (early wake up 3:30 AM)
Day 5: Rainbow Mountain & Red Valley.

IMPORTANT NOTE

The Ministry of Culture in Peru is in charge of all regulations of the Inca Trail, including permits and campsites. To enter the Inca Trail, you must have a permit that matches your NAME, PASSPORT NUMBER, NATIONALITY, and AGE issued by the Ministry of Culture. Only licensed Inca Trail tour operators can secure these, and they are not transferable in date or name at any time. If you are unable to start your Inca Trail trek on your start date, you can not transfer to another person.  If you need to change your start date, you will need to make sure permits still exist for the new date and purchase a new permit. These are all rules of the government of Peru that we need to follow.

If permits are sold out for your desired start date, there are lots of other roads that lead to Machu Picchu. We can help you find the perfect trek for you.
Itinerary
Day 1: Cusco – Piskacucho Km 82 – Llactapata- Ayapata

Alpaca Expeditions will pick you up from where ever you are staying in Cusco, Urubamba, or Ollantaytambo. Pick-up from Cusco will be from 4 to 4:30 AM, from Urubamba from 5:30 to 6 AM, and if you stay in Ollantaytambo, you get to sleep in a bit with your pick-up from 6:30 to 7 AM. These times will be confirmed at your briefing, as they might fluctuate based on where you are staying. We will take you to the Porter House which is located in Ollantaytambo after a delicious breakfast prepared by your cook, your guide will introduce you to your team of porters.

We will then drive to Km 82, we'll go through the first Inca Trail checkpoint to begin our trek. Please make sure you have your original passport with you to enter the Inca Trail. The first 2 hours of the trek are relatively easy as we make our way to our first Inca site. Patallacta is an ancient Inca checkpoint for the approach to Machu Picchu.

From Patallacta it's another 2-hour hike to our lunch stop. After lunch, we will hike for another 2½ hours until we reach the first night's campsite at Ayapata (3300 meters). On this last stretch, we pass through 2 small communities. If you want to buy any energy drink, snacks, or essential items you may have forgotten such as batteries you can do so here. We'll arrive at our campsite by 5:00 PM. After settling in for a bit, you can relax and have a hot drink and snack with your team of porters, chefs, and guides. By 7:30 PM, your dinner will be ready, and after you can get some well-deserved rest.

Walking distance: 8.7 miles/14 km (6-7 hours)
Campsite altitude: 3300 meters (high) above sea level
Considered: Moderate day (getting used to the Inca Trail)
Weather: Warm and windy

Day 2: Dead Woman´s Pass – Runcuraccay Pass – Chaquiccocha

Your porters will wake you up early with a hot cup of coca tea to get you ready for the day. We will have an early start since it will be our longest day. We'll hike for roughly 4 hours to the highest pass of the trek, Dead Woman's Pass (4215 meters/13829 feet). On reaching the pass, we'll stop for a short break to enjoy the views before setting off again to descend to the next valley (Pacaymayu Valley – Hidden River). It's another hour and a half down the side of the valley to our lunch spot, where you will have a chance to refill your water bottles. After lunch, we begin ascending again to the second pass of the trek. It's 2 hours over the pass where we will stop at a small Inca site (Runcu Raccay) and see two huge waterfalls cascading down the opposite side of the valley. After the second pass, it's another hour downhill hike to reach the magnificent Inca site, Sayacmarca (an otherwise inaccessible village).

We'll stop here to rest and have a quick tour. Afterward, we will be able to watch the sunset over the Vilcabamba mountain range.  It's then just another 20 minutes until we stop for the night at our second campsite Chaquicocha (Dry Lake, 3600 meters). After dinner, if you're not too exhausted, we can do some star gazing, and we'll point out the fascinating Inca constellations. In the magnificent Southern Hemisphere sky, away from all the artificial lighting, this sky is something to behold!

Walking distance: 9.94 miles/16 km (7-8 hours)
Campsite altitude: 3600 meters (high) above sea level (chilly weather)
Considered: Top day (you will have survived the two highest passes)
Area: Andes and Cloud Forest
Weather: Cold and rainy

Day 3: Chaquiccocha – Wiñaywayna

Completing Day 2 and beginning Day 3 certainly deserves a pat on the back! We will start early again, waking up at 6:30 am to begin what is commonly felt to be the most beautiful day of the whole Inca Trail. We hike for 2 hours along what we like to call "Inca flat" (gradual inclines) and begin to enter the jungle, known as the Cloud Forest. As we walk, we will have the opportunity to see Salkantay, the second highest snow-capped mountain in the Sacred Valley, and a fantastic panoramic view of the Vilcabamba mountain range. Towards the end of the Inca flats, we begin to make our way up to the last peak at Phuyupatamarka (3600 meters) from where we'll have great views overlooking the Urubamba River.  Down the valley, we get our first view of Machu Picchu Mountain, but the site itself is still hidden. From Phuyupatamarka it´s a 3-hour walk down a flight of steps to our last campsite, close to Wiñay Wayna (Forever Young). Wiñay Wayna is the most spectacular Inca site on the trail after Machu Picchu and the most popular campsite because of its proximity to Machu Picchu.  During the descent, we visit 2 Inca ruins, Phuyupatamarka (Town in the Clouds) and Intipata (Terraces of the Sun).  We arrive at our campsite around 1:00 PM to have lunch.

Then we will relax so that you are ready for your final day at Machu Picchu. At around 4:30 PM your guide will give you a short orientation, and you will visit the Inca ruins of Wiñay Wayna for an hour and a half there. Your guide will explain the significance of the site and combine all the information given during the trek. This way you will be fully prepared for your visit to Machu Picchu the following day. We like to spoil our guests as we enjoy our last feast with the porters and chefs.  It's an Inca Trail tradition to organize a ceremony in the evening to introduce the team to the tourists once again. This is to thank them for the great job done (if you wish to provide tips for them then you can do so at this time). It is advisable to go to bed at a reasonable time to get up in the early hours of the morning to arrive to Machu Picchu at the crack of dawn in the hopes that the weather will give us a beautiful sunrise over the ruins at Machu Picchu.

Walking distance: 6.2 miles/10km (5 hours)
Campsite altitude: 2.600 meters (high) above sea level (chilly weather)
Considered: Easy day – all downhill!
Area: High Cloud Forest
Weather: Warm and very humid

Day 4: Sun Gate - Machu Picchu – The Lost City Of The Incas

Wake up time is at 3:30 AM. We'll eat breakfast at 4:00 AM and wait at the checkpoint to be one of the first to start trekking when they open the gates at 5:30 AM. We'll wave goodbye to our team of porters and chefs and then it's "Forward On" to the Sun Gate (Inti Punku). From here we have spectacular views of the mountains and Machu Picchu in all its glory.  We will reach the Sun Gate by 6:30 am, and then it's just an hour trek down to reach the Lost City of the Incas. As we hike and get closer to Machu Picchu, the views of the city get better! At about 7:40 AM we'll reach the final checkpoint and enter Machu Picchu to begin our 2 hours private guided tour. After the tour, you'll be given your bus tickets to make your way down to Aguas Calientes, and you'll have plenty of free time to explore the city on your own or climb one of the neighboring mountains – Huaynapicchu (must be arranged ahead of time).

Your guide will offer to meet you down in the village of Aguas Calientes to enjoy your last lunch in a local restaurant.  This is optional and not included. At lunch, your guide will hand out train tickets, so if you choose to skip, please arrange to get these before leaving him at Machu Picchu. Unless you arranged for an upgraded train, we will book the Expedition class train departing Aguas Calientes at 3:20 p.m. or  4:22 p.m. Please make sure you are on the platform at least 30 minutes ahead of time. This will be a 2-hour train to Ollantaytambo or Poroy (based on which train you get), where an Alpaca driver will meet you and drive you back to the city on our bus, then drop you off at your hotel.

Considered: The most exciting and magical day (early wake up 3.30 AM)
Area: High Cloud and Subtropical Forest
Weather: Hot and very humid (bring lots of water)

Day 5: Cusco – Trailhead - Rainbow Mountain - Cusco

We will pick you up at 4:00 – 4:30 am from any hotel, Airbnb, or hostel in Cusco. It will be a 2½ hour drive to the trailhead – we will arrive at around 7 am. Here at the trailhead, our chef will make a delicious breakfast, including coffee, hot chocolate, teas, bread, fruit salad, eggs, and hot drinks. Cusco's elevation is 3300m / 11,300ft, and the trailhead called Phulawasipata is at 4200m/ 14,300ft. Cusco's weather is usually quite cold, and the trailhead is even colder, so early in the morning. Be sure to bring a warm jacket, scarf, hat, and gloves. After breakfast, we'll hike about 2 hours uphill to the Rainbow Mountain range. At a slower pace, it could be 2¾ hours, or if you are really fit quick and acclimatized well, some people can do in 1½ hours. The hike up includes some short breaks where the guide will explain some important information about the mountains and the geography of the area. Perhaps you'll have a chance to catch sight of some of the locals, including llamas and alpacas that frequent this area. The trail itself is quite wide and helpful for those with vertigo or fear of heights. The trek is best during the dry season as the trails are not paved. The trail can be a bit dusty, and in the rainy season, it can be slippery since it may be wet. However, with good waterproof hiking shoes and trekking poles, it will be just fine.

Upon your arrival to the top of Rainbow Mountain, around 9-10:00am, you will have about 1 hour to explore the spectacular views of the surrounding areas – valleys, mountains and to view the highest glacial mountain in Cusco – Ausangate, whose summit is at an elevation of 6,384m / 20,944ft, making it one of the tallest mountains in Peru. After giving you a bit of time to take some treasured photos, your guide will tell you some intriguing facts about this fascinating place – like why the colors?! – and he will also share some detail about the Inkan history. A few last photos of this spectacular mountain and we will begin our descent. We do this a little differently than other groups. Instead of hiking the same route as they do, we hike to a lookout point to see the Red Valley and continue with our hike. This valley is the icing on the cake, and many of our hikers say that it is even nicer than Rainbow Mountain! It is about 2½ hours mostly downhill from Rainbow Mountain, to the end of the trail, which is near where we started the hike. Here you will enjoy a fresh meal prepared by your chef, which includes cold drinks, appetizers, soup, and the main course. After lunch, it will be another 2½ hour drive to Cusco, where we will drop you off at your hotel at around 5:30 – 6:00 pm.
Inclusions
Included

Professional Guides
All of our guides studied English and tourism at Cusco National University. They all grew up in the Cusco region, and are committed to teaching others about their heritage. They are fun yet professional and will ensure you are safe and happy.
Permits
As soon as we receive your details and deposit, we will purchase your permits (pending availability, check our Inca Trail Availability). These permits are for a specific date and in your name. They can´t be changed once confirmed. Only your passport number is allowed to be updated. The permit includes an entrance to Machu Picchu.
Briefing
The night before your trek, you will come to our office for your briefing. You will receive your duffel bag that will stay with your porters while you hike. This bag should not exceed 7kg/14 lbs and does need to include your sleeping bag and air mattress.
Porters
We include a personal porter who is responsible for carrying your duffel bag. There is no additional fee for this. You will not have access to your duffel bag until your evening campsite.
Transportation
You will have transportation included in this trek. You will be picked up directly from your hotel around 4 a.m. (unless you are staying in Ollantaytambo) and brought to KM 82 to begin your trek. Also included will be the Expedition Train from Aguas Calientes. You may also upgrade to the Vistadome Train for $75 per person. Once you arrive at the train station, we will take you back to your hotel in Cusco. Additionally, your round trip bus ticket from Aguas Calientes to Machu Picchu will be included.
Equipment
Alpaca Expeditions has the best equipment. We use Eureka Timberline 4 person tents that are shared by only two people. You will also have a spacious dining tent to enjoy your meals in.
Food
The Alpaca Expeditions chefs cook delicious meals that many previous trekkers have loved. We honor all food restrictions, so be sure to add any that you have on your booking form and let your guide know at your briefing. Food is typically all served family-style.
You will enjoy breakfast, lunch, and dinner each day for the trek along with a happy hour of tea and snacks. A snack will be provided each morning for you to enjoy along the hike. Your last meal with your chef will be after breakfast on day four. Lunch the last day is not included.
Water
Beginning from your first lunch until your last breakfast, Alpaca Expeditions will supply all the water needed. This water is boiled, filtered, and then cooled before distributing. You must bring personal water bottles and or a camelback. We recommend carrying about 3L worth. You will be able to refill your water at each meal.
First Aid
Every Alpaca Expeditions guide has received training in first aid from a physician. We conduct mandatory training sessions every February, which every single Alpaca tour guide must attend. Your tour guide will always have a first-aid kit for basic medical situations (traveler´s diarrhea, cuts, scrapes, etc.) and oxygen. We will get you off the trail as quickly and comfortably as possible if needed, and ensure you get directly to a clinic for treatment.
Extras
We believe it´s the attention to small details that separates us from other tour companies. Every trekker receives a small pillow to sleep with, a foam mattress for insulation, a day pack cover to protect their things while hiking, and a rain poncho. We will work hard to create your best vacation.
Satellite Phones
Our top priority will always be the safety of our clients and our team. While all our guides are prepared and trained to deal with most issues clients have on the mountain. Being a phone call away from any doctor, hospital, or friend helps everyone feel assured that they are safe. Radios, which all our guides have, are limited in how far they can reach, so Alpaca Expeditions has added Satellite Phones to every trek. Every guide will have a fully charged phone that can be used anywhere on the mountain to connect us anywhere in the world. And they can be used by our clients for non-emergencies as well. While they are not cheap to use, they are available just in case you need to check in on the puppy you left at home with grandma.
Taxes and Fees
All taxes and permit fees associated with this trek are included in the listed price.

Not Included

Rentals
Every trekker needs a sleeping bag when camping. Inflatable air mattresses and walking sticks (with rubber tips) are optional but encouraged. If you don't want to bring any of the above, they are all available for rent:Sleeping Bag: $20
Inflatable Air Mattress: $15
Walking Sticks (Pair): $15
Huayna Picchu
Huayna Picchu is the mountain that stands next to Machu Picchu. It is a 45-minute hike to the top. Going back down is quite steep if you are scared of heights. You would do this after your tour of Machu Picchu. The cost is $75. Arrangements need to be made at least one month in advance due to popularity. Please understand that the weather is out of our control.
Price
Price

Student Discount

$35 off per person

Student discounts apply to anyone who has a valid UNIVERSITY STUDENT CARD at the time of the trek or who is 17-years-old or younger. For those using a University Student Card our under 17-years-old, we need to see a copy of their card or passport at the time of booking to receive the discount.

Please send all to info@alpacaexpeditions.com.

                              More Information about STUDENT CARD

Additional Items

Below is a quick list of prices, but check our Additional Options section for more details.

Huayna Picchu

Huayna Picchu is the mountain that stands next to Machu Picchu. It is a 45-minute hike to the top. Even when you will do this hike on your own, your guide will still show you the trail entrance. This trek is an additional entrance ticket that we can secure for you with advance notice. 

Your tickets will be purchased to coincide with when you need to start the trail. Tickets are either for the First Session from 7-8 AM or Second Session from 10-11 AM. We purchase the Second Session for our clients for you to enjoy your tour of Machu Picchu before you begin. This window is only your start time, and you may take your time up and down, so no rush.

The ticket is $75 per person

Machu Picchu Mountain

* Only possible to do if you have an extra day to visit Machu Picchu

Machu Picchu mountain is the other mountain that stands above the Machu Picchu ruins. It offers even more stunning views than Huayna Picchu but takes an hour and a half to reach the top. For this trek, it will be an additional entrance ticket that we can secure for you.

Tickets for Machu Picchu Mountain are now also within a timeframe of when you can begin – which is between 9-10 AM. Due to this limited time frame, it is not possible to hike the Inca Trail and hike Machu Picchu Mountain. You can, however, schedule a second visit to the citadel on the next day.

This ticket is $75 per person.

Vistadome Train

All our tours include the Expedition Train. This train is usually booked at 4:22 p.m., leaving from Aguas Calientes. The Vistadome Train is an upgraded train that offers slightly larger seats, windows, and even some entertainment. Usually, the Vistadome train is booked for 4:43 p.m. and travels to Poroy, a train station closer to Cusco. While this is an upgraded fee, we will still include your transportation back to your hotel.

This train is $75 per person.
Travel Info
BRIEFINGS

All briefings are done at our office at 6:30 PM the night before your trek. If you are unable to make this time, you need to coordinate another time with a member of the Alpaca Expeditions office team. Briefings are approximately 30 -45 minutes long, and where you will receive your duffel bags.

* 2D/1N Inca Trail Trek with HOTEL does not include a briefing. Our office staff will review all the details at your check-in time.

DUFFEL BAGS

You will receive your duffel bags at your briefing. Your porters will carry them and have them returned to you at each campsite. They measure 66 cm long X 36 cm wide/2ft long X 1ft wide.

Every duffel has a maximum weight of 7kg. Remember 4kg will be for your clothes and other personal items. The remaining 3kg will be for your sleeping bag and pad.

PICKUPS

Alpaca Expeditions is one of the only companies to pick you up directly from your hotel. As long as your hotel is in the center of Cusco city, we will coordinate this pickup based on a time that your guide will discuss at the briefing. Pick up times may vary 30 – 45 minutes based on traffic conditions and previous pickups.

Cusco is an old city with cobblestoned streets and very narrow passageways. Smaller hotels and Airbnbs are often located on streets that cars can´t pass through. They also are frequently on hillsides with long steep climbs, making it difficult to carry luggage. We highly recommend that you book accommodations with better access. We have a list of hotels that are all comfortable with easy access to pick up and drop off. HOTEL LIST HERE.

Some treks will allow for pickups in the Sacred Valley, which is outlined below.

The following chart refers to possible locations we can pick you up from when beginning the tour.

| | |
| --- | --- |
|   Trek |   Possible Starting Locations |
|   Inca Trails |   Cusco, Urubamba, Yunahuara & Ollantaytambo |
|   Salkantay Treks |   Only Cusco |
|   Lares Trek |   Only Cusco |
|   Huchuy Qosqo Trek |   Only Cusco |
|   Ausangate and Rainbow Treks |   Only Cusco |
|   Day Tours |   Cusco, Urubamba & Ollantaytambo |

RETURNING TO CUSCO

Leaving Machu Picchu requires a lot of logistics, which are all included in your tour.

– From Machu Picchu to Aguas Calientes, you will take a 25-minute bus down to the village. Buses are first come first serve and run all day.

– You will take a train from Aguas Calientes to Ollantaytambo or Poroy. Your guide will give you your train tickets with train time. Make sure you get to the platform 30 minutes ahead of time.
* Train from Aguas Calientes to Ollantaytambo is 2 hours
* Train from Aguas Calientes to Poroy is 3.5 hours

– Once you arrive to the train station, look for a gentleman wearing green with an Alpaca Expeditions sign. He will then drive you to San Francisco square, Cusco
* Van ride from Ollantaytambo to nearby San Francisco square is 2 hours
* Van ride from Poroy to nearby San Francisco square is 30 minutes

– Once you arrive nearby San Francisco square, you will separate into separate pre-paid taxis and driven back to your hotel.

MACHU PICCHU ENTRANCE TIMES

Machu Picchu now has two different time windows of when you can visit: either morning or afternoon. Your entrance ticket will be for only one session, morning session, and when your time window is over, the Rangers will ask you to leave.

MORNING SESSION: 6AM – 12PM

AFTERNOON SESSION: 12PM – 5:30PM

** If you have tickets to hike either Huaynapicchu or Machu Picchu Mountain, you will have some extra time until 2:30PM.

If you would like to spend the whole day at Machu Picchu, we can add an afternoon session ticket to your booking for $50 per person.

HUAYNAPICCHU/MACHU PICCHU MOUNTAIN

Machu Picchu is most beautiful when seen from above, which is why hiking one of the mountains next to the ruins is very popular to do after your tour.

Huaynapicchu is the most popular and must be booked in advance since it sells out very quickly. This hike takes approximately 45 minutes to the top, and another 45 minutes back down. Tickets are sold in time sessions stating when you can start this hike. The first session is from 7-8 AM, and the 2nd session is from 10-11 AM. Again, this refers to the timeframe when you can start your hike. We usually book the second session so you can enjoy your tour with your guide first. You will do this hike on your own, but your guide will show you where to begin. 

Machu Picchu Mountain is a bit longer and a bit less popular. It takes 1.5 hours to the top and another 1.5 hours to the bottom. Again there are two time windows – from 7-8 AM and 9-10 AM and we usually purchase the second time window. 4 Day and 7 Day Inca Trail Trekkers CAN NOT do this hike and enjoy a tour of the ruins. Time will not allow for this.

Hiking either mountain will allow you to have some extra time at the ruins once you complete, as listed above.

HEALTH CONCERNS

You must be honest with your guide about any health conditions or concerns you might have. While our guides are not medical professionals, they do have first aid training. We also work with a clinic in Cusco that can help assist our team.

You are responsible for assessing whether a Tour is suitable for you. You should consult your physician to confirm your fitness for travel and participation in any planned activities. You should seek your physician's advice on vaccinations and medical precautions. Alpaca Expeditions will not provide medical advice. It is your responsibility to assess the risks and requirements of each aspect of the Tour based on your unique circumstances, limitations, fitness level, and medical requirements.

If you develop extreme altitude sickness or any other illness that prevents you from hiking, and you still wish to visit Machu Picchu by train, we will work with you to coordinate this trip. Since this will be a new trip, it may require additional fees. We will use as much of the original itinerary to keep costs low.

If you experience issues while hiking and can not continue, a porter will accompany you to the closest road and wait while a car comes to pick you up and bring you to the nearest health clinic.

GROUP TOURS

Group tours are made up of all different types of people, with various hiking skills and ages. By agreeing to a group tour, you agree that some people might be slower or faster than you are. Everyone can go at their own pace for the trek, and the guide will work with the group to spend time with everyone. Groups might request some modifications to the tour, and the guide will work with everyone to make the best decision for the group.

STRIKES

Unfortunately, strikes are frequent in Peru and can disrupt our tours. Roads are often blocked, and trains stopped. We will make sure your trek continues as planned, even if that means leaving the night before your start date. Under these circumstances, tours might need to be canceled. But our operations department will coordinate with you in this situation. Your safety is always our top concern and will dictate how we decide.

LOST ITEMS

You are responsible for your items throughout the Tour. Please be diligent about where you leave your things and remember to remove all items from our vans, your tents, restaurant, etc. Do not leave anything unintended during your hike. Other trekkers or teams might pick it up not knowing whos it is.

TIPS

Tipping is part of the tradition of any trek to Machu Picchu. While we pay good wages to our entire team, anything extra is always appreciated. Please know that this is not obligatory and that you should never feel pressured into this.

Typically the participants in a group pool their tipping money together for the porters and chef. The amount recommended is different per trek and listed below. For the guide, this is more personal and needs to be decided based on your relationship with them and done separately from the group. Porters and Chefs prefer soles if possible. Guides are happy with U.S. dollars, Peruvian Soles, or even your credit card 😉

| | | |
| --- | --- | --- |
|   Trek |  Per Porter |  Chef |
|   Inca Trails (4, 5 and 7 Days) |  60 – 80 soles |  150 soles |
|   2D/1N Inca Trail with Camping |  50 soles |  100 soles |
|   Salkantay Treks |  100-120 soles |  200 soles |
|   Lares Trek |  100-120 soles |  200 soles |
|   Huchuy Qosqo Trek |  50 soles |  100 soles |
|   Ausangate |  100-120 soles |  200 soles |

* These numbers refer to what each member of the Green Machine should receive after the group pools their money. This is just a reference guide.

TRAVEL INSURANCE

Travel insurance is inexpensive and strongly recommended. With trips being planned months ahead of time, you never can predict what could happen. Adventure travel includes more risk than the average trip. Insurance is a way to protect the investment you have made on this journey. We can help recommend an agent to walk you through this type of insurance if needed.

WEATHER

Of course, the weather is unpredictable. Typically the dry season in Cusco is from April through October, but this does not stop rain from falling in June or the sun from coming out in December so just be prepared. No matter what month you are doing the trek, make sure that you have rain gear that includes a waterproof jacket, pants, poncho, and waterproof gloves. Many people forget about gloves, but being cold and wet makes hiking very unpleasant.

Also, prepare for four seasons. Several of the treks through the Andes involve various microclimates and you will need to be prepared. Layers are always key since they are easy to adjust to different temperature changes. Be prepared with a warm packable down jacket since the evening will be cold.

It's also important to note that the weather can change a listed itinerary. There are times that routes become impassable, and our guides will be forced for your safety to rework your tour.

ALTITUDE

As soon as people book their trip to Peru, specifically Cusco, they start wondering about altitude sickness. The air at high altitudes contains less oxygen than at sea level and forces your body to work harder to get the oxygen it needs. Over several days at high altitude, your body adjusts to the lower amount of oxygen in the air. For this reason, we always recommend spending at least two days in Cusco before beginning any trek in the Andes. Cusco is a marvelous city with lots to do, so if you have more time to acclimate you won´t be bored.

With altitude sickness, you may first feel like you have the flu or a hangover. You may have a headache, tiredness, loss of appetite, nausea or vomiting, dizziness, trouble sleeping, trouble breathing during exercise. If any of these effects become severe, please contact our office, and we will help you get to a doctor.

Most of the time, these symptoms will be mild. We always recommend easing into activity slowly, allowing your body to adjust. Drink plenty of fluids such as water or coca tea. Coca tea has been used since ancient times to help prevent altitude sickness. Leaves from the Coca Plant contain alkaloids that help bring oxygen into your blood, helping your body avoid the effects of altitude sickness. Avoid drinking a lot of alcohol and coffee. They will cause you to urinate more often and become dehydrated. Avoid smoking. Smoking makes it more difficult for your body to get oxygen. Avoid sleeping pills. They may cause shallow breathing at night, making it more difficult for your body to absorb oxygen while you sleep.

Remember the trek to Machu Picchu is not a race. Even those in the best shape will suffer from altitude sickness if they race to the top of the mountain too quickly. Go slow, and it will give your body time to adjust to the elevation.

Your healthcare provider may prescribe medications, such as acetazolamide and dexamethasone, to help prevent altitude sickness. Start the medicine two days before you get to a high altitude. Continue to take it while you are at high altitude.

You must remember that this is your holiday and you do not want to stress out about the possibility of getting sick from the mountains. Do everything slowly and drink lots of water, and enjoy the coca tea. If anything does happen and you, unfortunately, get sick, let your guide know right away. Alpaca Expedition guides are trained to help you get through it.

GETTING TO CUSCO

The airport in Cusco currently is only for domestic flights, so all international travelers by plane must disembark in Lima and go through Customs. Even if your flight to Cusco is the same day by the same airline carrier, you must grab your bags in Lima and then check them back in.

The best way to get to Cusco is by air, and there are several options in airlines. LAN tends to be the most expensive but has the most options and flights. Expect delays or flight cancellations. Due to the high altitude of Cusco, it tends to be difficult to land, and any acclimate weather will stop air traffic. Bus travel is always available, and while the trip can be long, especially from Lima, the buses in Peru are very well maintained and comfortable. This option is strongly encouraged if coming from a city closer to Cusco, like Puno. Lima buses will take about 20 hours to arrive.
Packing List
ESSENTIALS

Passport
Valid, STUDENT CARD (if you booked as a student)
Immigration Card (given on the plane as you enter Peru)
Good daypack (the smaller, the better)
Water storage: Water reservoir like Camelbaks are encouraged – but enough for at least 2-3 liters.
Comfortable hiking boots (lightweight with good soles)

FOR YOUR DUFFEL

Porters will carry up to 7 kg of your personal items. This must include your sleeping bag and air matt (if you bring/rent one). From us these two items weigh 3.5 kg.

2-3 wicking t-shirts
2-3 hiking pants
4 sets of undergarments.
4 sets of hiking socks
1 Fleece
1 Warm, down jacket: gets very cold at night
1 Rain jacket and pants
1 sun hat
1 wool hat
Headlamp: essential
Waterproof gloves (even if they are ski gloves, take them)
Comfortable shoes for camp
Walking boots
Waterproof jacket/rain poncho
Quickdry towel. We provide small ones, you might enjoy something a little larger.
Small bottle of soap: we provide warm water each day to clean – might make you feel fresh if you had a little soap.
Battery Charger: There is no place to plug in while trekking!
Large plastic bags: to help organize and keep clean from dirty.
Sleeping bag: Recommend down bags for -10C at least

TOILETRIES

Sunscreen
Face moisturizer
Bug spray
Handsanitizer
Wet wipes
Toothbrush and paste
Toiletpaper
Personal medication
First aid kit: band aids, moleskin, etc.

INSIDE YOUR DAYPACKS

Daypacks can be any size for hiking, but we always say the smaller, the better. Inside Machu Picchu, bags larger than 25L will not be allowed in. If it is larger, you will need to store it outside citadel gates. But don´t worry, they have a secure storage facility.

Water: we supply clean water at each meal. You are responsible for your first morning of water only as we won't have time to filter water until your first lunch.
Sunhat
Rain gear
Fleece
Camera
Music (IPhone)
Handsanitizer
Toilet paper and small plastic bag for waste
Extra Money for Souvenirs, Drinks & Tips
Earplugs
Faqs
PREPARING FOR YOUR TRIP
PREPARING FOR YOUR TRIP

BOOKING

We try to make booking as easy as possible at Alpaca Expeditions. We need a booking form that is completed and includes all details for the entire party on one form please, and then a $200 deposit per person. The deposits can be paid separately, as long as we have one booking form that we can use to track payments. Once we have all deposits and details, we will then book your permits. When permits are in our hands, we will send you your invoice and confirmation that everything is 100% set. All start dates, once confirmed, are guaranteed.

PERMITS

Only licensed Inca Trail tour operators, like Alpaca Expeditions, can obtain permits from the government. Once your permit is secured, the name and start date can not be changed, under any circumstance. The only information the government permits us to change is the passport numbers.

UPDATING PASSPORT NUMBERS

The government will only allow us to change passport numbers if we have a copy of the new passport and old passport. If you no longer have your old passport, any government issue ID will be accepted, as long as the name is the same. Also, make sure your passport does not expire six months or less from your trip.

HOW TO GET TO CUSCO

Most people will get to Cusco by air. Please remember that the Cusco airport is for domestic travel only. If you come directly from overseas through Lima, you must get your bags in Lima and re-check them for your flight to Cusco. Four airline carriers fly roundtrip between Lima and Cusco. That includes LATAM Airlines, AVIANCA Airlines, Star Peru, and Peruvian Airlines. They all offer similar schedules and in-flight service, but we usually recommend either LATAM airlines or AVIANCA. They tend to be the most helpful when unexpected flight cancellations or delays occur.

WHERE TO STAY IN CUSCO

While you can stay at any hotel in Cusco, the city is becoming more challenging to navigate by car. Many roads, especially near the main square, are open to pedestrian traffic only. We will notify you if it is not possible to pick you up by car and arrange another meeting point for pick up/drop off. For a list of recommended hotels, please ask your Alpaca Expeditions sales rep.

CAN I STAY IN THE SACRED VALLEY

Ollantaytambo is the best place to stay other than Cusco. By staying in Ollantaytambo, you get a little more sleep, because we will pick you up about 1.5 hours after the Cusco pick up time. You can only have your briefing in Cusco. So please arrange a time that works for you and our office team with your Alpaca Expeditions sales rep.

CAN I SPEND AN EXTRA NIGHT IN AGUAS CALIENTES

Of course, if you are ok with taking the same train out of Aguas Calientes that is part of your original itinerary, which is typically at 4:22 that evening than there is no additional charge to move the train back a day. If you need us to secure your hotel or another visit to Machu Picchu, this will be an additional cost. If you do choose to spend one more night in Aguas Calientes, make sure you tell the Alpaca Expeditions office at least one month in advance, so your train ticket is purchased for the right day.

WHAT TYPE OF ELECTRICAL OUTLETS ARE USED IN PERU

Most hotels and even homes in Peru now have the standard US outlet and also the South American outlet.

DURING YOUR TRIP

HOW CHALLENGING IS THE TREK

While you don't need any specific training to do the 4 Day Inca Trail, being fit will help. The best preparation for the trek is treadmill exercises with steep inclines and stairs. The second day will be your toughest day, as you will climb up two peaks that day.

DO YOU NEED HIKING BOOTS

We always recommend light hiking boots if possible. Ones with ankle support are extra helpful, especially for the inexperienced hiker. Because you will be climbing down so many steps created by the Incas, now uneven and at varying heights, the extra support helps from twisting your ankles.

SHOULD I USE WALKING STICKS

Walking sticks are always helpful to trekkers, but particularly on this trek. There are so many stairs that you will walk down and all made by the Incas 400 years ago. They vary in height and are not all straight. Using walking sticks can help take the pressure off your knees while doing this portion of the trail. Plus they will help you get up the mountain as well. All our walking sticks are expandable black diamond poles that can be folded up and tied to your bag when you are not using them. For those who are bringing your own, make sure you have rubber tips, or the rangers will not allow you to use them. Rubber tips can be purchased in Cusco if you forget before you leave.

WHERE DO I STORE MY LUGGAGE

All of your luggage is not needed for the trek and should stay in Cusco. All hotels are very accommodating and quite used to storing luggage on-site, or you can safely store with the Alpaca Expeditions team.

WHAT SHOULD I EXPECT AS FAR AS WEATHER

Please understand that this is an impossible question for us to answer. Historically April through September is the dry season, November through February is the rainy season and March and October and bridge months – a mixture of both. But the clouds have not followed these rules in the last few years. Prepare for sun and rain no matter when you come. As far as temperatures go, that is consistent throughout the year. Mornings and evenings are always cold. Make sure to bring a fleece jacket for the mornings and a down jacket for the evenings. Once the sun is up you should be comfortable hiking and touring Machu Picchu in short sleeves. Long pants (yoga or hiking) are encouraged to help from the mosquitos which can be a nuisance in Aguas Calientes.
Inca Trail Hike 4D/3N & Rainbow Mountain + Red Valley 1 Day
Please fill in our BOOKING FORM carefully with your correct personal details.
The Alpaca Difference
---
Experience the famous Inca Trail for 4 amazing days, and pass through the Sun Gate at sunrise for that first magical sighting of Machu Picchu! The Inca Trail is Peru's own microcosm; lush green cloud forest alive with wildlife, Andean mountain passes, a vast landscape dotted with ruins from the Inca civilization... and it's accessible only to those that follow this famous pathway. This is the most popular trek for hiking the Inca Trail.
Meet the AE Trekking Team!
---
Experience the famous Inca Trail for 4 amazing days, and pass through the Sun Gate at sunrise for that first magical sighting of Machu Picchu! The Inca Trail is Peru's own microcosm; lush green cloud forest alive with wildlife, Andean mountain passes, a vast landscape dotted with ruins from the Inca civilization... and it's accessible only to those that follow this famous pathway. This is the most popular trek for hiking the Inca Trail.
What do we do for our porters?
---
Experience the famous Inca Trail for 4 amazing days, and pass through the Sun Gate at sunrise for that first magical sighting of Machu Picchu! The Inca Trail is Peru's own microcosm; lush green cloud forest alive with wildlife, Andean mountain passes, a vast landscape dotted with ruins from the Inca civilization... and it's accessible only to those that follow this famous pathway. This is the most popular trek for hiking the Inca Trail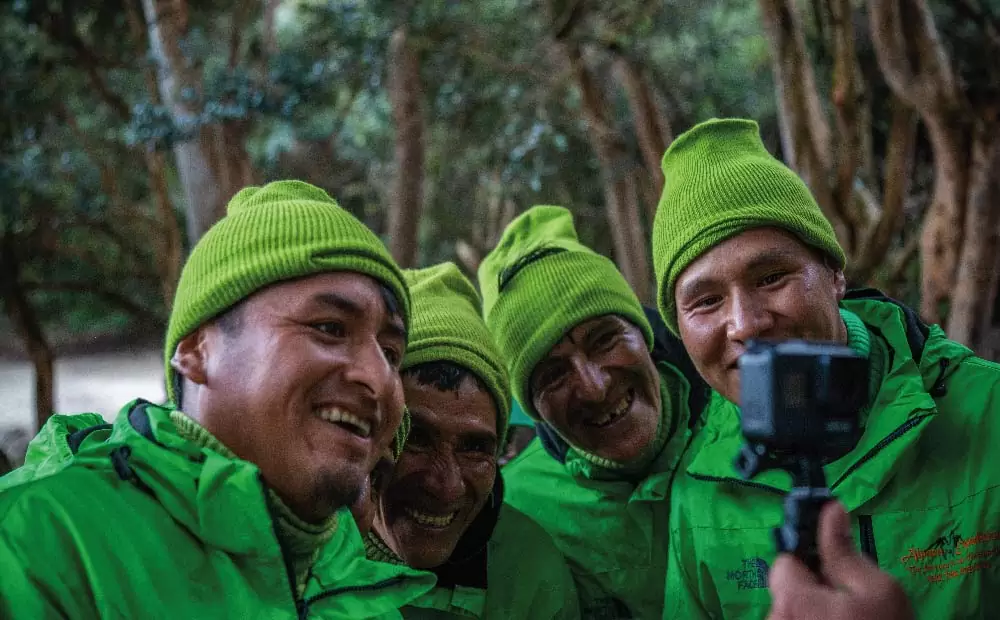 You get the highest quality camping equipment trekking with us!
You get the highest quality camping equipment trekking with us!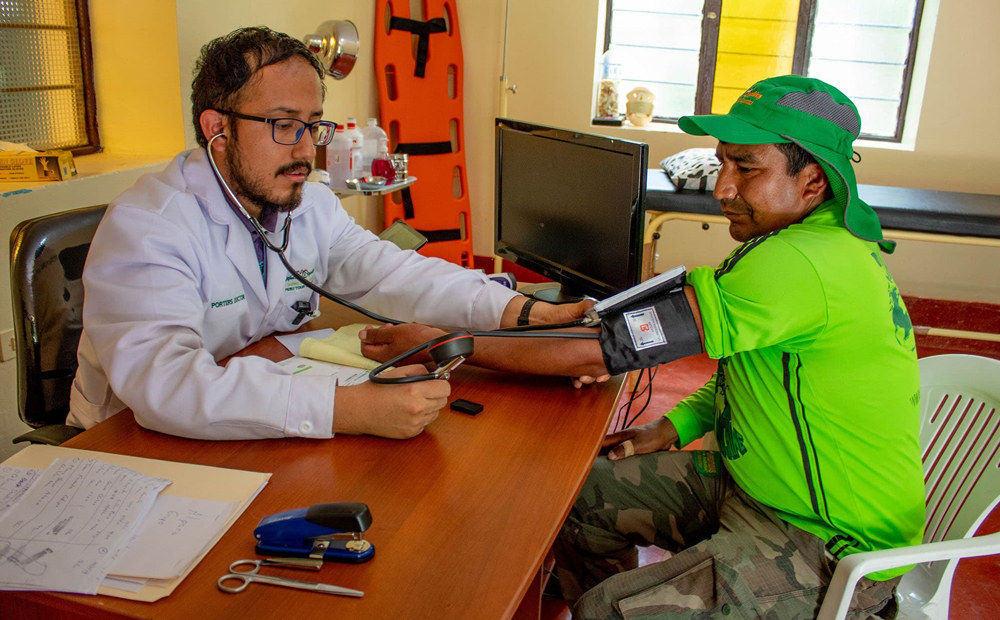 Free Medical Assistance to Porters
In 2019, we hired our first Alpaca Expeditions Medical Doctor to help tend to our guides, drivers, chefs...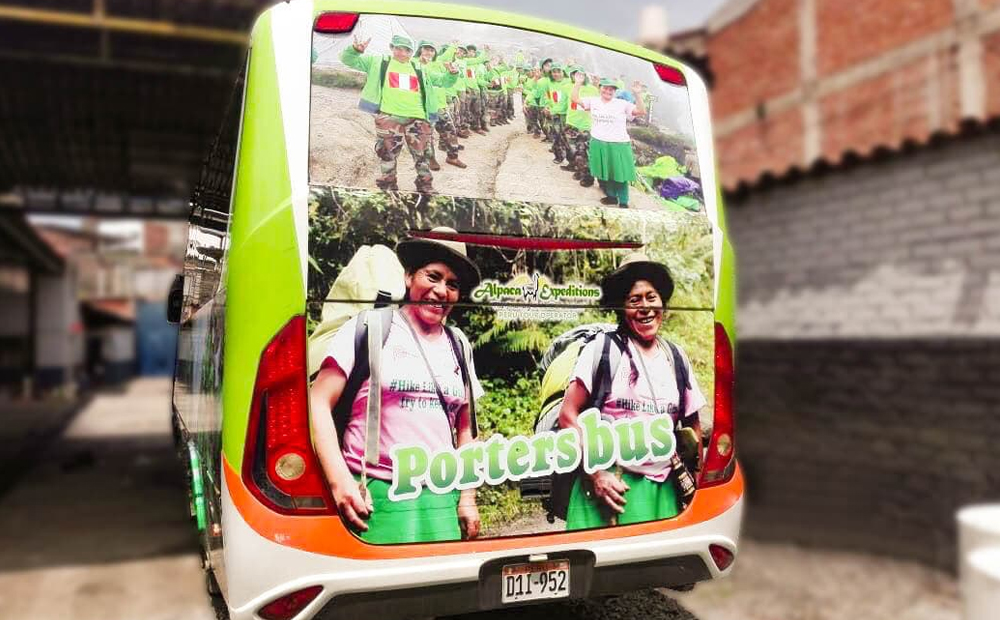 Our Porter's bus
We treat our porters with the same dignity and respect as we do our clients. Just as our clients enjoy our...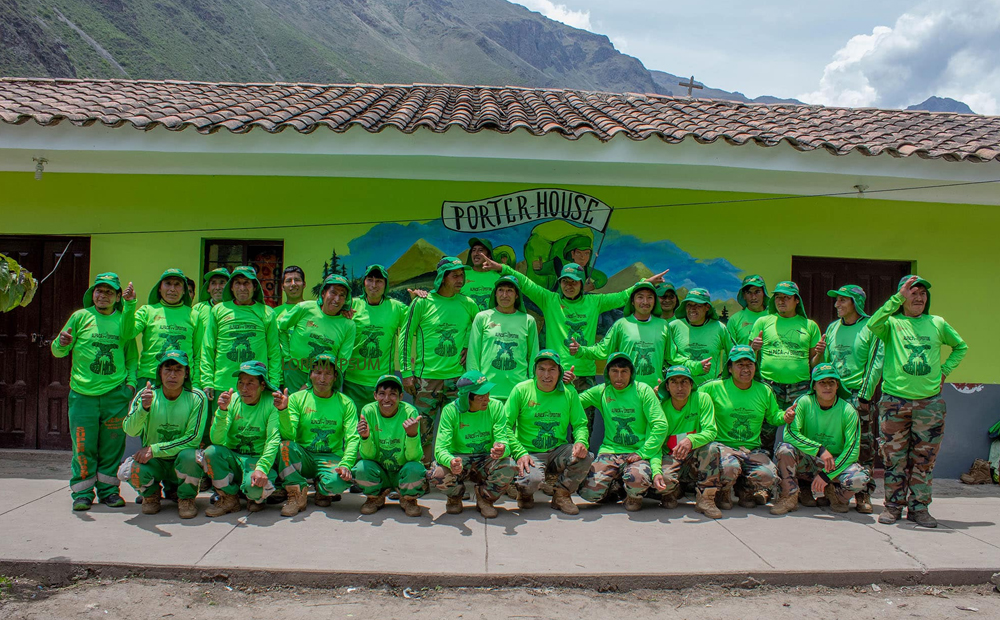 Our Porter's House
As we mentioned above, our Porters like many Peruvian people come from distant villages to work our treks...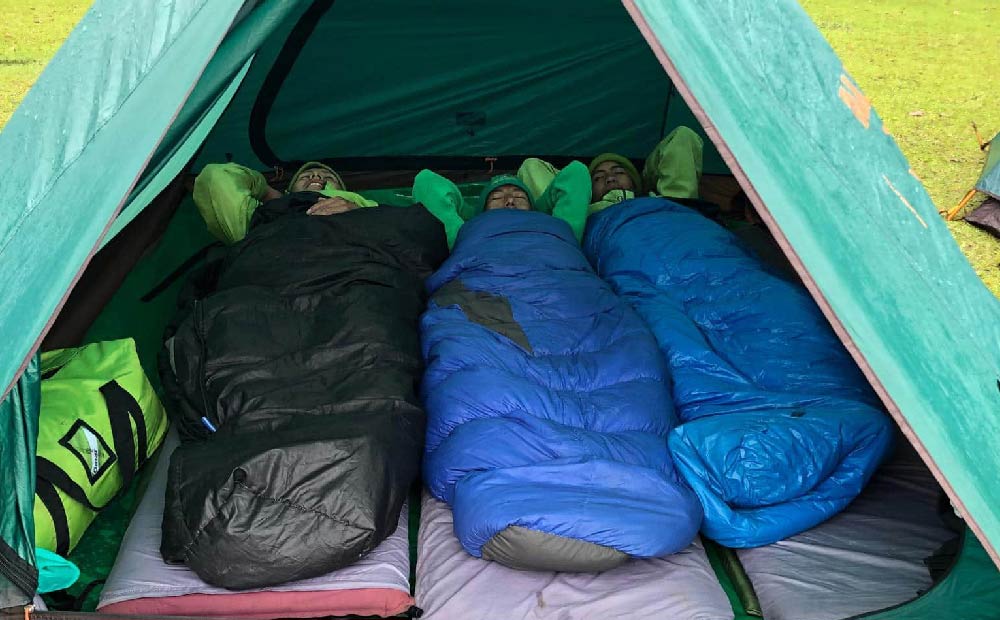 Tents and Sleeping bags
Again, this is something unique that Alpaca Expeditions provides, and sad others are not doing. We supply...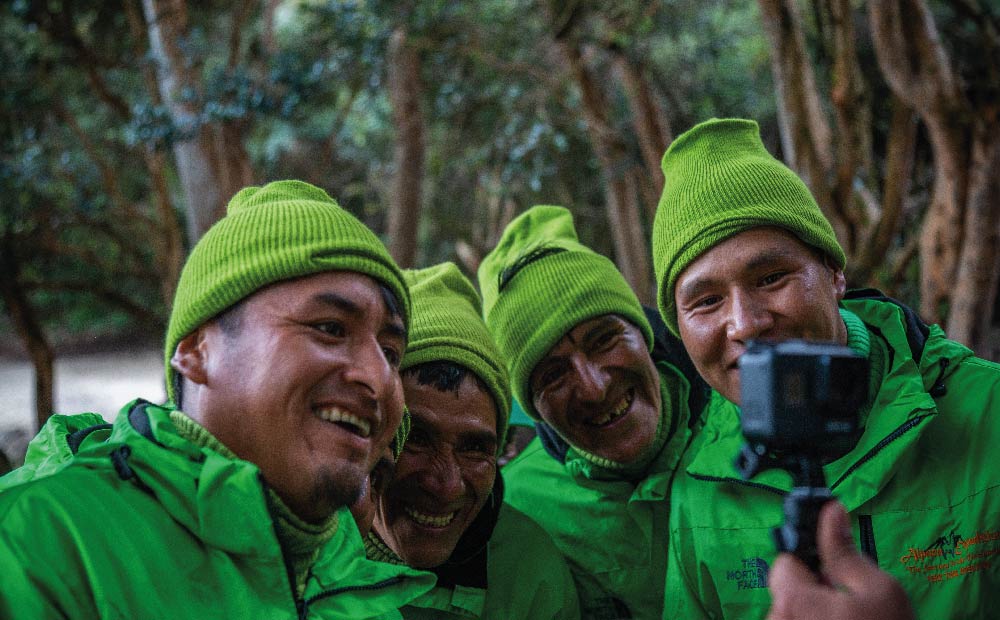 Proper Equipment for our Porters
Every porter of ours receives proper equipment. That includes moisture-wicking long/short sleeve shirts...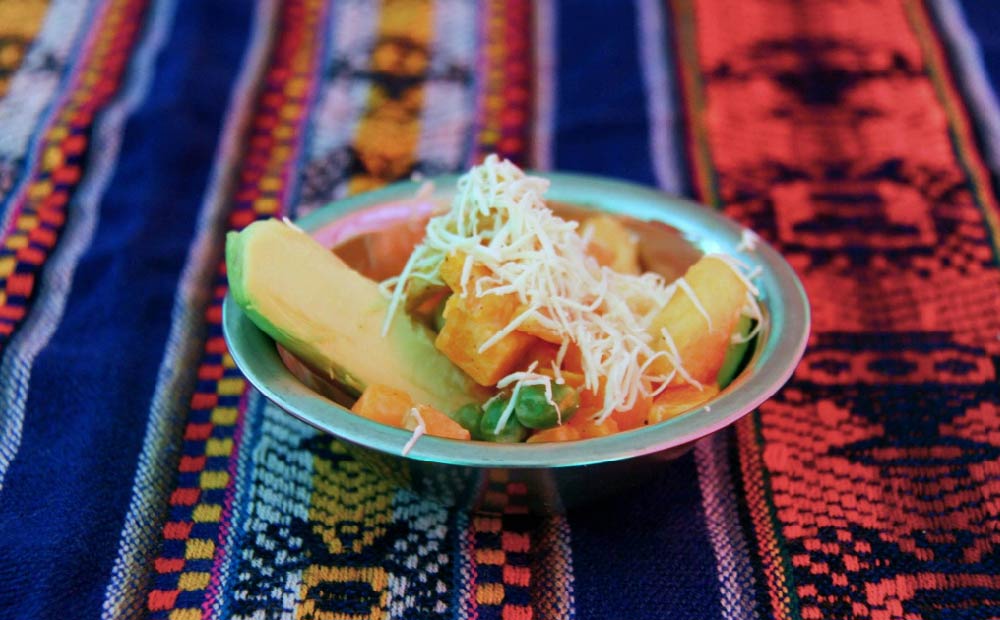 Nutritious Meals for our Porters
A general comment from trekkers on an Alpaca Expeditions tour is that we serve too much food. Well...
Extra information
---
Experience the famous Inca Trail for 4 amazing days, and pass through the Sun Gate at sunrise for that first magical sighting of Machu Picchu! The Inca Trail is Peru's own microcosm; lush green cloud forest alive with wildlife, Andean mountain passes, a vast landscape dotted with ruins from the Inca civilization... and it's accessible only to those that follow this famous pathway. This is the most popular trek for hiking the Inca Trail.