Sacred Valley 2 Day & Machu Picchu

3 Days / 2 Nights
---
Tour Location: Sacred Valley and Machu Picchu are the ultimate destinations with stops at ruins, farms, salt mines and other historical Inca locations
Tour Type: Cultural, day tours, historical
Difficulty: No hiking
 This tour can only be arranged for a minimum of four participants.
Tour Price
Sacred Valley 2 Day & Machu Picchu
3 Days / 2 Nights
---
Price
$
620
USD
Per Person
---
Trip Details
---
Itinerary
Day 1: Sacsayhuaman – Pisaq – Ollantaytambo

Your Alpaca Expeditions tour guide will pick you up at your hotel lobby at 8 a.m. They will take you to your first destination, Sacsayhuaman, the most beautiful ruin created by the Incas. Here, you will see a great representation of the Incan architecture that remains so well intact, today. At Sacsayhuaman, you will see the largest stone that survives in any Inca ruin.

From Sacsayhuaman, we will head towards the Sacred Valley. Along the way, we will visit Awanacancha, a weaving center and alpaca farm. You will observe the differences between llamas, alpacas, vicuñas and guanacos, as well as the different varieties of potatoes and corn, that are special to the Sacred Valley. Following, we will drive to the Pisaq Inca Ruins. We will see hundreds of terraces for agriculture, where the Incas farmed corn, potatoes, and quinoa. The religious and astronomical side of the Incas will be visible, at this sight.

Afterwards, we will descend into Pisaq market, the most traditional handicraft market. You will have the opportunity to try some of the local delicacies during our lunch break. After lunch, we will drive through the Sacred Valley to Ollantaytambo, an Incan checkpoint, where they protected Machu Picchu against any enemies. This is the best example of an intact Inca village, with its waterways running through the quaint streets of the town. Your tour guide will set you up in your hotel before you have a chance to explore, relax and enjoy dinner.

Accommodations: Tunupa Hotel, el Albergue (or similar)
Meals: Not included
Entrance Tickets: Included

Day 2: Maras – Moray – Chincheros - Train to Aguas Calientes ( Machu picchu )

We would pick you up at 8am, then we will drive to Salineras/Maras Salt Mines. There are 3,000 salt pools, which act as evaporation chambers. They spill out of the mountain and down the mountainside at 12,000 feet above sea level. Owned by local farmers, these pools have become the main economic activity for all the locals.

After the mines, we will drive to Moray Inca Archeological Center. The Inca used Moray as a way to study farming. They built terraces and experimented with different vegetables. You will see each terrace of Moray and the differences in growth they provided.

We will then drive to Chincheros, where we will see some Inca terracing, used as the perfect location to farm potatoes. The entire Inca civilization got their supply of potatoes from here. We will also see one unique, colonial church, that was built by the Spaniards, on the top of the Inca palace. Finally, we will visit one final textile center.

We will head back to Ollantaytambo, where you can enjoy dinner at one of local restaurants. You will be brought to your hotel, to prepare for your next day, visiting Machu Picchu.

Accommodations: La Cabaña, or similar
Meals: Breakfast only
Entrance Tickets: Included

Day 3: Machu Picchu

We encourage you to wake up early in the morning to get to the bus station for one of the first shuttle-style buses, starting at 5.30 a.m. This bus will take about 25 minutes to get to Machu Picchu. As soon as you arrive at the complex, we will take you to the best spot overlooking all the ruins. There will be a rendezvous to observe the sunrise and see a spectacular view of the Lost City of the Incas. You will then have a two hour, guided tour around Machu Picchu, followed by time to explore on your own. If you have tickets to climb one of the mountains of Huayna Picchu or Machu Picchu, your guide will then direct you those trails. Due to popularity, be sure this is arranged at least two months in advance. Once you are finished exploring Machu Picchu, you will take a bus down to Aguas Calientes for lunch, followed by an afternoon train back to Ollantaytambo. We will have private transportation back to Cusco, where we will drop you off at your hotel.
Inclusions
Included

Professional Guides: All of our guides studied English and tourism at Cusco National University. They all grew up in this region and have a true passion to teach others about their heritage. They are fun yet professional and will ensure you are safe and happy.
Hotels: Included in this tour is one evening in Ollantaytambo and one evening in Aguas Calientes. We can easily add extra nights before or after the tour, if needed. Let our team know if you are interested in extending and we will give you a quote. Rooms are based on double occupancy. There is a surcharge for a single room. Upgraded hotels are always possible. We can also book the tour without any hotels, if you prefer to book them on your own.
Transportation: All your transportation is included on this tour. We will pick you up from your hotel around 1 p.m., on the first morning, and will make sure you are escorted until your are brought back to your hotel around 8 p.m.the final evening.
Train Tickets : Train tickets are in Expeditions tourist class , from Ollantaytambo to Aguas Calientes is at 7.00 pm and from Aguas Calientes to Ollanatyatmbo is at 4.20 pm, if you hoping to upgrade to Vistadome train then is $ 75 one way and $100 round trip, 3.37 pm from Ollantaytambo and 4.43 pm from Agaus Calientes to poroy.
Entrance Tickets: Your 10 day tourist ticket and entrance to Machu Picchu is all included on this tour.

Not Included

Meals: Breakfast is always served at your hotel, but all other meals are on your own. There will be stops at restaurants with full menus for you to choose from.
Huayna Picchu: Huayna Picchu is the mountain that stands next to Machu Picchu. It is a 45 minute hike to the top. Going back down is quite steep, if you are scared of heights. This is done without your tour guide, after your tour of Machu Picchu. The cost is $75 per person. Arrangements need to be made at least one month in advance, due to popularity. Please understand that weather is out of our control.
Flights: Flying to Cusco can be tricky. Delays occur often and it is not uncommon for flights to be cancelled. Please be sure to arrive in the city at least two days before your trek start date. LAN Peru is the most reliable of the airlines. Avianca and Peruvian Airlines are acceptable companies, as well. You will not be return from your trek until around 8 p.m. on day three, so be sure your flight is not until the next day, when leaving Cusco.
Gratuities: Tipping is always appreciated and should be based completely on your satisfaction. Although it may not be customary to you, it is of considerable significance to the people who will take care of you during your travels.
Travel Insurance: This is not required, but always recommended. For those of you who live at sea-level, landing in Cusco will take an adjustment period. Most people need one or two days to adjust. In case you have a hard time adjusting to the altitude, it is suggested to have protection for missed tours.
Price
Tour with hotels (3 stars): $620 per person
Tour without hotels: $510 per person

Student Discount:

With valid STUDENT  CARD or 16-year-old and younger – $25 per person

Student discount for permit to climb Huayna Picchu – $10

Student discount for permit to climb Machu Picchu Mountain – $5

Student discounts apply to anyone who has a valid UNIVERSITY STUDENT CARD at the time of the trek or who is 17-years-old or younger. For those using an university student card to receive the discount, we need to see a copy of the card at booking. For those booking children 17-years-old or younger, we need a copy of their passport at booking time. Please send all to info@alpacaexpeditions.com.

More Information about  STUDENT CARD

Hotel:

Hotels will be booked at three star hotels, based on availability. Once the hotel is booked, the name of the hotel will be added to your reservation. Some possibilities are: El Albergue, Pakaritampu, Tunapa in Ollantaytambo, La Cabana, Waman, or Inti Punku in Aguas Calientes.
Travel Info
Getting to Cusco

The airport in Cusco currently is only for domestic flights, so all international travelers by plane must disembark in Lima and go through Customs. Even if your flight to Cusco is the same day by the same airline carrier, you must grab your bags in Lima and then check them back in.

The best way to get to Cusco is by air and there are several options in airlines. LAN tends to be the most expensive, but has the most options and flights. Expect delays or flight cancellations. Due to the high altitude of Cusco, it tends to be difficult to land and any acclimate weather will stop air traffic. Bus travel is always available and while the trip can be long, especially from Lima, the buses in Peru are very well maintained and comfortable. This option is strongly encouraged if coming from a city closer to Cusco, like Puno. Lima buses will take about 20 hours to arrive.

Luggage Storage

Even though this is an overnight tour by train, your luggage allowance is still limited due to restrictions on the train. All bags brought to Aguas Calientes (Machu Picchu) need to be carry on size. Any extra luggage you have with you can be left safely in Cusco at either your hotel or with us at the Alpaca Expeditions deposit while you trek. We will grab from you the morning of your tour and return once you are back in Cusco. Make sure your bags have some kind of identification on them so they are easy to locate.

Altitude

As soon as people book their trip to Peru, specifically Cusco, they start wondering about altitude sickness. The air at high altitudes contains less oxygen than at sea level and forces your body to work harder to get the oxygen it needs. Over several days at high altitude, your body adjusts to the lower amount of oxygen in the air.

With altitude sickness, you may first feel like you have the flu or a hangover. You may have a headache, tiredness, loss of appetite, nausea or vomiting, dizziness, trouble sleeping, trouble breathing during exercise. If any of these effects become severe, please contact our office and we will help you get to a doctor.

Most of the time, these symptoms will be mild. We always recommend easing into activity slowly, allowing your body to adjust. Drink plenty of fluids such as water or coca tea. Coca tea has been used since ancient times to help prevent altitude sickness. Leaves from the coca plant contain alkaloids which helps bring oxygen into your blood, helping your body avoid the effects of altitude sickness. Avoid drinking a lot of alcohol and coffee. They will cause you to urinate more often and become dehydrated. Avoid smoking. Smoking makes it more difficult for your body to get oxygen. Avoid sleeping pills. They may cause shallow breathing at night, making it more difficult for your body to absorb oxygen while you sleep.

Your healthcare provider may prescribe medicines, such as acetazolamide and dexamethasone, to help prevent altitude sickness. Start the medicine two days before you get to a high altitude. Continue to take it while you are at high altitude.

Weather

Of course weather is unpredictable. Typically the dry season in Cusco is from April through October, but this does not stop rain from falling in June or the sun from coming out in December – just be prepared. No matter what month you are doing the trek, please make sure that you have rain gear that includes a waterproof jacket, pants, poncho and waterproof gloves.

Also prepare for four seasons. Many of the treks through the Andes involve many micro-climates and you will need to be prepared for all seasons. Layers are always key as they are easy to adjust to the different temperatures. And evenings will always be cold, so please be prepared with a warm, winter-weight jacket.

Travel Insurance

To protect your travel investment, we highly recommend the purchase of travel insurance. Obtaining travel insurance before you leave home is strongly encouraged and very easy. In fact, we work with a great agency in the United States that has helped to make it easy and affordable. This is a great way to protect yourself while visiting Peru.

If interested in booking through our trusted partner, Ahart, Frinzi & Smith, CLICK HERE.

Community

Alpaca Expeditions is really proud of the work we do for our community. This is a main focus for our company. We have worked with villages directly to help supply them with needs their families were missing. We have supported local schools by giving them computers and books. We currently sponsor a teacher at the village most of our porters come from to ensure their children are offered the best education.

We buy all our food from local farmers and markets and serve the freshest ingredients. We provide English classes for all our team: guides, porters, chefs and drivers. And we are building a house for our porters to give them a safe and comfortable place to stay before and after our treks so they no longer need to sleep on the floor of a friend.

And twice every year we bring our porters and their families to Machu Picchu. This is our favorite trip to do as the guys who work tirelessly have never visited the Lost Citadel of the Incas. Showing them this place is our biggest honor.

We are always looking to do more for our partners. Please let us know of your ideas and we will work to help.
Sacred Valley 2 Day & Machu Picchu 3D/2N
Please fill in our BOOKING FORM carefully with your correct personal details.
The Alpaca Difference
---
Alpaca Expeditions is a 100% peruvian, indigenous owned company. Started by Raul Ccolque, a former porter and tour guide, Alpaca Expeditions separates ourselves by our dedication to both our customer and our team. We work very hard to make sure that all our clients needs are taken care of throughout the tour with us. At the same time, we never forget about our brothers and sisters working tirelessly for us to make all of this possible. Responsible and sustainable tourism that gives as much to our community as to our clients.
Meet the AE Trekking Team!
---
Everyone on the Alpaca Team is from Cusco region, living the traditions and history they share with you while on one of our tours. Our guides are all graduates of university studying tourism, history and english. Our chefs are trained every February by a professional cooking team learning new meals, adding varieties of entrees for all types of eating. And all our porters are from HUARQUI, HUACAHUASI, PATACANCHA, QUISWARANI, CANCHACANCHA, QUEYUPAY, UMACHURCO and CCACCACCOLLO villages, very often working this job on top of maining their farms back at home. Most of our team has been with us for years, as we have the most loyal, hard working, happy employees in Cusco. We know how lucky we are to have the best team trekking and you will immediately fall in love with all the men and women who call Alpaca Expeditions their home.
What do we do for our porters?
---
Alpaca Expeditions would not be where we are today without these hardworking men and women. We could not imagine a harder job and our team does it smiling. We do our best to thank them for their hard work and loyalty by doing as much as we can to make their lives and their families lives better. All our porters receive all their equipment for free from warm winter hats to proper hiking boots. They sleep in proper tents and are given warm sleeping bags for night. They enjoy the same food we serve our clients and all leftovers are donated to their families. We visit their villages with doctors and dentists, donate school supplies and sports equipment. And our favorite time of the year is when we bring a group of porters and their families to Machu Picchu to visit the ruins for the first time.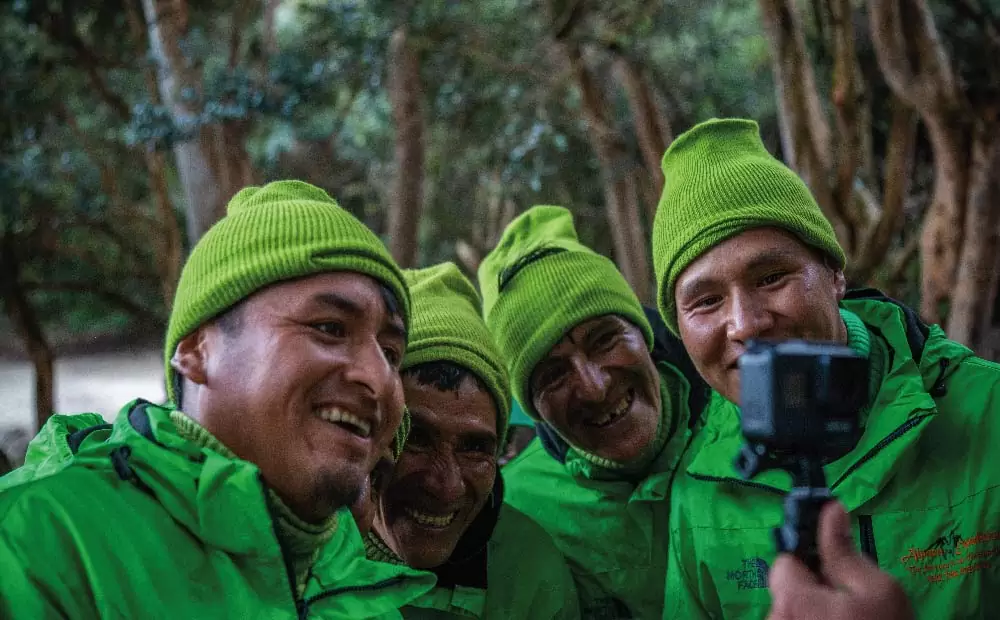 Our Porters represent the Peruvian people, both men, and women who are at the heart of our company. It is not possible to ...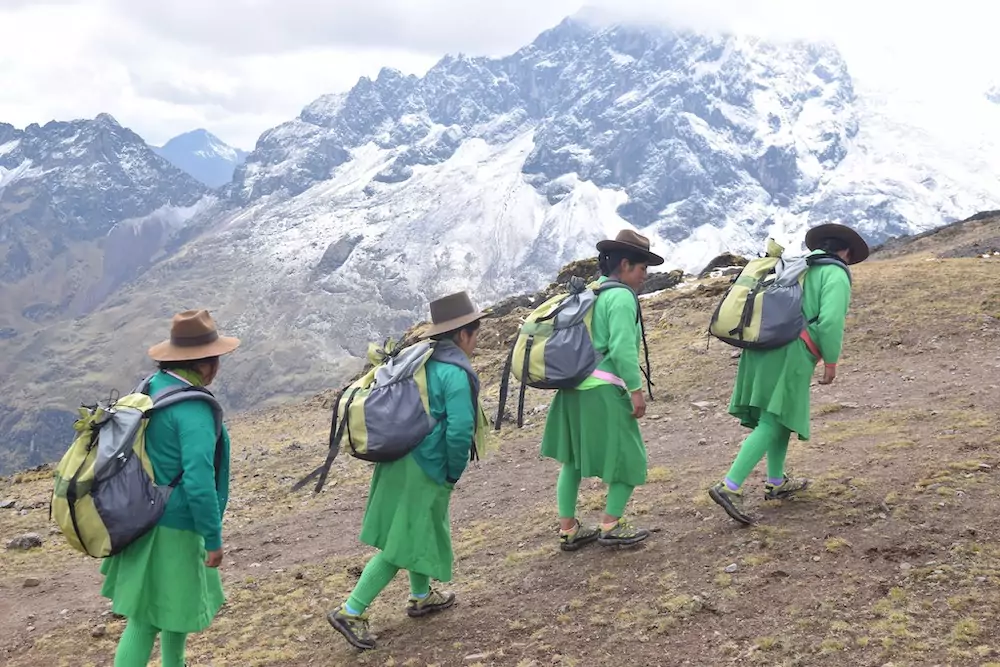 Alpaca Expeditions aims to promote gender equality and empower women, hiring first Peru Women as Porters opening the door ...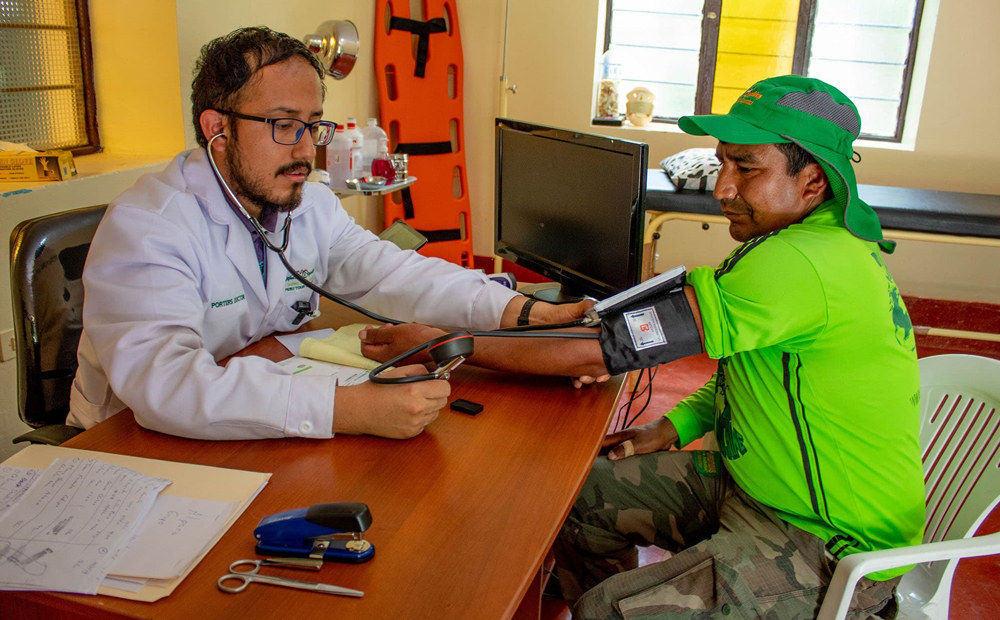 Free Medical Assistance to Porters
In 2019, we hired our first Alpaca Expeditions Medical Doctor to help tend to our guides, drivers, chefs…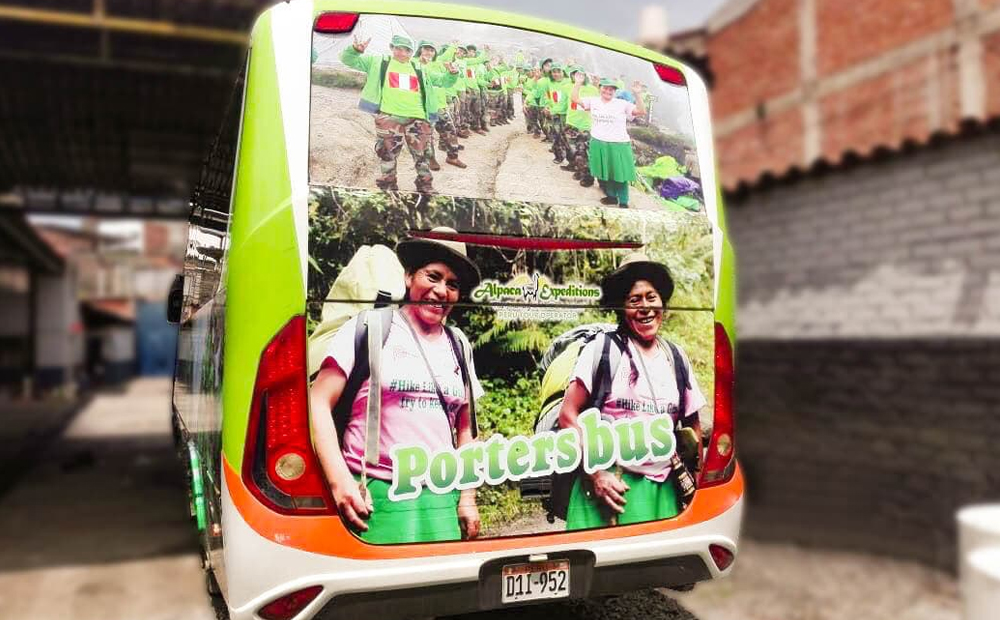 Our Porter's bus
We treat our porters with the same dignity and respect as we do our clients. Just as our clients enjoy our…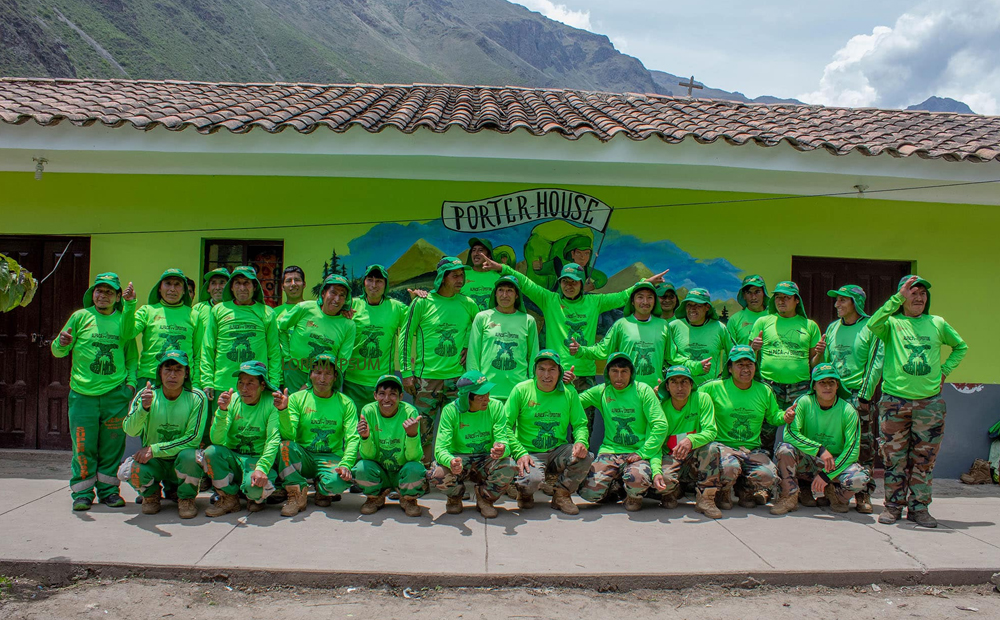 Our Porter's House
As we mentioned above, our Porters like many Peruvian people come from distant villages to work our treks…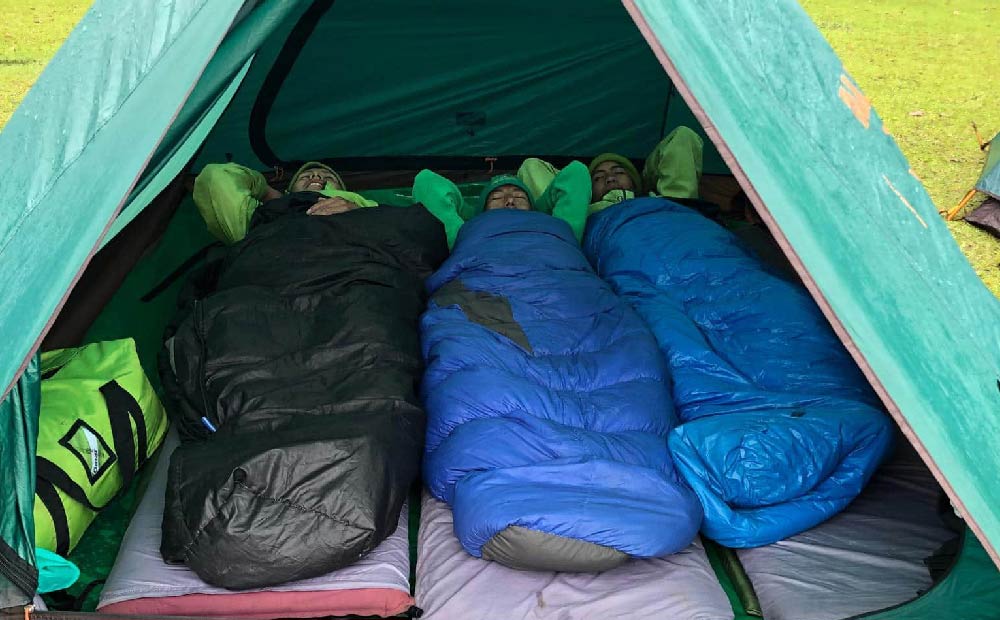 Tents and Sleeping bags
Again, this is something unique that Alpaca Expeditions provides, and sad others are not doing. We supply…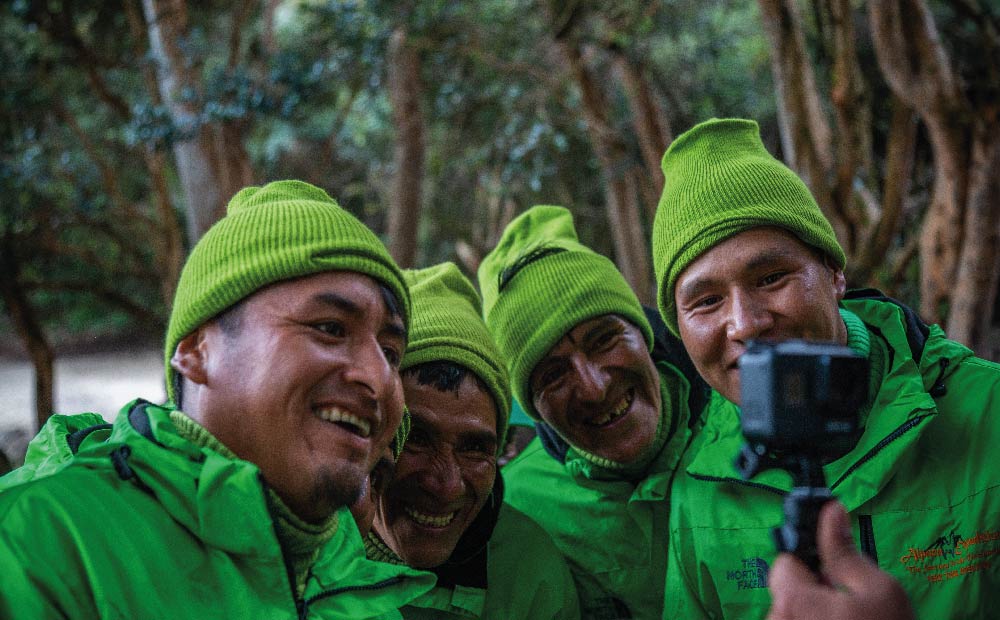 Proper Equipment for our Porters
Every porter of ours receives proper equipment. That includes moisture-wicking long/short sleeve shirts…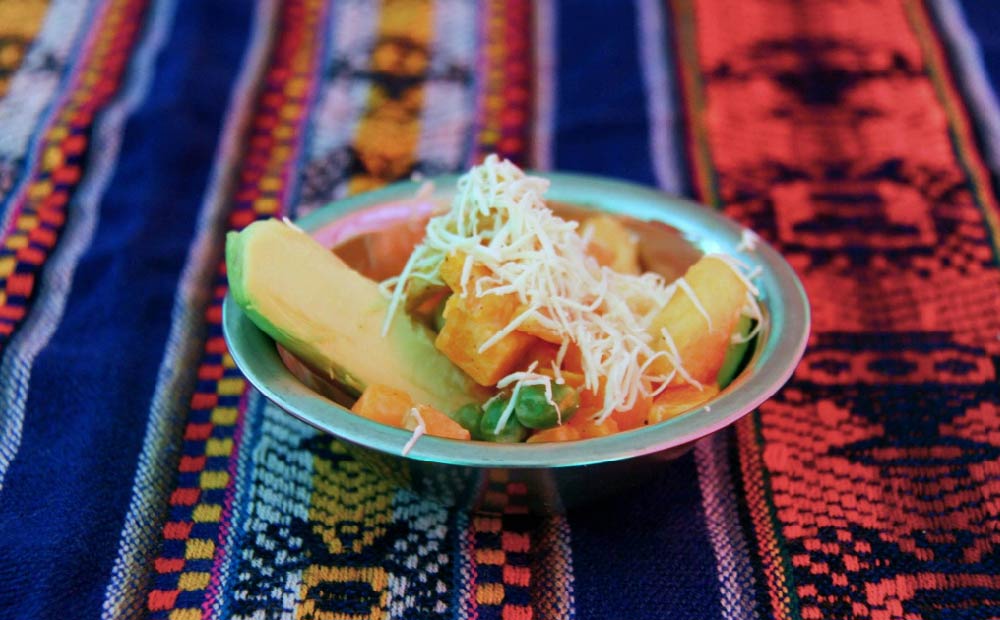 Nutritious Meals for our Porters
A general comment from trekkers on an Alpaca Expeditions tour is that we serve too much food. Well…
Extra information
---
Alpaca Expeditions is always ready to make your trip safe and as easy as possible for you. Because these trips are a bit more complicated than your typical tour, we have put together some notes on logistics, storage, and even recommendations on where to stay in Cusco. And of course our team is ready to answer any other question, as we promise to be your partner from the moment you first contact us to our last goodbye in Cusco.
Alpaca Expeditions Recognitions
---
ISO (International Organization for Standardization)
In the pursuit to stand out from the rest, Alpaca Expeditions has obtained four ISOs plus our carbon footprint certificate to date. These achievements result from our efforts to implement the internationally-recognized integrated management system. They also represent our commitment to all of our clients and staff of operating sustainability and responsibility in every way possible.