Salkantay Trek – What You Need To Know
---
Though somewhat lesser-known than the world-famous Inca Trail, the Salkantay Mountain trek is stunning and ranked by hikers and travel publications as one of the best treks in the world. Travelers on the Salkantay Trail take a remote footpath through lush rainforests and travel through an archeological site, a stunning vivid lagoon, and breathtaking mountain views on the way to Machu Picchu.
Are you interested in learning more about this incredibly underrated adventure? Here's everything you need to know before trekking at Salkantay!
History of Salkantay
The massive Salkantay Mountain is the highest point of the Peruvian Andes Mountains. "Salkantay" is a Quechua word meaning "savage mountain." The name originates from the Quechua term "Salka," meaning "Wild." This name reflects the abundant vegetation and diverse wildlife in the cloud forest that dominates the entire geographic area traversed by the pass.
Before it became a popular tourist attraction, the Salkantay trail was primarily used as a mule track by muleteers who transported various goods, including fruits, vegetables, and other items from the jungle. These skilled individuals relied on the route to transport supplies to different areas of the region, quickly navigating the challenging terrain.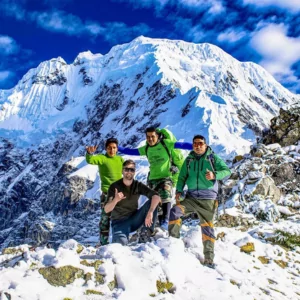 Why Trek Salkantay?
There are several reasons you should consider the Salkantay Trek for an intimate look into the area around Machu Picchu.
Fewer Crowds Than the Iconic Inca Trail
Every year, roughly 66,000 hikers trek the Inca trail. In comparison, the Salkantay trek only has an average of 30,000 annually. That means far fewer people to navigate on the path and at the stunning viewpoints.
Breathtaking Views
It's impossible not to use words like magical, enchanting, and surreal when hiking the Salkantay Trek. From lush jungle scenery to awe-inspiring mountain vistas, there are a vast array of sights to appreciate at every step of the trip.
Stunning and Creative Glamping and Accommodations
Taking part in our Super Salkantay Trek (5D/5N) offers our visitors exclusive accommodations, including glamping accommodations with hot showers and a campsite with unforgettable Machu Picchu views. All of our accommodations are very private, ensuring that hikers have enough quiet space to relax before the next day's trek.
Enjoy Humantay Lake Without Crowds
Our trips prioritize a pristine, private Humantay Lake experience by visiting this famous sight before sunrise. As a result, you'll get to take in the views of the lagoon, often without another hiker in sight.
Witness Rare Perspectives of Macchu Picchu
Many of our trekker's favorite view they get to experience on the trip is from our private campsite facing the backside of Machu Picchu. This is the first glimpse of the iconic archeological site, and many people that travel to Machu Picchu won't have the chance to witness the scenery from this angle. As you relax at our campsite after a day of hiking, you'll get to take in this Inca masterpiece as the sun sets over the historic peaks.
Closer Encounters with the Flora, Fauna and Culture of the Area
Because this trail isn't as well-known as the Inca trail, trekkers have a unique opportunity to embark on "the road less traveled." The Salkantay trail can feel more intimate and help you further connect with these mountains' stunning nature, culture, and history.
Frequently Asked Questions About The Salkantay Trek
Why Choose Salkantay over the Inca Trail?
Both trails are worth exploring, each offering unique pros and cons. However, hikers may choose the Salkantay trek over the Inca trail to avoid crowds and enjoy a more intimate hiking experience.
Where do you sleep when trekking Salkantay?
Contrary to what you may believe, you don't have to spend every night in a tent when hiking the Salkantay Trek! On our most popular 5-day Salkantay Trek, a couple of nights are spent in tents with stunning views, but we also offer unique and beautiful glamping accommodations that feature:
Glass Cabañas in Soraypampa with out-of-this-world southern hemisphere star gazing.
Custom-built glamping accommodations featuring views of the mountain ranges, jacuzzi pools, and hot showers.
Cozy "Hobbit Houses" near the river that transport you right to "Middle Earth.
Who Can Trek Salkantay?
With its extreme elevation changes and ever-changing terrain, this trek is not for the faint of heart. But fear not! Alpaca Expeditions is here to help you conquer the Salkantay trek with a smile on your face. Our expert guides are masters at making sure everyone, no matter their experience level, has a blast while trekking through the mountains.
What is the best time of year to Trek Salkantay?
The dry season from May to September offers optimal hiking conditions on the Salkantay trail, with warm, tropical weather in the jungle and clear views of the mountains.
During the dry season, days offer spectacular views of the towering mountain ranges and their snow-capped mountains and nights complement the days of hiking nicely with cloud-free, starry skies.
March, April, October and November are also acceptable for hiking, but you may run into some weather on the trail. Though in most cases, such weather conditions occur in the early morning hours and have minimal impact on visibility and hiking conditions.
What Do We Eat While Trekking Salkantay?
Did you know that Peru has one of the world's most highly-respected and revered national cuisines? Every meal you'll experience during a guided trek through Peru's most sacred mountain range reflects this passion for flavor.
Each day of hiking is broken up by fresh, deliciously prepared food by the best chefs in the mountains. You can expect three hot meals daily and more than enough food to energize your body for the strenuous hikes ahead.
What are Some Highlights of the Salkantay Trek?
What types of sights and experiences will you encounter on your Salkantay trek? Here are just a few!
Andean Enchantment – you'll encounter majestic sights that include glacial peaks, stunning cloud forests, historic Incan mountain passes, and dazzling mountain scenery—all of which seem designed for the camera.
Humantay Lake – The stunning natural scenery, unique geological features, spiritual significance and vibrant lagoon color make Humantay Lake a truly memorable part of your Salkantay trek. The turquoise-blue waters and rugged mountain terrain create beautiful photos and memories to last a lifetime.
Ruins of Llactapata – These ruins are believed to have been built by the Inca civilization around the 15th century. They are situated on a hilltop overlooking the Urubamba River and the famous Machu Picchu.
Machu Picchu – A UNESCO World Heritage Site, Machu Picchu is located in Southern Peru on an eastern slope of the Andes Mountains. The 15th-century Inca citadel is perched 2,430 m above sea level, complemented by lush mountain forests, waterfalls, and other visually arresting scenery. This archaeological site is the culmination of the Salkantay Trek. Witnessing Machu Picchu is truly an experience hikers will never forget.
What is an example trip itinerary?
There are multiple trip options to tackle the Salkantay trek, but the most popular is the Classic 5 Day5 Night Salkantay Trek. This unforgettable adventure takes you to several stunning sites around Salkantay, including Humantay Lagoon and Machu Picchu. Here is an example itinerary:
Day 1
Begin the trip from your Cusco hotel and meet the Alpaca trekking team.
You will drive along the Sacred Valley and into the mountains to the glamping Glass Cabanas in Soraypampa. That evening, you will enjoy one of the most beautiful sunsets in the world.
At the campsite, your guides settle you comfortably in your tents. Next, savor a delicious dinner prepared by our top-rated chefs. Later that night, take in the view of the brilliant night sky adorned by countless stars.
Day 2
After a night's rest, you will wake up before dawn to eat a hearty breakfast before the first trek. The first day's hike begins with a visit to the Humantay Lagoon. Take in the crystal-blue waters at this famous site. Some believe that touching the icy waters ensures you'll stay young forever!
At this point, you then hike to Salkantay Pass, the highest point of your trek. You'll enjoy an incredible hot lunch just before the top of the pass, with views of the glaciers on Salkantay "Savage" mountain.
From here, you descend to your campsite.
Day 3
Your second day of hiking begins in the cold mountains but ends at a lower, warmer altitude. Explore stunning waterfalls and the lush flora and native fauna of Peru. Each day of the journey brings you up close to the gorgeous land and people of the area.
Day 3 provides your first glimpse of Machu Picchu. Savor the sunset over this Inca masterpiece at our private campsite.
Day 4
Viewing an incredible waterfall that currently generates electricity for the Cusco region.
You will marvel at the natural beauty by hiking the same path as the man who rediscovered Machu Picchu in 1911.
Your hotel awaits you at the end of a long day of hiking. Rest well; the next day, you will explore Machu Picchu!
Day 5
Your final day is what you've been waiting for. Visiting Machu Picchu with our expert guides is an experience like no other. There is also time to look around the site on your own. Or, arrange to hike Huayna Picchu. Either way, your time at Machu Picchu will be an incredible one.
What People are Saying About The Salkantay Trek
BEST VACATION EVER!!!!
I have done my fair share of traveling, of all types. Without a doubt this was THE BEST TRIP OF MY LIFE!!!!!!!!!!!!!!!!!!!!
We did a private week-long trek to Salkantay and the Inca Trail. What a bargain for $1200 USD per person. I read over and over from satisfied clients that the food was better than restaurants and that they came back gaining weight. My first interpretation was that of course food was going to taste good after being starving from hiking all day. No, the food really is terrific and MUCH MUCH better than what we ate at restaurants in Peru. We were thoroughly pampered by our wonderful crew, Cesar (guide), Julian (head chef), Francisco (aka Pancho, sous chef), the chaskas – Cipriani, Beltran, Ephrahim, and Benefio, and our horseman.
Cesar, our guide, is truly passionate about the history and archeology of Peru. Nothing made him happier than having u7 Day Salkantay and Inca Trail Trek – Alpaca Expeditionss ask him questions about the various archeological remains. He did everything to make our trip memorable. When I accidentally broke my camera on the first day, he gave me his camera to use. He was able to balance time in such a way that we had plenty of time with him and his guidance, but wasn't always around so that we felt that we had a babysitter. It was the perfect amount of time with a guide and having privacy. Because of our great experience with Cesar, we know consider him a good friend.

Every morning we were woken up with a cup of hot coca tea. Then we were delighted with a hot breakfast (various different kinds of porridge, pancakes, fruit, eggs, etc). Before we left, we got a snack (fruit and some kind of cookie or cracker) and we went on our hike. The chaskis (porters) packed everything up and beat us to our lunch time location. Then they set up the dining/cooking tent and prepare a wonderful multi-course hot lunch – appetizer, several courses (meat and vegetables) and dessert. After stuffing ourselves, we took a quick nap. Then we went on our afternoon hike. Again, the chaskis packed everything up and beat us to our evening camping spot. When we arrive, it was happy hour time with tea, hot chocolate, cookies, and freshly popped popcorn. Next was dinner, another multi-course meal. They fed us so well that we usually couldn't eat our snack
Are you ready to book your adventure trekking through the beauty of the Andes? See all of our Salkantay Trek options here!
Alpaca Expeditions Recognitions
---
ISO (International Organization for Standardization)
In the pursuit to stand out from the rest, Alpaca Expeditions has obtained four ISOs plus our carbon footprint certificate to date. These achievements result from our efforts to implement the internationally-recognized integrated management system. They also represent our commitment to all of our clients and staff of operating sustainability and responsibility in every way possible.