Travel confidently with Alpaca Expeditions, the only Peru tour operator with over 16,000 excellent reviews on Trip Advisor
"LOCAL - INDIGENOUS - SUSTAINABLE"
---
As the #1 tour operator in Peru, Alpaca Expeditions prides ourselves on superior service to our clients, creating unique and memorable adventures all around Peru. We will tailor each package and tour to fit your needs, no matter if you are a family with young children or a bunch of friends seeking an adventure. We pride ourselves on being sustainable and responsible, committed to improving the lives of our team and their families with better wages and services. We welcome all to visit Peru and can't wait to introduce you to the Inca traditions. Our home is your next adventure.
TOP TREKS & TOURS TO MACHU PICCHU
---
Choose your Vacation Type
---
Why travel with Alpaca Expeditions?
---
Locally owned and operated.
Highest quality, name brand equipment.
Delicious and nutritious meals, catering to all food restrictions.
Superior inclusions to competitors with no hidden fees.
Sustainable and responsible travel.
Safety conscious with first aid training annually.
Unique service philosophy dedicated to our porter welfare equally to our client services.
Equal employer with a focus on women's rights in tourism.
International and local recognition.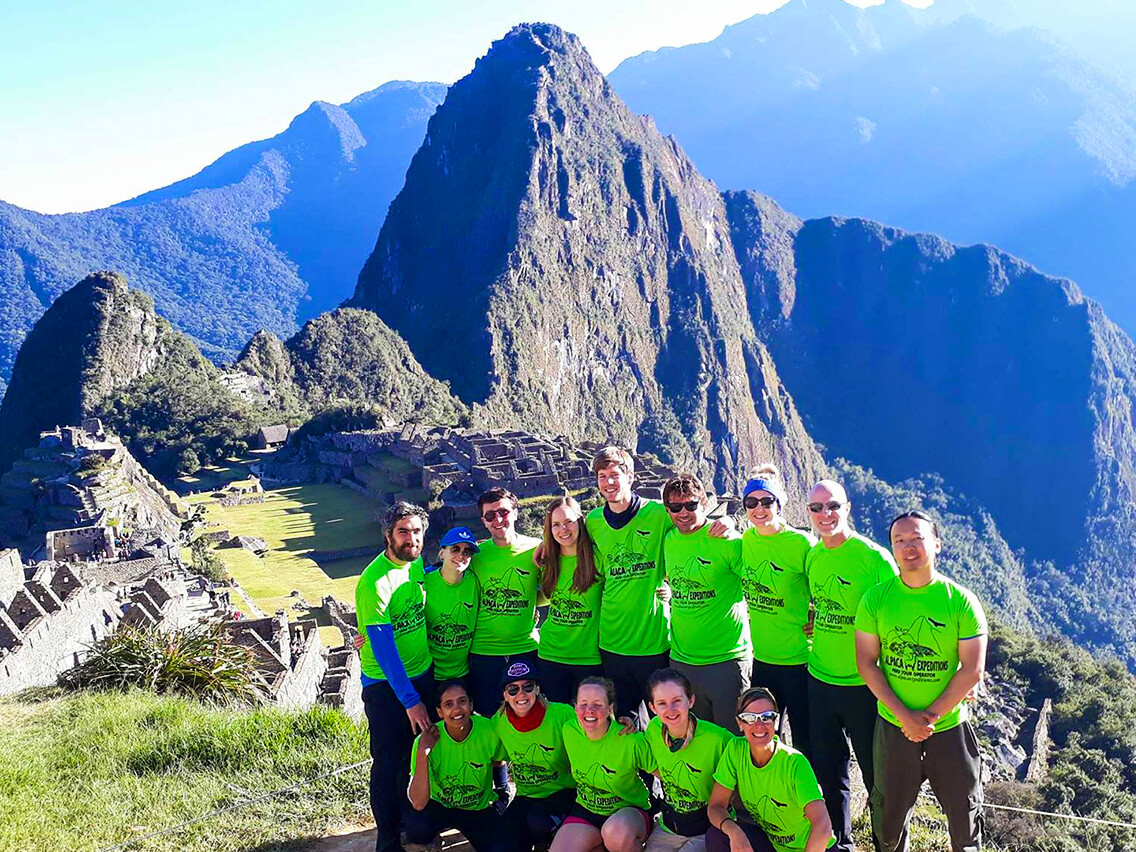 Most Popular Treks to Machu Picchu
---
Hiking to Machu Picchu is a true adventure, making the journey to the Inca Citadel as rewarding as the ruins themselves. There are lots of routes to take, from the most popular Classic Inca Trail 4D/3N to the longer Salkantay 5.5D/5N, all ending at Machu Picchu on your last day for an amazing tour of this World Wonder. Those interested in the Inca Trail do need to plan early as permits sell out very far in advance. Every trek we do is full of amazing landscape and history, so there is no wrong choice to make. Remember, the journey is the destination.
Peru Packages
---
Travelling around Peru is a bit more complicated than other countries. Book one of our comprehensive packages and let Alpaca Expeditions handle all the difficult logistics and bookings. We have lots of options including all the highlights of Peru including the Amazon, Lake Titicaca, flights over the Nazca Lines, even foodie tours around Lima. And if our published itineraries aren't perfect, we can customize just for you. We got you covered!
Cultural Tours
---
Our cultural tours are designed to offer the most unique highlights of our region. There is so much to see in the city and surrounding valley to learn more about our history and culture. And the views are breathtaking. Our cultural tours can be done in a day or two and include all of what makes Alpaca Expeditions special: top rated tour guide and impeccable service.
Alpaca Difference
---
Alpaca Expeditions differentiates itself from the rest in many aspects.
hand in hand with its workers and collaborators.
EMPOWERING PERU WOMEN AND OPENING THE DOOR TO WOMEN IN TOURISM
We understand the importance of extra safety measures to make sure our Peru Women Guides and Porters are comfortable at all times. Sexual harassment is real in all industries, but with women and men sleeping so close together, we needed to be clear on proper behavior. We decided to hire an outside coach to review with everyone on our team the Do's and Don'ts. He helped to reinforce the rules we have at Alpaca Expeditions, like no drinking on the job (this leads to poor choices), no touching, careful language, be respectful to everyone. And a reminder that we are a team and we need to stick up for each other and ourselves.
Read More
ALPACA EXPEDITIONS & SUSTAINABLE TOURISM
The tourism industry is very important in Peru and it also has a great impact on a lot of families and the environment itself. Alpaca Expeditions is a sustainable tourism tour operator. We protect our land and environment at every tour and trek to preserve it for future generations. Alpaca Expeditions also retributes with the local communities with different social projects all along every year. We do our best to get back to our communities and also to make the best for our staff. We protect our land, our clients and our staff. Travelling responsibly is the new way to travel and we can make it happen for you!
Read More
What Our Clients Say
In Tripadvisor
---
Alpaca Expeditions Recognitions
---
ISO (International Organization for Standardization)
In the pursuit to stand out from the rest, Alpaca Expeditions has obtained four ISOs plus our carbon footprint certificate to date. These achievements result from our efforts to implement the internationally-recognized integrated management system. They also represent our commitment to all of our clients and staff of operating sustainability and responsibility in every way possible.