2-Day Short Inca Trail Trek

with Camping
---
This short 2-day/1-night Inca Trail with camping adventure includes six hours of hiking along the famous Inca Trail to Machu Picchu.
With this option, you enjoy one night of camping at our exclusive campsite reserved only for Alpaca Expedition trekkers. This campsite includes a well-deserved hot shower, freshly prepared meals, and areas to charge batteries/phones. Want to enjoy comfortable hotel accommodations on this 2-day adventure? Check out our 2-Day Inca Trail Trek with Hotel.
Tour Type: Trekking/Hiking, cultural, adventurous
Good For: Those in moderate shape, families.
Difficulty: Moderate. It's not a technical hike but the altitude may affect some individuals.
Consideration: Permit is required, but this is a separate permit process and generally available with little notice. Closed February.
Why Book Inca Trail Trek with us
Tour Price
2-Day Short Inca Trail Trek
with Camping
---
Price from
$
590
USD
Per Person
---
Activity Level Challenging
2-Day Inca Trail Trip Details
---
Highlights

Camp at the Foot of Machu Picchu on this Exclusive Short 2-Day Inca Trail Hike

Alpaca Expeditions is the ONLY operator that offers a camping 2 Day Inca Trail tour. One very unique difference between Alpaca Expeditions and other tour operators is that we have an exclusive campsite for the Inca Trail 2 day Hike that is at the foot of Machu Picchu. No other company offers this! (We also offer the 2 Day Inca Trail with Hotel.)

In the morning you'll awake to fresh air and hot coffee and tea provided by your Alpaca Expeditions team. Our renowned chef will be hard at work cooking a fresh breakfast while you enjoy your morning at the campsite.

Hike One Day, Explore Machu Picchu the Next.

Short on Time or Not an Experienced Hiker? 

This short Inca trail hike includes one fantastic day of hiking with the second day dedicated completely to touring the ruins of Machu Picchu. This hiking package is perfect if you want to experience a day of hiking the Inca but have limited time, or are not as experienced at challenging hikes.

Visit 4 Incan Archeological Parks, in addition to Machu Picchu

One of the reasons this hike is on many people's bucket list is because of the sites along the way. You'll have the once in a lifetime chance to visit archeological parks such as Chachabamba, Wiñay Wayna and the Sun Gate or Intipunku. The path itself is also brimming with natural beauty. You'll be surrounded by the amazing flora and fauna the cloud forest of Peru has to offer. All along the way you will find orchids, different types of flowers and many different types of birds. This day of hiking will be a challenging one, but something you will be able to conquer with our team's help.

A Full Day of Inca Trail Hiking

If you pick the short Inca Trail 2 day hike, you'll start your hike at Km. 104. In order to get to this trailhead, we will need to catch a train very early in the morning from the Ollantaytambo train station. We will pick you up from your hotel in Cusco, or the Sacred Valley, to make our way to the station and start your adventure. Once we arrive at the trail head, you will enjoy a freshly prepared breakfast provided by our amazing trekking chef. While you are partaking in the local cuisine, we will set everything up in preparation to begin your hike towards Machu Picchu.

Your Private Campsite: Incredible Views, Hot Showers, Skilled Chefs
Alpaca Expeditions' campsite is located 10 minutes away from Puente Ruinas and has all the accommodations you will need from already set up tents to hot water showers and a dining room for you to enjoy your freshly prepared dinner with your team. Our campsite is very close to Aguas Calientes and has a breathtaking view of the mountains and the Andean sky. Sleeping under the Peruvian stars is something you won't soon forget. You'll want to take this opportunity to camp with us if you are a camping lover.

Expert Guided Tour of Machu Picchu

Hot, Fresh Peruvian Breakfast, Pack Up Camp and go to Machu Picchu!

In the morning you'll awake to the fresh air and hot coffee and tea provided to your Alpaca Expeditions' team. Then we'll have our renowned chef hard at work cooking your fresh breakfast while you enjoy your morning at the campsite.

Once breakfast is over, you'll hike to Aguas Calientes and the bus station for the bus ride to Machu Picchu. Get ready for an extraordinary, fully guided tour of one of the 7 Wonders of the World, Machu Picchu! A once in a lifetime experience – are you ready?

Itinerary Overview

Day 1: Inca Trail – Sun Gate – Machu Picchu (Walking Distance: 15 km / 8 miles)

Day 2: Machu Picchu! (You'll be back in Cusco around 8:30 PM)

Special Offers

Along with enjoying the Inca Trail 2 days trek, you can add to your enjoyment a full day hike to the amazing Rainbow mountain at a very special rate. You can do this hike either before or after your Inca Trail adventure. You just need to arrange the details with Alpaca Expeditions' sales team.
Itinerary
Day 1: Inca Trail – Sun Gate – Machu Picchu

Alpaca Expeditions' team will pick you up from your hotel at 4 a.m. You'll head to the train station and leave on the 6:10 a.m. train from Ollantaytambo. This train is one of the most magnificent trains to ride in the world. Be prepared for phenomenal views of the Urubamba River, the soaring snow-capped mountain peaks and cornfield farms. As we descend, you'll see the micro-climate changes from the mountains and cornfields to green jungle valleys. This includes ferns, bromeliads, and orchids as the temperature starts to get warmer. This train ride is one hour and 45 minutes to Km 104, where we'll disembark to meet your Alpaca Expeditions trekking chef and porters.

This is where you'll be served your freshly cooked breakfast before starting your trek. Be sure to bring your original passport since this is the very first checkpoint along the Inca Trail. After breakfast you'll have some time to prepare before beginning the hike.

Soon after we'll get to explore the first Inca site, Chachabamba, which is first ancient Incan checkpoint to enter the Inca trail. Your Alpaca Expeditions tour guide will give you some background history on these amazing ruins. Then you'll have a three-hour hike up to the most famous Inca site along the trail Wiñay Wayna.

You'll see amazing views of Machu Picchu Valley and the Urubamba River along the trail as well as the flora and fauna that re native to the area. There are also waterfalls and spectacular views of Machu Picchu Mountain. The trail itself has some flat areas as well as some short uphill and downhill hikes. It also has steps arranged in sections that can be narrow in some areas but not dangerous.

Once you arrive at the Wiñay Wayna Inca site you'll have time for a tour by your Alpaca Expeditions guide. He'll provide you with time to explore the Inca site, temples, waterfalls, gardens, storehouses, watchtowers and farming terraces.

Then it's only a short walk to the lunch spot where your Alpaca Expeditions trekking chef and porters will be ready for your arrival. They'll have cold drinks and delicious fresh food prepared by Alpaca Expeditions' chef and served buffet-style. After lunch there'll be time for a short nap.

Then it'll be a one hour gradual up and downhill hike to get to the Sun Gate. There you'll have spectacular views of Machu Picchu, Huayna Picchu, and the surrounding valleys. The Sun Gate was used by Incas to observe the sunrise from Machu Picchu during the summer solstice. From here it's another hour hike to the Machu Picchu ruins. Once in Machu Picchu you can explore the watchtower area where you can get charming pictures of Machu Picchu (without crowds). We'll then take the 20-minute bus ride to the campsite of Puente Ruinas. When you arrive at the campsite your tents will be all set up. You'll meet your Alpaca Expeditions porters and enjoy a social happy hour with hot drinks and dinner.

Later in the evening we'll have a small ceremony with your chef and porters for your last night with them. They'll still be there the next morning to cook breakfast and for a proper goodbye.
* This hiking route is identical to our 2 Day Inca Trail with Hotel.

Highlight: Trekking the Inca Trail, enjoying the views from the Sun Gate, sunset views from Machu Picchu, camping at the foot of Machu Picchu

Walking Distance: 15 km / 8 miles
Meals: Included
Elevations: Trek starting point 2,000 m, the highest point is Sun Gate 2,720 m, the camp is at 1,900 m
Weather: Hot and humid

Day 2: Machu Picchu (The Lost City of the Incas) & Return to Cusco

Your Alpaca Expeditions team will wake you up early with your choice of hot drinks. You'll then have time to prepare your duffel bags, day packs and to enjoy your freshly made breakfast. We'll walk 30 minutes to the bus station to be one of the first in line to go up to Machu Picchu (sometimes there is a 20-30 min wait in the line to board the bus).

The first buses will depart at 5:30 a.m. and arrive at 6:00 a.m., into Machu Picchu. Again, you need to have your original passport at this checkpoint. Your Alpaca Expeditions tour guide will take you to the perfect spot to enjoy the sunrise over the mountains and gets some amazing pictures (weather permitting). We'll then have a two hour private walking tour of the Machu Picchu ruins with all of its fascinating history. You'll also have free time to explore Machu Picchu on your own. If you have booked a permit to climb Huayna Picchu or Machu Picchu Mountain you'll start at 10:00 a.m. However, there are a lot of other things to see around Machu Picchu. There is the Inca Bridge, the Sun Gate, or you can walk around the temple and residential areas of Machu Picchu and mingle with the llamas. You'll need to catch your bus back down to the town of Aguas Calientes for lunch and train to Ollantaytambo. From there you'll go by private van back to Cusco where your Alpaca Expeditions team will drop you off at your hotel.

Highlight: Arrive early to Machu Picchu to enjoy the sunrise
Temperature: Warm and humid
Meals: Breakfast Only
Train: Expedition tourist class
Inclusions
Included

Professional Guides: All of Alpaca Expeditions' guides studied English and tourism at Cusco National University. They all grew up in the Cusco region, and are committed to teaching others about their heritage. They are fun yet professional and will ensure you are safe and happy.
Permits: As soon as we receive your details and deposit, Alpaca Expeditions will purchase your permits (pending availability, check our Inca Trail Availability). These permits are for a specific date and in your name. They can't be changed once confirmed. Only your passport number is allowed to be updated. The permit includes an entrance to Machu Picchu.
Briefing: The night before your trek you'll come to Alpaca Expeditions' office for your briefing. You'll receive your duffel bag that'll stay with your porters while you hike. This bag should not exceed 7kg/14 lbs. and does need to include your sleeping bag and air mattress.
Porters: Alpaca Expeditions' includes a personal porter who is responsible for carrying your duffel bag. There is no additional fee for this. You will not have access to your duffel bag until your evening campsite.
Transportation: You'll have transportation included in this trek. You'll be picked up directly from your hotel around 4 a.m. (unless you are staying in Ollantaytambo) and brought to KM 82 to begin your trek. Also included will be the Expedition Train from Aguas Calientes. You may also upgrade to the Vistadome Train for $75 per person. Once you arrive at the train station, a Alpaca Expeditions member will take you back to your hotel in Cusco. Additionally, your round trip bus ticket from Aguas Calientes to Machu Picchu will be included.
Equipment: Alpaca Expeditions has the best equipment. We use Eureka Timberline 4 person tents that are shared by only two people. You'll also have a spacious dining tent to enjoy your meals in.
Food: The Alpaca Expeditions chefs cook delicious meals that many previous trekkers have loved. We honor all food restrictions so be sure to add any that you have on your booking form and let your guide know at your briefing. Food is typically all served family-style.
You'll enjoy breakfast, lunch, and dinner each day for the trek along with a happy hour of tea and snacks. A snack will be provided each morning for you to enjoy along the hike. Your last meal with your chef will be after breakfast on day four. Lunch on the last day is not included.
Water: Beginning from your first lunch until your last breakfast, Alpaca Expeditions will supply all the water needed. This water is boiled, filtered, and then cooled before distributing. You must bring personal water bottles and or a camelback. We recommend carrying about 3L worth. You'll be able to refill your water at each meal.
First Aid: Every Alpaca Expeditions guide has received training in first aid from a physician. We conduct mandatory training sessions every February that every Alpaca tour guide must attend. Your tour guide will always have a first-aid kit for basic medical situations (traveler's diarrhea, cuts, scrapes, etc.) and oxygen. We'll get you off the trail as quickly and comfortably as possible if needed and ensure you get directly to a clinic for treatment.
Extras: We believe it's the attention to small details that separates us from other tour companies. Every Alpaca Expeditions' trekker receives a small pillow to sleep with, a foam mattress for insulation, a day pack cover to protect their things while hiking, and a rain poncho. We'll work hard to create your best vacation a reality.
Satellite Phones: Alpaca Expeditions' top priority will always be the safety of our clients and our team. While all our guides are prepared and trained to deal with issues clients may have on the mountain. Being a phone call away from any doctor, hospital, or friend helps everyone feel assured that they are safe. Radios, which all our guides have are limited in how far they can reach. Alpaca Expeditions has added Satellite Phones to every trek as well as a Radio. Every guide will have a fully charged phone that can be used anywhere on the mountain to connect us anywhere in the world. And they can be used by our clients for non-emergencies as well. While they're not cheap to use they're available just in case you need to check in on the puppy you left at home with grandma.

Not Included

Rentals
Every trekker needs a sleeping bag when camping. Inflatable air mattresses and walking sticks (with rubber tips) are optional but encouraged. If you don't want to bring any of the above, they are all available for rent:
Sleeping Bag: $15
Inflatable Air Mattress: $10
Walking Sticks (Pair): $10
Huayna Picchu
Huayna Picchu is the mountain that stands next to Machu Picchu. It is a 45-minute hike to the top. Going back down is quite steep if you are scared of heights. You would do this after your tour of Machu Picchu. The cost is $75. Arrangements need to be made at least one month in advance due to popularity. Please understand that the weather is out of our control.
Price
Price

We can depart any day of the week as long as permits are available. Please remember permits are only needed for your start date.

Group Price

Private Tours are based on Group Size

Two trekkers: $1000
Three trekkers: $900
Four trekkers: $750
Five trekkers: $700
Six trekkers: $650
Seven trekkers: $610
Eight, or more Trekkers: $590

Student or Under 17 Discount

$25 off per person

Student discounts apply to anyone who has a valid UNIVERSITY STUDENT CARD at the time of the trek or who is 17-years-old or younger. For those using a University Student Card our under 17-years-old, we need to see a copy of their card or passport at the time of booking to receive the discount.

Please send all to info@alpacaexpeditions.com.
More Information about STUDENT CARD

Additional Items

As seen in our Additional Options, there are several optional upgrades you can include in this trip. Below is a quick list of prices:

Huayna Picchu

Huayna Picchu is the mountain that stands next to Machu Picchu. It's a 45-minute hike to the top. Even when you do this hike on your own your guide will still show you the trail entrance. This trek is an additional entrance ticket that we can secure for you with advance notice.

Your tickets will be purchased to coincide with when you need to start the trail. Tickets are either for the First Session from 7-8 AM or Second Session from 10-11 AM. We purchase the Second Session for you to enjoy your tour of Machu Picchu before you begin. This window is only your start time and you may take your time up and down so no rush.

The ticket is $75 per person.

Machu Picchu Mountain

Machu Picchu mountain is the other mountain that stands above the Machu Picchu ruins. It offers even more stunning views than Huayna Picchu but takes an hour and a half to reach the top. For this trek it'll be an additional entrance ticket that we can secure for you.

This ticket is $75 per person.

Vistadome Train

All Alpaca Expeditions tours include the Expedition Train. This train is usually booked at 4:22 p.m., leaving from Aguas Calientes. The Vistadome Train is an upgraded train that offers slightly larger seats, windows, and even some entertainment. Usually the Vistadome train is booked for 4:43 p.m. and travels to Poroy, a train station closer to Cusco. While this is an upgraded fee, we'll still include your transportation back to your hotel.
This train is $75 per person.
Travel Info
Getting to Cusco

The airport in Cusco currently is only for domestic flights. All international travelers by plane must disembark in Lima and go through Customs. Even if your flight to Cusco is the same day by the same airline carrier, you must grab your bags in Lima and then check them back in.
The best way to get to Cusco is by air and there are several options in airlines. LAN tends to be the most expensive but has the most options and flights. Expect delays or flight cancellations. Due to the high altitude of Cusco it tends to be difficult to land and any acclimate weather will stop air traffic. Bus travel is always available and the trip can be long especially from Lima. Buses in Peru are very well maintained and comfortable. This option is strongly encouraged if coming from a city closer to Cusco like Puno. Lima buses will take about 20 hours to arrive.

Luggage Storage

Any extra luggage you have with you can be left safely in Cusco at either your hotel or with us at the Alpaca Expeditions' office while you trek. We'll store your luggage on the morning of your trek and return it once you are back in Cusco. Make sure your bags have tags on them so they're easy to locate.

Altitude

As soon as people book their trip to Peru, specifically Cusco, they start wondering about altitude sickness. The air at high altitudes contains less oxygen than at sea level and forces your body to work harder to get oxygen. Over several days at high altitude your body adjusts to the lower amount of oxygen in the air. For this reason, we always recommend spending at least two days in Cusco before beginning any trek in the Andes. Cusco is a marvelous city with lots to do so if you have more time to acclimate you won't be bored.

With altitude sickness you may first feel like you have the flu or a hangover. You may have a headache, tiredness, loss of appetite, nausea, vomiting, dizziness, trouble sleeping, or trouble breathing during exercise. If any of these effects become severe please contact our office and we'll help you get to a doctor.
Most of the time these symptoms will be mild. We always recommend easing into activity slowly allowing your body to adjust. Drink plenty of fluids such as water or coca tea. Coca tea has been used since ancient times to help prevent altitude sickness. Leaves from the Coca Plant contain alkaloids that bring oxygen into your blood which helps your body avoid altitude sickness. Avoid drinking a lot of alcohol and coffee because they'll cause you to urinate more often and become dehydrated. Avoid smoking. Smoking makes it more difficult for your body to get oxygen. Avoid sleeping pills. They may cause shallow breathing at night, making it more difficult for your body to absorb oxygen while you sleep.

The trek to Machu Picchu is about the journey and is not a race. Even if you're in the best shape, your body can suffer from altitude sickness if they hike too quickly. Going slowly will give your body time to adjust to the elevation and allow you to enjoy the scenery. Your healthcare provider can prescribe medication that helps prevent altitude sickness. You'll want to start the medicine two days before you get to high altitude and continue to take it while you are at high altitude. You must remember that this is your holiday and you don't want to stress out about getting sick. Do everything slowly, drink lots of water, and enjoy the coca tea. If anything does happen and you unfortunately get sick let your guide know right away. Alpaca Expedition guides are trained to help you get through it.

Weather

The dry season in Cusco, Peru is typically from April through October. However, that doesn't mean we can predict what the weather will be like during your hike. So, no matter what month you are doing your hike, you need to make sure that you have rain gear. This should include a waterproof jacket, pants, poncho, and waterproof gloves. Many people forget about gloves but being cold and wet makes hiking very unpleasant.
You want to be ready for four seasons – regardless of the time of year. Trekking in the Andes means you're going to experience a lot of microclimates and you'll need to be prepared. Layers are essential. They're easy to adjust to different temperature changes. Be prepared with a warm packable down jacket since the evening will be cold.

First Aid

Every Alpaca Expeditions guide has received training in first aid from a physician. We conduct mandatory training every February and every Alpaca guide attends. When guiding you they'll have with them a first aid kit for basic medical situations (traveler's diarrhea, cuts, scrapes, etc.) and oxygen.
In case something happens and you can no longer complete the trek they'll figure out the safest and quickest way off the trail and to a clinic. You'll have a member of the team escort you every step of the way until safely with a doctor. If you feel up to it, we'll make sure that you still have the chance to visit Machu Picchu and re-connect with your group. This way you can finish your trip traveling by train comfortably.

Travel Insurance

To protect your travel investment, we highly recommend the purchase of travel insurance. Getting travel insurance before you leave home is strongly encouraged and very easy. We work with a great agency in the United States that has helped to make it easy and affordable. What an excellent way to protect yourself while you are visiting Peru.
If interested in booking through our trusted partner Ahart, Frinzi, & Smith CLICK HERE.

Environmental Impact

Alpaca Expeditions uses biodegradable soap and transports all our garbage back to Cusco. Our porters are trained to look after the trail and pick up any waste from other groups as well. We also use environmentally-friendly portable chemical toilets that allow us to carry waste out. We believe in leaving no footprint behind.

Community

Alpaca Expeditions is proud of the work we do for our community as this is the main focus of our company. We've worked with villages directly to help supply them with the needs their families were missing. We've supported local schools by giving them computers and books. Alpaca Expeditions also sponsors a teacher at the village where most of our porters come from. This ensures their children have the best opportunity for education.
Alpaca Expeditions buys all our food from local farmers and markets and serve the freshest ingredients. We provide English classes for all our team including guides, porters, chefs, and drivers. We're also building a house for our porters so they have a safe and comfortable place to stay before and after our treks
And twice every year we bring our porters and their families to Machu Picchu. The men and women who work tirelessly have never visited the Lost Citadel of the Incas. So that makes this trip our favorite to-do. It's an honor to show them this astounding place they work for.

Alpaca Expeditions is always looking to do more and for partners. Please let us know about your ideas and we'll work to help.

Personal Porter Included

All of Alpaca Expeditions' camping treks include porters who are responsible for carrying and setting up all equipment. They'll additionally carry the duffel bag you receive at your briefing the night before your trek. Each duffel bag can't exceed 7kg/14lbs and must include your sleeping bag and air mat.

Alpaca Expeditions gives each porter a proper uniform, salary, and insurance. They are the backbone of our company.
Packing List
ESSENTIALS

Passport
Valid, STUDENT CARD (if you booked as a student)
Immigration Card (given on the plane as you enter Peru)
Good daypack (the smaller, the better)
Water storage: Water reservoir like Camelbaks are encouraged – but enough for at least 2-3 liters.
Comfortable hiking boots (lightweight with good soles)

FOR YOUR DUFFEL

Porters will carry up to 7 kg of your personal items. This must include your sleeping bag and air matt (if you bring/rent one). From us these two items weigh 3.5 kg.

1 wicking t-shirt, 1 shirt for Machu Picchu (that you want to see in photos
1 hiking pant, 1 short or pants for Machu Picchu
2 sets of undergarments.
Hiking socks, regular socks
1 Fleece
1 Warm, down jacket: gets very cold at night
1 Rain jacket and pants
1 sun hat
Headlamp: essential
Waterproof gloves (even if they are ski gloves, take them)
Comfortable shoes for camp
Quickdry towel. We provide small ones, you might enjoy something a little larger.
Small bottle of soap: we provide warm water each day to clean – might make you feel fresh if you had a little soap.
Large plastic bags: to help organize and keep clean from dirty.
Sleeping bag: Recommend down bags for -10C at least

TOILETRIES

Sunscreen
Face moisturizer
Bug spray
Handsanitizer
Wet wipes
Toothbrush and paste
Toiletpaper
Personal medication
First aid kit: band aids, moleskin, etc.
Additional Options
Huayna Picchu

Huayna Picchu is the mountain that stands next to Machu Picchu. It's a 45-minute hike to the top. Even when you do this hike on your own your guide will still show you the trail entrance. This trek is an additional entrance ticket that we can secure for you with advance notice.

The ticket is $75 per person.

Machu Picchu Mountain

Machu Picchu mountain is the other mountain that stands above the Machu Picchu ruins. It offers even more stunning views than Huayna Picchu but takes an hour and a half to reach the top. For this trek it'll be an additional entrance ticket that we can secure for you.

This ticket is $75 per person.

Vistadome Train

All Alpaca Expeditions tours include the Expeditions (Tourist) Train. This train is normally booked at 4:22 p.m., leaving Aguas Calientes. The Vistadome train is an upgraded train that offers slightly larger seats, windows, and even some entertainment. Normally the Vistadome train is booked for 4:43 p.m. and travels to Poroy, a train station closer to Cusco. While this is an upgraded fee, we will still include your transportation back to your hotel.

This train is $75 per person.
Short Inca Trail trek with Camping 2D/1N
Please fill in our BOOKING FORM carefully with your correct personal details.
The Alpaca Difference
---
Alpaca Expeditions is a 100% peruvian, indigenous owned company. Started by Raul Ccolque, a former porter and tour guide, Alpaca Expeditions separates ourselves by our dedication to both our customer and our team. We work very hard to make sure that all our clients needs are taken care of throughout the tour with us. At the same time, we never forget about our brothers and sisters working tirelessly for us to make all of this possible. Responsible and sustainable tourism that gives as much to our community as to our clients.
Meet the AE Trekking Team!
---
Everyone on the Alpaca Team is from Cusco region, living the traditions and history they share with you while on one of our tours. Our guides are all graduates of university studying tourism, history and english. Our chefs are trained every February by a professional cooking team learning new meals, adding varieties of entrees for all types of eating. And all our porters are from HUARQUI, HUACAHUASI, PATACANCHA, QUISWARANI, CANCHACANCHA, QUEYUPAY, UMACHURCO and CCACCACCOLLO villages, very often working this job on top of maining their farms back at home. Most of our team has been with us for years, as we have the most loyal, hard working, happy employees in Cusco. We know how lucky we are to have the best team trekking and you will immediately fall in love with all the men and women who call Alpaca Expeditions their home.
What do we do for our porters?
---
Alpaca Expeditions would not be where we are today without these hardworking men and women. We could not imagine a harder job and our team does it smiling. We do our best to thank them for their hard work and loyalty by doing as much as we can to make their lives and their families lives better. All our porters receive all their equipment for free from warm winter hats to proper hiking boots. They sleep in proper tents and are given warm sleeping bags for night. They enjoy the same food we serve our clients and all leftovers are donated to their families. We visit their villages with doctors and dentists, donate school supplies and sports equipment. And our favorite time of the year is when we bring a group of porters and their families to Machu Picchu to visit the ruins for the first time.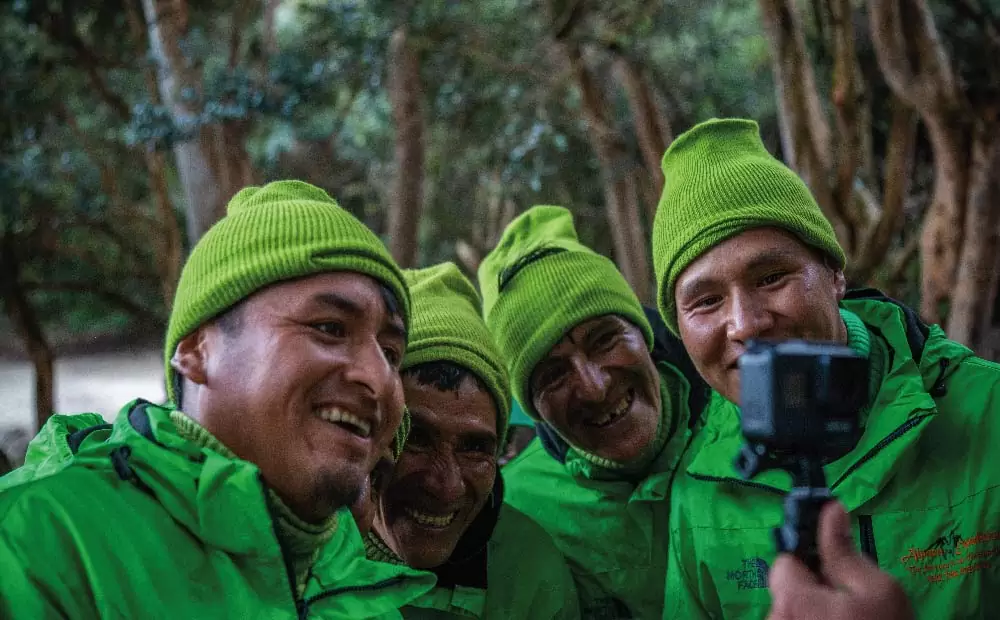 Our Porters represent the Peruvian people, both men, and women who are at the heart of our company. It is not possible to ...
Alpaca Expeditions aims to promote gender equality and empower women, hiring first Peru Women as Porters opening the door ...
Free Medical Assistance to Porters
In 2019, we hired our first Alpaca Expeditions Medical Doctor to help tend to our guides, drivers, chefs…
Our Porter's bus
We treat our porters with the same dignity and respect as we do our clients. Just as our clients enjoy our…
Our Porter's House
As we mentioned above, our Porters like many Peruvian people come from distant villages to work our treks…
Tents and Sleeping bags
Again, this is something unique that Alpaca Expeditions provides, and sad others are not doing. We supply…
Proper Equipment for our Porters
Every porter of ours receives proper equipment. That includes moisture-wicking long/short sleeve shirts…
Nutritious Meals for our Porters
A general comment from trekkers on an Alpaca Expeditions tour is that we serve too much food. Well…
Extra information
---
Alpaca Expeditions is always ready to make your trip safe and as easy as possible for you. Because these trips are a bit more complicated than your typical tour, we have put together some notes on logistics, storage, and even recommendations on where to stay in Cusco. And of course our team is ready to answer any other question, as we promise to be your partner from the moment you first contact us to our last goodbye in Cusco.
Alpaca Expeditions Recognitions
---
ISO (International Organization for Standardization)
In the pursuit to stand out from the rest, Alpaca Expeditions has obtained four ISOs plus our carbon footprint certificate to date. These achievements result from our efforts to implement the internationally-recognized integrated management system. They also represent our commitment to all of our clients and staff of operating sustainability and responsibility in every way possible.